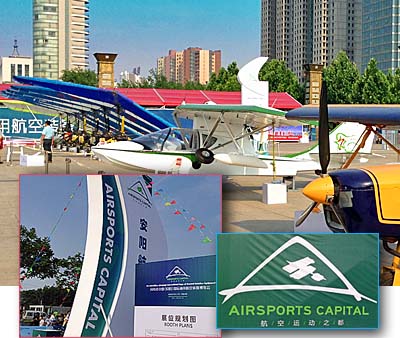 To say anticipation is high regarding the development of a China general aviation market might be the understatement of the century. Having earlier observed the auto market grow exponentially — Mercedes reportedly sells more of their luxury cars in China than America — pioneering aviation marketers are brimming with anticipation. Most readers are well aware of the investments made by wealthy Chinese in American aircraft companies.
The country has been on a three-decade-long infrastructure-building binge to exceed any such development in human history and at the Anyang GA Expo (my shortened name for it), we heard highly-placed government officials make speeches about new airport-building plans.
Like many aviators initially contemplating this country — I just completed my first visit — I can sense the boundless enthusiasm. A middle class that might afford light aircraft is said to be larger than the entire U.S. population. Securing even a small sliver of such an untapped potential could foster an entire industry.
That's the dream. What's the reality?
I was a guest of the city as part of a delegation assembled by the Aero Sports Association. Anyang is roughly 500 kilometers (about 300 miles) south of Beijing. The city is ancient with 3,300 years of history but a few years ago declared itself the "Airsports Capital," a good omen for the beginning of building a market for recreational aviation.
Director Qin Jianhua explained — reinforced by Mayor Ding Wei and Vice Mayor Zwang Manru along with other officials — that the city government was granted from the military a 4,420 square kilometer chunk of airspace up to 3,000 meters (about 10,000 feet) to use for flight training and recreational aviation … the largest such in the country. That much area can allow an outbound cross country flight of perhaps 60 miles, although all landings must return to the city airport as no other airstrips yet exist in the airspace. While true cross country flights around China may still be years in the future, Anyang's volume is a good start to stimulate recreational flying.
Business travel to another city in a general aviation airplane is still very restricted but several Chinese enthusiasts to whom I spoke report being able to fly sport aircraft with greater freedom because their actions are consistent with the national government's gradual opening of airspace. In another example, we traveled an hour west of Anyang to a beautiful mountainous region where a paragliding championship was held. Communist Party member Zwang lead opening ceremonies, giving the event and activity official sanction.
These observations lead me to speculate that it is sport aviation that may benefit first from national government approval. This is an exciting enticement for producers of Part 103 aircraft and LSA manufacturers to explore the opportunities.
That's what my new friend Shu Dong Li sees for his Aero Sports Association. Shu Dong is working to connect American aircraft manufacturers with Anyang to allow sales and use of their aircraft in the China city's large piece of airspace. Shu Dong is based in the San Francisco area and has deep connections with Anyang government leaders so he is providing a bridge for U.S. builders that otherwise would face a big struggle to penetrate the China market. He expects that once his business model shows success in Anyang, he can replicate this in other cities. To that end we met with government leaders from Wuhan, China who also spoke of ambitious plans to embrace aviation.
Although only a tiny aviation market presently operates, government goals may be highly stimulative. An earlier gold rush brought in hundreds of foreign aircraft companies, many of whom collapsed for various reasons, one of which was the government's halting pace in opening the airspace for non-airline, non-military use. The Chinese Air Force has been slow to give up their lock on the airspace but based on the official speeches, that appears to be changing.
Why should American manufacturers care about what is happening in the China aviation market? If you are a producer, I should think it is obvious: more customers, eventually anyway. Why should individual pilots and aviation consumers see this as valuable?
It may not seem relevant to U.S. aviation enthusiasts but I think you should care that the maker of your favorite airplane can find more customers to help them prosper. Success allows them to provide you with better service and allows development of new airplanes or to upgrade existing designs.
Taking a broader view, trading with neighbors around the world can reduce potential conflicts. I learned a lot about China that I didn't know and it will transform me. I will never look at newspaper articles about China the same way now that I have basic level of understanding.
I also clearly saw the interest from ordinary Chinese people about learning to fly and that interest charges me while also reminding me just how good I have it as an American. I can choose to take my airplane and fly thousands of miles without special permission. I imagine Chinese dreaming of such a thing, too, even if most flying is done closer to the home field. Aero Sports Association is working to make our world a little smaller and that seems a worthy goal to me.