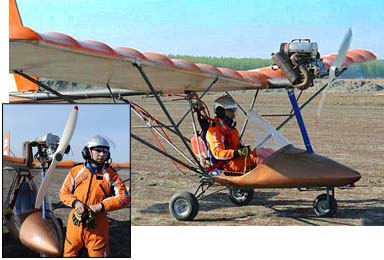 WEEKEND UPDATE — Next week I leave for my first visit to China, specifically to Anyang City, by train a couple hours south of Beijing where the seventh running of an annual airshow is planned. I have only a sketchy idea what to expect even though Shu Dong Li of the Aero Sport Association has briefed me as has my European counterpart (in our work for LAMA), Jan Fridrich. In the last year alone, Jan has made nine trips to China as the Czech government is assisting Chinese authorities in work to build personal aviation in that country.
At the invitation of Shu Dong and Anyang City officials I was asked to speak at the event and I will join several other Americans all invited for the occasion. I expect this will prove interesting. While no one expect China to suddenly explode with light aviation activity, various groups are vigorously pursuing the future of recreational flying and this country has accomplished a great deal in a short time. Nonetheless, today, others report that the large country has only 329 airports and just 1,320 GA aircraft.

In an interesting coincidence, I discovered a story about a Chinese fellow who built his own ultralight from available materials and took to the air in it. He's not alone in this, of course, but I found his work an intriguing example of ordinary Chinese citizens showing an interest in flying for fun.
An article in the Daily Mail amplified a story on ChinaNews.com about Mr. Shijun Yang, a 45-year-old China national. The article was accompanied with some decent photos, which I use here while giving full credit to the news organizations.
According to the article Yang spent about $16,000 and more than a year building the plane, from plans he may have obtained off the Internet (photo). An executive at a building company, Yang has crafted the aircraft in honor of his deceased father, who worked as a pilot for 29 years. He named the plane "Jinhai" in memory of his father.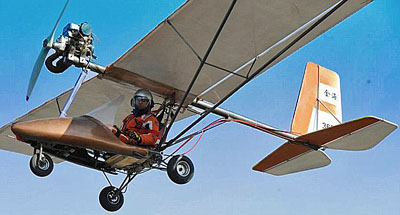 The two news organizations reported that on a recent Sunday Yang successfully took off and landed 10 times in Jilin province, located in northeast China. According to writer Emily Chan he took the airplane up to 650 feet and has since logged 2.5 hours of flying time.
Builder and pilot Yang said that his aircraft, allegedly "made from scrap metal," can reach a top speed of 120 kilometers per hour (75 mph) and has a cruising speed of 80 km/hr or 50 mph. Yang's ultralight-like airplane has a wingspan of about 30 feet and weighs 242 pounds. Journalist Chan reported that he has test flown his creation on two other occasions, including a 54-minute flight on his late father's birthday last September.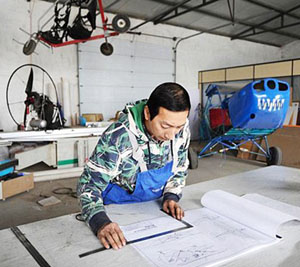 As I looked at the photos for this airplane I knew it looked familiar, in particular a Flightstar, an ultralight in which I logged many hours in the mid-1980s.
As chance would have it, about the time I stumbled across this story, I was enjoying a visit from an old friend and fellow LSA businessman, Tom Peghiny, known widely as the president of Flight Design USA. In fact, Tom is celebrated in the June 2015 issue of Plane & Pilot magazine, where his leadership in the Light-Sport community is chronicled.
I showed the photos to Tom and with his intimate knowledge of Flightstar — after building nearly 1,000 of them before he become immersed with the Flight Design CT series of LSA — he swiftly confirmed my guess that this was indeed a Flightstar. Yang has modified the design in minor ways, for example, the forward support tube (aft and below the engine) is not exact to the U.S. version of Flightstar.
OK, so Yang built a Flightstar apparently from some detailed plans. It may not be ground-breaking design work, but I still have to admire anyone who will tackle such a project in a country where aviation — at least at the ultralight level of aircraft — is virtually unknown. I look forward to my upcoming visit where I can learn more about this country's push to join the world in enjoyment of recreational aircraft.