In a familiar theme, a Chinese company has acquired an American aircraft company. Past purchases include Cirrus Design, Mooney, Glasair, and Continental Motors, among others.
This time news reports say a Chinese company bought a company from the light aircraft space: Terrafugia, maker of the Transition flying car, or as they prefer to call it, a roadable aircraft.
Geely is an automaker based in Hong Kong that bought the famed Swedish car maker, Volvo.
The Massachusetts airplane developer has put out slick video presentations of their newer-still model, the TF-X, a hybrid electric variation (video at bottom). I suspect it is this newer entry that has both automobile makers excited.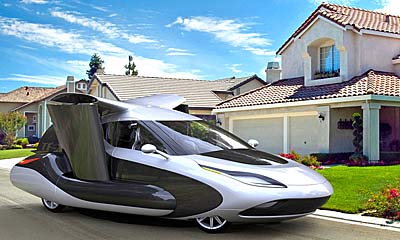 Terrafugia first announced their Transition roadable airplane in 2006, flying a proof-of-concept aircraft in 2009 along with a demonstration before attendees of EAA AirVenture Oshkosh in 2013. The Massachusetts company built a second-generation Transition prototype in 2012.
Reportedly a third-generation conforming prototype is under construction for testing in 2017, with deliveries planned to begin following completion of this testing.
Terrafugia's newest design is the TF-X (photos) that has fold-out wings with twin electric motors. Unlike Transition — which was presented as a Light-Sport Aircraft, albeit one for which they obtained a weight waiver — TF-X is a much larger aircraft.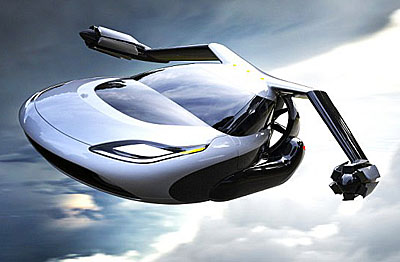 The electric motors that are hidden inside the body during ground operations allow the TF-X to takeoff vertically before morphing, Osprey V-22-style, to horizontal flight, Power is to come from a 300-horsepower engine providing thrust through a ducted fan. Design estimates are for a cruising speed of 200 mph and a 500-mile flight range.
The four-seat TF-X will be semi-autonmous and use computer controls so that passengers can simply type in a destination before taking off.
According to various media reports, the deep-pocketed Geely will fly the Terrafugia design under its Volvo brand, though like the TF-X, these plans remain conjecture at this time.
To get itself to the point of being acquired by Volvo-owning Geely, Terrafugia allegedly raised raised around $6 million in capital through five rounds of funding. The acquisition by Geely could accelerate development efforts considering the Chinese firm's financial strength.
Readers of this website probably may not care much about autonomously flown aircraft that look part-quadcopter drone and part automobile, but it's interesting to see where thinking way ahead might lead.
According to London's Daily Mail online, "Just how much the Chinese automotive company paid for Terrafugia has yet to be revealed, but experts say the move could be a step toward the ultimate travel solution for commuters. Still, they estimate it will be another 10-20 years before the radical vehicles hit the streets. In the past, Terrafugia has claimed its designs could be ready to fly within the next few years. Last February, the firm said its concept vehicle TF-X could come to life as a prototype vehicle in just two years, and go on general sale within eight."