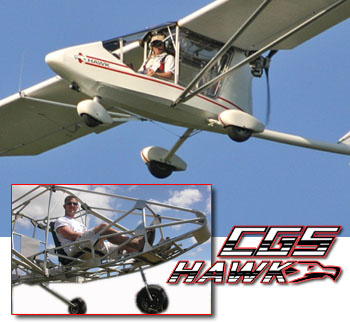 The latest aircraft to earn Special Light-Sport Aircraft airworthiness (SLSA #77) is one of America's most familiar and best proven models. CGS Aviation first offered its Hawk model 26 years ago, in 1982.
Since then, many model variations have been brought to market…single seat versions, two seaters, tri-gear, taildragger. Regular evolutionary changes resulted from the continuous process of development and refinement.
These efforts have sold more than 1,750 Hawks to pilots who fly them across the USA and all over the globe. *** Many years after company owner and designer Chuck Slusarczyk first offered his "real airplane" ultralight, it is appropriate that he and his Hawk Arrow II join the SLSA parade. Customers have a major reason to rejoice. Read carefully: the first 10 Hawk SLSA will be sold for $39,995 ready-to-fly with the Rotax 582.
This is, by a wide margin, the lowest price yet for any certified LSA. Hawk fulfills the promise of a low-price LSA that beckoned to many when the rule first came out in July 2004. *** Chuck advises that he will also offer the Hawk SLSA with the Jabiru 2200, the HKS 700E, or the Rotax 912UL. And, he plans to offer a kit ELSA to allow owners to do much of their own maintenance.