Throughout the 115 years since the Wrights took their Flyer into the skies for the first time, aviation has enjoyed remarkable progress. Wing design, engine design, instrumentation changes, safety enhancements… we have witnessed many dramatic changes in how aircraft ply the skies and do so with increasing efficiency and with less danger to occupants or those on the ground.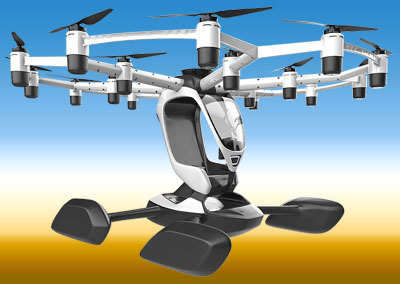 All of us who enjoy flight know much about this, but things are changing and perhaps fast enough to push many of us current-aviation experts into a discomfort zone.
As you have seen on this website and just about any media outlet reporting on new developments, multicopters are looming ever larger on the horizon. More and more startups — many funded with tens or even hundreds of millions of dollars! — are jumping into the game. Huge aviation names such as Boeing and Airbus are deep into work on new-style flying machines. Some have multiple prop-rotors. Other use pivoting wings with multiple power plants. Nearly all are pure electric though hybrid systems are used and a few are proposing hydrogen-fuel motors.
None of this may interest you, the present-day pilot who loves your light aircraft with its fixed (or not) wings and gasoline engine. Few, including me, believe our more commonplace flying machines are going away anytime soon. Batteries remain the weak link in the chain.
However, for short-range urban transport, multicopters may be unstoppable.
Such transportation is the goal of Lift Aircraft, a Texas startup that hopes to change the way people travel.
An article in an online publication called Motherboard stated, "On a small airfield northwest of Austin, Lift Aircraft is testing ultralight aircraft for personal travel at short distances. [Lift's Hexa is] a vertical take-off and landing system that uses 18 propellers powered by 18 electric motors to move a person across the sky."
"We're not trying to solve the problem of flying long distances," Matt Chasen, CEO of Lift Aircraft, told Motherboard. "We're focused on short hop flights in dense urban areas."
Lift's creation is different than the others in some ways and similar in others. My eye was instantly caught by the test flights in a video that shows a pilot controlling the aircraft using a conventional side-stick.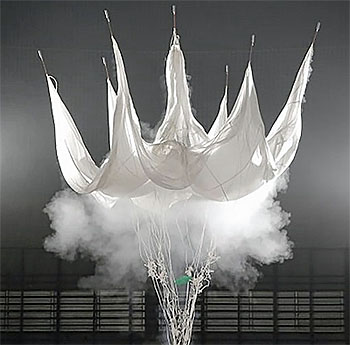 Lift has also listed many features they believe provide safe operation including something they call an Autonomous Ballistic Parachute that uses multiple ballistic devices to provide effective operation, they say, "as low as 10 meters (33 feet)."
If I am honest, I can see myself flying in one of these multicopters one day. They might be highly enjoyable with super maneuverability, no airport needed, fantastic visibility, relatively quiet operation, and the chance to hover over a scene of interest.
This may be so long coming to fruition that I will never see it …but I wouldn't bet on it.
For more info, watch this professionally done video about the Lift aircraft. It includes flying scenes.
Infotech + Aircraft = Multicopters
What Happens When Infotech
Meets Air Traffic Control?
Jabiru importer Scott Severen alerted me to the Motherboard article but it was about more than Lift's new aircraft. The article addressed the challenges of air traffic control in the new age, that new age that may herald a coming swarm of multicopters. Consider the following…
According to the US Federal Aviation Administration (FAA), there are about 5,000 passenger aircraft in the sky at any given time, which require 521 aircraft towers, 25 air route traffic control centres, and 6,000 airway transportation systems specialists to coordinate. Meanwhile, the FAA also predicts that the number of unmanned drones registered in its database could surge to more than 6 million by 2021—a fleet of robot aircraft that will have to be taken into account when we're divvying up the skyline.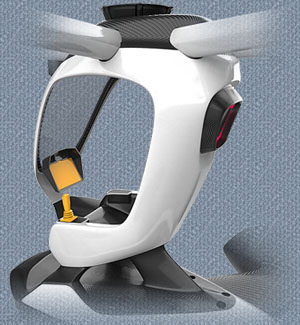 "Divvying up the skyline" where skyline means airspace sounds rather threatening to current pilots. Many pilots have told me they worry about drones or multicopters interfering with the enjoyment of their aircraft, or worse, causing safety problems.
Those concerns may be real but the new flying machines identify the weakness in our current ATC system, great as it has been for aviation safety. It simply takes so many highly-paid controllers with hundreds of facilities and a need for ever-increasing equipment sophistication.
That paragraph quoted above sends a message. ATC depends on up to 6,000 workers to move 5,000 aircraft around the skies safely. Imagine millions of new flying machines and the old system begins to look creaky. Already, many criticize FAA for using out-dated computers and other equipment and federal employment system that creates high costs. Can the tech world improve on this?
Every day, the FAA's Air Traffic Organization provides service to more than 43,000 flights and 2.6 million airline passengers across more than 29 million square miles of airspace. See this FAA page for more infographics on services FAA performs. That, too, may be changing.
Motherboard reported, "NASA is already developing an air-traffic control framework that could track unmanned flying cars that fly under 500 feet. As reported in Skift, the NASA system is meant to be automated. [NASA will] finish its research by 2019, and hand over ideas for the FAA to implement no later than 2025."
A Brave New World could start in 2019.