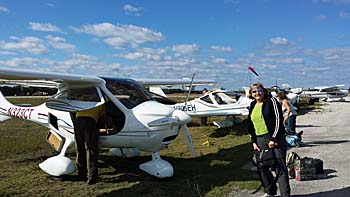 On the Fourth Bahamas Fly Out in January 2014, a group of four Light-Sport Aircraft and one Cessna 172 made the short hop to Bimini Island of the Bahamas from Fort Lauderdale, Florida. It may only be 50 nautical miles but at a cruising altitude of 3,000-5,500 feet you definitely fly out of sight of land … yes, thousands of miles of ocean and no land to be seen from the cockpit. Do I have your attention yet? Even the ever-dependable Rotax 912 that powered all four LSA seems to run rough shortly after land disappears behind you. A pilot briefing from a Bahamas flying expert gave all pilots the preparation to deal with a problem en route but an actual emergency would be a major dilemma for those on board.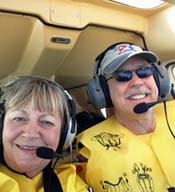 Fortunately no such challenges arose. Experts were also on hand to help pilots file the international flight plans that have become much more complicated since 9/11. Ironically, only the FAA Type Certified Cessna 172 Skyhawk experienced problems. A magneto went out of service and the communications radio went quiet, delaying the arrival of three members of the 2014 Bahamas fly out. The problem was quickly remedied with a new part flown in from California overnight and the last of the group arrived a day later. All four LSA — two Flight Design CTLS, one Evektor Harmony LSA, and one Just Aircraft Highlander — arrived without incident or delay.

As this was my third trip (twice in a Flight Design CTLS and once in a Breezer), I didn't hear the rough-Rotax sound that first time pilots always think they detect. Still, we wore life jackets (photo) for the whole 36-minute trip as donning these life jackets after you are in the water can be much harder. Plus, CTLS in the United States are sold with an airframe parachute as standard equipment providing a very comforting backup. Our fuel-injected Rotax 912 iS engine ran flawlessly over and back … twice. I made two trips the first day, ferrying back across that 50 nautical miles to retrieve Aaron Will who could not go in the Cessna due to useful load limits. It was my shortest-ever visit to another country, a total of 15 minutes to clear customs, pay the $50 arrival fee, drop my wife, and depart again. These waters are an active shipping lane so over and back, you see ample boat traffic should the unthinkable become reality. Plus, the gulf stream current brings warm water from the Caribbean north between Florida and Bimini so if you did go into the drink, at least icy cold water will not be your problem. Despite the odds stacked in your favor, losing sight of land the first time is an eerie experience.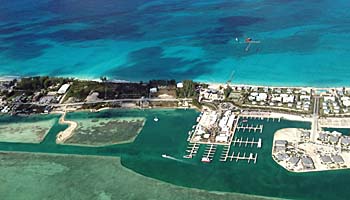 In 2014, Sport Pilot/Light-Sport Aircraft will celebrate a Tenth Anniversary. In 2010 on the occasion of the first Bahamas Fly Out, Sport Pilot certificate holders were able to use this entry level pilot license in the Bahamas. The island nation became the first country outside the USA to accept Sport Pilots. Most of the 40 pilots that have made these Bahamas expeditions have held higher level pilot certificates, but it's nonetheless wonderful that Bahamian authorities accept the simpler license. Truly, the Bahamas government decision is understandable. This is a country consisting of more than 700 islands, of which 30 are inhabited. The two main tourist destinations are Grand Bahamas and Nassau, which are often visited by airliners and cruise ships that propel the main industry of tourism. However, the 28 "out islands" are visited most often by small 8-15 seat airliners and private aircraft. It is the privately-owned, owner-flown airplanes that bring most tourists to the smaller islands, even more than boats which also frequent these waters known for their excellent fishing and water sports like scuba and snorkle diving. Since airplanes transport more visitors to the out islands, it is no surprise that every populated island has an airport.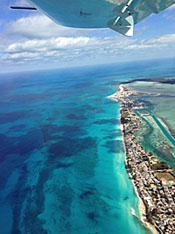 Fuel is another matter, though. Cargo transport to small islands is limited so most have no aviation gas and auto fuel could be of questionable purity. Thus, the commonly long range of Light-Sport Aircraft make these trips that much easier and safer. Flying to the Bahamas is a thrilling over-ocean experience and a joy on arrival with warm weather, pleasant Bahamian people, good food and good sport. Someday you should try it and see for yourself the bluest water you can imagine. Thanks to Aviators Hot Line and AHL's Light Aviation for again organizing the ocean flight.