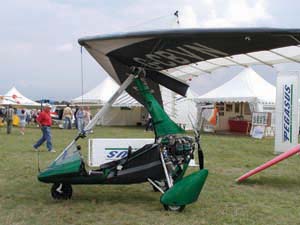 This French light-airplane show Tops Anything in the U.S.
The name of the French venue is a bit awkward for Americans, though it rolls off the French tongue fluidly. Blois—pronounced Blwah—is a superb airshow that should grab the interest of every light-airplane enthusiast.
Light Airplanes Everywhere!
I've been to Sun 'n Fun for more than 25 years and to Oshkosh nearly as many. I spend a lot of time in the ultralight area of each, and they're big events, no question. But both take a second seat to Blois. Yes, believe it or not, the event 185 kilometers south of Paris last August is the largest of the ultralight airshows I've seen.
With 90 exhibitors and more than 500 aircraft, most of which were flown to the event, Blois beats even Paradise City at the Lakeland, Florida, Sun 'n Fun fly-in. I've known of this 22-year-old show since the '80s but attended for the first time last summer. It won't be my only visit.
Solon Blois 2002 even surprised organizers headed by Claud Lhomme and Jean-Marie Carre. They had to add display space at the last minute when more companies than expected showed up with wares. The overflow was evident as they tried to place all exhibitors in one long row 50 feet back from the flight line. Except for the latecomers, all exhibitors had front row seats.
The layout looked like a long walk compared with American events set in rows of booths. But it presented the flying machines in a unique way that many visitors seem to enjoy. Airplanes were arranged in front of the line of tents so that people meandered in and among them as they worked their way up and down the line. At the end of the event, I'd come to see this as a plan that provided good access to exhibitors and good viewing for prospective buyers.
This is a selling show where most visitors want to fly. The number of tire kickers was much lower than at big American shows. All the companies I spoke to were pleased with crowds at the 2002 event.
Aluminum to
Great variety was also evident with aircraft ranging from powered paragliders to powered parachutes, light trikes, two-seat trikes, and gyros to three-axis aircraft of many descriptions built of aluminum, wood, steel, fiberglass and carbon fiber. The sheer richness of Blois's aircraft matches anything I've seen in the U.S., although American shows also include hang gliders and powered hang gliders. These were missing at Blois.
Flying these Perse aircraft in a group involved the same challenges as the crowded skies above U.S. airshows. However, the organizers alternated every hour between open flying and factory demonstrations. Spectators got to see virtually every display aircraft perform right in front of them. No incidents occurred; ground controllers were doing a superb job.
The runway was set up such that two simultaneous landings could take place. Launches usually occurred on the departure end of the strip while landing aircraft used the approach half. It worked well with flag men stationed strategically to allow near continuous motion of aircraft.
Full Range of Choices
Many Europeans are talking excitedly about America's pending light-sport aircraft/sport pilot rule. Many hope to tap the big U.S. market with their beautiful creations. We've been seeing some examples at our airshows in recent years, and they were also in abundance at Blois.
Yet development was also evident on the conventional end of the ultralight market. For example, British trike builder Pegasus used Blois to debut their new Quik. This speedy model features a Rotax 912 engine and a tiny wing that allows cruising at 100 knots. A French trike called the Chapelet featured a slick installation of the BMW A-valve engine that puts out 80 hp.
On the other end of the spectrum was DynAero's carbon-fiber four-seater, the MCR 4S, which expands on the company's speedy MCR 01 Banbi two-seater. Dallach of Germany showed its flying prototype high-wing, retractable-gear Evolution. Some call this company the "ultralight Lancair."
F Technik, also from Germany, featured its entire line of models: the popular FK-9, Comet folding biwing and Polaris speedster. Another aircraft, the 150 Rallye, looks much like a modernized Cessna 150 in fiberglass while Poland's Junior sports the same room in a low-slung, overhead-wing package.
France's
In my estimates over many years, I've seen France as the world's second-largest recreational market, surpassed only by the U.S. The country has a long and colorful aviation history, originating not only manned flight (the Mongolfier brothers in their hot air balloon in 1783) but many aeronautical terms: aileron, empennage, fuselage and more. Ultralight flying in France continues the tradition, appearing healthy and progressive.
Approaching its 23rd year, Blois is firmly established as the leading venue for ultralight aircraft in Europe. Other events feature the segment and even have large displays of light aircraft (Aero in Friedrichshafen, Germany, for example), but no others offer the close-up flying demonstrations and hands-on examination ease combined with charming French countryside and blue skies.
Doesn't it make you want to attend? The 2003 version is scheduled for August 30 and 31. Blois fits well in the airshow calendar.
FOR MORE INFORMATION, contact Salon ULM Blois, Attn: Christian Lhomme, 32 Rue des Moriers, 41000 Blois, France; call 011-332-54-74-17-99; fax 011-332-54-78-56-84; e-mail lhomme.ch@wanodoo.fr; web www.ulmblois.com.
Published in Kitplanes Magazine