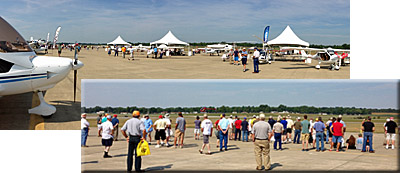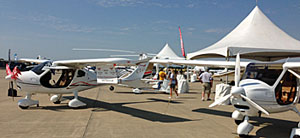 I reported earlier that it might have been the best AirVenture ever (thanks to the most pleasant weather I can recall in many years). Employing that yardstick, the just-concluded Midwest LSA Expo was equally successful. The fifth annual event in Mt. Vernon, Illinois — described by airport manager and principal organizer Chris Collins as "the little brother to the Sebring LSA Expo" — enjoyed three days of highly accommodating weather. Warm temperatures, mild winds, a solid turnout of LSA vendors, a few attractions such as the Maid in the Shade B-25, the "Red Nose" P-51 Mustang that made several high-speed performances (both offered rides, too), along with riveting demonstrations of John Snider's exceptional
Mosquito XET turbine-powered single place helicopter … brought out good crowds with Saturday looking especially strong.
In a closing interview with Collins, he reported Thursday was the best opening day they've ever had and that day was just a warm up. By the end of the show, Chris reported at least 10 aircraft sales plus local Jabiru dealer and aircraft broker Eric Evans reported four of his own, suggesting perhaps more than a dozen aircraft were sold though not all were new airplanes. Demo flights for prospective customers and showcase flying kept the pattern busy at this airport that is one of the fastest and most convenient for getting out to take a flight. With my video partner we logged five flights that will lead to full-length video pilot reports and two aircraft needed reflights to assure we had the right collection of video scenes to allow the best production. That pace of activity is very challenging at virtually any other airshow. Sometimes the pattern had pilots reporting "I'm number five for landing" and on one final approach I counted six aircraft taxiing out for takeoff. Collins said the had to use secondary parking for arriving aircraft flying in to examine the special attractions and to visit vendors.
We shot several hours of new video material that will appear after post-production editing plus our collection of full-length video pilot reports continues to grow. Aircraft benefiting from fuller coverage included Flight Design's CTLSi, TL Ultralight's TL-3000 Sirius, Arion Aircraft's Lightning LS-1, World Aircraft Company's Vision Sport, and the SportCruiser from U.S. Sport Aircraft. These join Evektor's Harmony,
Hansen Air Group's Fk12 Comet, CubCrafters' CarbonCub SS, Allegro USA's Allegro 2007, Just Aircraft's SuperSTOL, and more to come. Doing these more detailed reviews of aircraft takes lots of time especially with mounting multiple cameras on the aircraft and briefing the demo pilot on what we need to capture good video scenes. We thought the Midwest LSA Expo would be one of the best locations to accomplish this and, indeed, we substantially added to this body of work in Mt Vernon this year.
My forum on "20+ Reasons to Buy a LSA" was standing room only and at least five persons came up to me at the end announcing they had traveled to Mt. Vernon to make a purchase or ask final questions before making their payment to an aircraft seller. Other forums such as Jim Sweeney's review of aviation apps for the iPad were also well attended. A good measure of the success of this event can be attributed to the eagerness of Collins and his cadre of orange-shirted volunteers to make certain that all vendors and attendees got exactly what they needed. Chris has been working diligently to make the Midwest LSA Expo a success with strong support by his airport board of five directors — all of whom came to the event — and this fifth edition proved his efforts are paying off handsomely. As people prepared to depart late on Saturday or on Sunday, plenty of smiles were visible. I'll be back for the sixth annual event and I feel sure many others felt similarly. If you haven't attended, this is an excellent event to make a final check of the Light-Sport Aircraft or light kit of your choice. Kudos to Chris Collins and his local team!