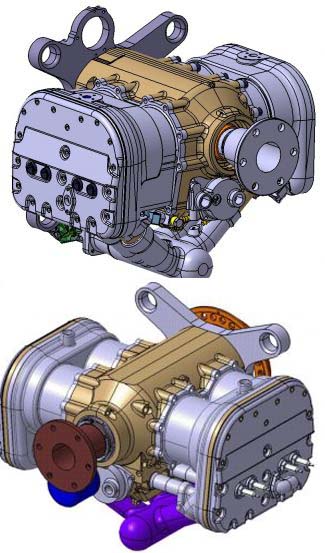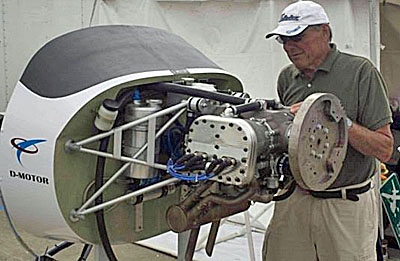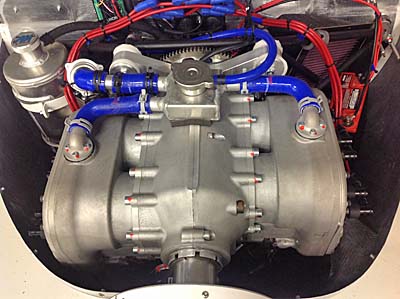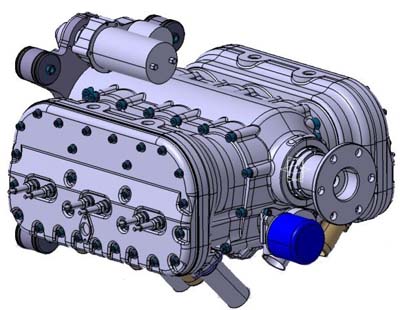 In the world of FAA-accepted Light-Sport Aircraft, engines choices have been limited to Rotax, Jabiru, and HKS adding to updated versions from certified engine producers such as Continental and Lycoming plus the big Titan engine from ECi. Now, according to the U.S. importer, that rather exclusive club is joined by Belgium's D-Motor, while earlier reports suggested the UL Power engine is also pursuing ASTM compliance. "We invested 500 hours testing the LF26 D-Motor from summer to fall," said Doc' Bailey of Renegade Light Sport, the importer. ASTM requires 100 hours testing by the airframe manufacturer before the engine can be accepted by FAA for installation on a Special LSA.
Doc' has been in regular contact with the Light-Sport office of FAA. The agency does not audit powerplants the same way as airframe manufacturers, partly as the airframer must add to the engine builder's testing, but it does keep track of which components the airframe maker has tested. Producers of EAB kits do not need to meet this requirement explaining why new engines often build their market in the kit industry.
D-Motor reports four essential qualities that make their engine attractive. Compact — Flathead instead of overhead makes the engine smaller despite big cubic capacity (more than double that of Rotax's 912). Simple — Flathead design is much simpler without rocker complexity. Light — Extra weight of liquid cooling is compensated by the flathead design; liquid cooling reduces thermal shocks or hotspots and improves fuel efficiency while lowering emissions. Strong — Larger cubic volume results in high torque. Direct drive was chosen as D-Motor feels more comfortable with a big engine running lower revs, however, engineers incorporated Nikasil cylinder treatment used on high-revving engines. Safety — "When a valve of an overhead engine does not close the engine stops resulting in expensive repair," according to D-Motor. "When a valve of a side valve engine does not close, you continue flying with less power without expensive repairs."
As I've learned through the evaluation of many airplanes, engine cooling is both a critical engineering challenge that is also something of an art. Certainly it can be of vital importance, both to engine power and longevity. "During testing, cooling of the D-Motor LF26 showed only 10 degrees fluctuation during testing in the hot months of July and August through October," noted Doc'. This result suggests good things for the life of the powerplant. In another demonstrable benefit, torque of the engine appears significant. Doc' indicated that the Belgian factory claims torque at 280 newton meters versus 140 for the Rotax 912. The Rotax BRP website lists torque at 128 newton meters (94 foot pounds). D-Motor's website also shows "91.8 hp (67.5KW) at 3000 RPM" for the 2690 cc four cylinder, four stroke, liquid cooled engine while Rotax states "73.5 kW or 98.5 horsepower."
The company's American website, reports "The D-Motor is [a] four-stroke side valve (flat head) boxer engine using the latest technology, including multipoint fuel injection, electronic ignition and liquid cooling." Price in the USA is $18,500 for the LF26. While this is modestly less than a carburetor 912ULS it is several thousand less than the also-fuel-injected 912 iS.
"The real game changer is the six cylinder LF39 engine that is well along in testing," feels Doc'. The larger engine is expected to offer about 125 horsepower while coming in a forecast several pounds under the four cylinder, 100 horsepower 912.
Comparing engine weight is devilishly difficult as components for different installation can vary. D-Motor in Belgium wrote, "The final dry weight of the four cylinder LF26 engine is 58 kilograms or 128 pounds and the final dry weight weight of the six cylinder LF39 is 78 kilograms or 172 pounds." Wet weight depends on the radiator choice and the length of the hoses but the manufacturer reports, "63 kilograms (139 pounds) for the LF26 and 85 kilograms (187 pounds) for the LF39."
The six cylinder engine is presently under development although with more than 100 hours of testing completed. "Because this engine is very similar to the four cylinder with many common parts that have already proven to be reliable," wrote D-Motor Belgium, they expect to launch this engine in a relatively short time. Both engines are delivered very complete. "This is the equivalent of a firewall forward kit," said Doc'. Delivered components include: integrated alternator, water pump, oil pump, electric starter, rubber mounts, fuel pump, fuel filter, injectors, 2 ignition coils, sparkplugs and ignition leads, ECU and loom, 2 water temperature sensors, oil pressure and oil temperature sensor, oil radiator, filter, and tank, and adaptable exhaust kit. A liquid cooling system (radiator, hoses and expansion tank) are not included as equipment varies for different cooling configurations. "It is too difficult to anticipate a solution for every installation," said D-Motor. They report actual TBO time is 1500 hours.