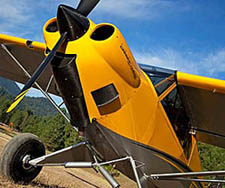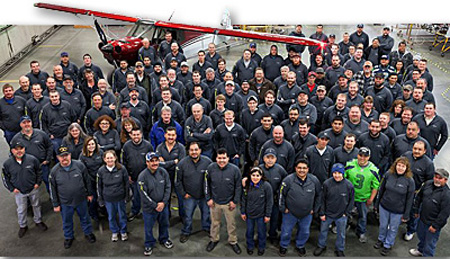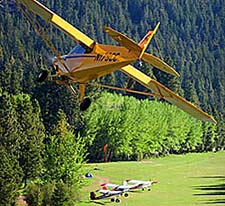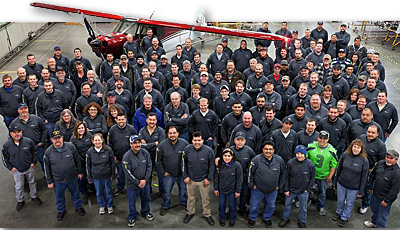 Should the expression be "You can keep a good thing up?" It is more positive than "You can't keep a good man down." Up, in this case, is CubCrafters and their climb in market share rank. The Yakima, Washington company logged another record year in 2013 and hit an impressive benchmark as the engines of demand and production paint a picture of a revved-up juggernaut. Congratulations to CubCrafters but the real reward for their team is a steady stream of customers that are convinced by the innovative re-creation of one of aviation's most iconic designs. Among many smart decisions was the addition of the big 180-horsepower Titan 340CC engine, built by ECi, which gives the machine such exciting performance. I wonder if William Piper ever envisioned a CarbonCub SS.
CubCrafters delivered 63 new airplanes during 2013, soundly beating their solid performance of 48 CubCrafters in 2012. For LSA enthusiasts, the total number reduces by nine Top Cub units that are not aimed at the Light-Sport space, but that still leaves two Sport Cub models and 52 Carbon Cub Special LSA. That means a 12.5% growth in LSA sales and a new record for the company. CubCrafters also increased shipments of its Carbon Cub EX kit-built models by 50% over last year, marking a record for the company's Experimental Amateur Built kit program as well. While many producers are still struggling to climb out of the Great Recession (that supposedly ended more than four years ago), CubCrafters must be saying, "What recession?!"
The company reached another milestone by delivering its 300th CC11 aircraft in January of 2014 (photo). CubCrafters' CC11 family includes the popular Carbon Cub SS and Sport Cub S2 LSA models. "Serial Number 300 is a handsome Carbon Cub SS in Volcano Red bound for Idaho," noted CubCrafters. The company is growing so solidly that changes are needed. "As of [early March 2014], the next delivery position for a ready-to-fly airplane is in late August and new buyers of the Carbon Cub EX Kit can expect shipment in May.
CubCrafters' continued sales growth "has stretched the company's manufacturing facilities to the limit," officials reported. All manufacturing and assembly occurs in the company's three buildings encompassing 40,000 square feet. "Across the past four years we've done a great job of refining our processes," commented Jim Richmond, Founder and CEO of CubCrafters. "However, we've reached a point where our limited space will impede efficiency." To address this predicament, the company said that it purchased a 23-acre parcel adjacent to McAllister Airport in Yakima and has broken ground on a new composites fabrication shop. "The expansion will allow us to devote more space to composites, parts and kits, thereby affording an overall increase in production. Looking forward, the new property will accommodate additional construction as our needs grow."