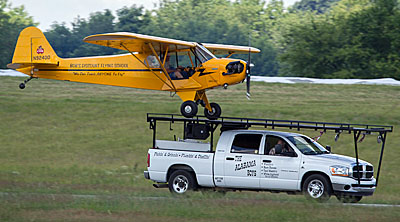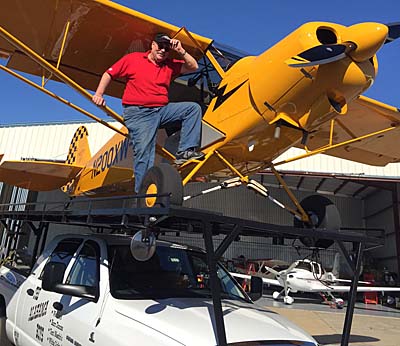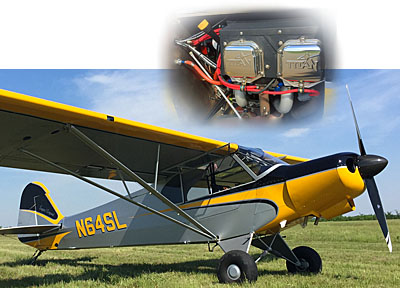 In my years as a hang glider pilot — and for many friends who enjoy unpowered paragliders — the idea of what's called a "top landing" is something of the holy grail. Such a feat can now be rather commonly achieved, especially by a slower flying paraglider, but is nonetheless quite thrilling to launch from a mountain and then land back on top of that mountain. This avoids the need to breakdown, drive back up, and set up for another launch but mainly it is just a terribly cool thing to do.
Still, landing a hang glider or paraglider back on top of the mountain is reasonably straightforward compared to landing an airplane atop a moving truck. Sure, you may have seen it done at airshows and perhaps you marveled at the skill involved. Yet I'm guessing that virtually no one reading this article has ever attempted the feat much less done so repeatedly … and, by the way, at an airshow with lots of people watching and cameras recording everything.
American Legend announced the successful completion and testing of a new Super Legend HP aircraft to be used in Greg Koontz Airshows' World's Smallest Airport flying routine. "Pilot and performer Greg Koontz concluded the tests of the Super Legend by successfully landing the aircraft on top of a moving pickup truck," reported the Sulphur Springs, Texas manufacturer.
Koontz's new Super Legend HP is a stock aircraft that incorporates options specific to his airshow, American Legend said. "These include a Smoking Airplanes 3.5 gallon smoke system; a larger step allows easier access to the cabin … and a 180 horsepower Titan engine," now marketed by Continental.
Don Wade of C&D Aviation worked with Koontz and American Legend on this project. He summarized Koontz' initial reactions saying, "Greg [said] the airplane flies similar to the original Piper J-3." In his previous version of this act, Koontz used the vintage model Cub. "Greg is one the most precise airshow pilots in world. You have no idea how difficult landing on the truck is. You have just six inches either side of the wheels."
Greg Koontz has been performing in airshows since 1974 when he was a member of Colonel Moser's Flying Circus. Koontz credits having learned his maneuvers from retired Air Force Colonel Ernie Moser, who he said was "the best in the business." To know where he will perform the "smallest airport" bit with his powerful Legend Cub, visit his website for a complete 2016 show schedule that includes 16 stops including Sun 'n Fun and Oshkosh.
Super Legend HP uses the increasingly popular Titan O-340 engine, a stroked derivative of the Lycoming O-320. The powerplant is a four cylinder, 340 cubic inch displacement engine producing 180 horsepower, similar to the larger and heavier O-360. The company said, "Super Legend HP, with the Titan O-340, offers fast cruise speeds and the best ever takeoff and climb performance in a Light-Sport Cub." The company explained that to qualify as Light-Sport Aircraft, maximum takeoff power must be limited to five minutes with continuous power derated to 80 horsepower. "Special lightweight custom paint and avionics packages are available to maintain Super Legend HP empty weight at less than 904 pounds," to gain acceptance by FAA as a fully-built LSA.
Super Legend was first offered with the 115-horsepower Lycoming O-233 so the Titan-powered one perhaps ought to be called Super-Duper Legend. I look forward to see it perform at 2016 airshows.