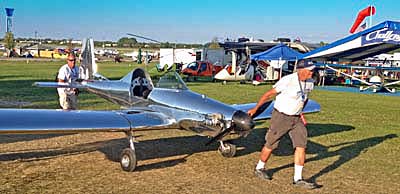 The big summer celebration of flight has ended. I have more info from AirVenture 2015 and next I plan a summary article. A preview includes the most positive prognosis from industry players I have seen in recent years; strong sales reported by several producers; several interesting developments or benchmarks; and a wonderful week of weather as icing on the cake. My video partner and I put in long days to secure perhaps 30 or more new videos including many on the freshest topics in light aviation. Stay tuned for more and go here to see the hundreds of videos we have posted from previous events.
The Shiniest Part 103 … We shot a video interview on the line of Hummel Aviation light aircraft, including two Part 103 models and one Experimental Amateur Built version. Toward the end of the week, one that had been sheltered in a tent on one end of the sprawling AirVenture grounds was hand towed to the Ultralight Area — called the Fun Fly Zone — so people could see this mirror-finish (highly polished aluminum) UltraCruiser in the air.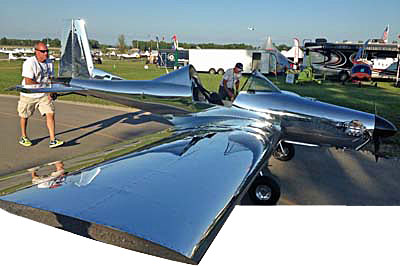 The gleaming example in the nearby photos was built by Steve Cole from Indianapolis over a three year and eight month period, from plans. It meets all the Part 103 parameters — empty weight of 254 pounds; 5 gallons of fuel; 55-knot (63 mph) cruise; 24-knot stall — yet can climb enthusiastically at 1,000 fpm using its half-VW 45-horsepower engine from Scott Casler. The four stroke powerplant burns only 1.7 gallons an hour.
For those a bit less ambitious or skilled than Steve, kits are also available — see next — and all models boast truly affordable prices. You may not be able to make yours look like Scott's UltraCruiser, but certainly here is a line of airplanes for those on tighter budgets, and isn't she a pretty thing that still requires no pilot license, no medical, no N-numbers, and a very simple set of rules that fit on a single sheet of paper.
UltraCruiser is a Part 103 legal all-metal ultralight, although the company notes that the trigear version will be too heavy to qualify as a 103 as is a model with a full canopy.
"UltraCruiser is an easy to build and even easier to fly aircraft," stated Hummel Aviation. The design can be built straight from plans up to, and including a full kit. The kit includes predrilled laser cut components. All parts are formed or welded for you. Wheels, tires, brakes, harness, and even the seat cushion is included. The kit is very complete. Everything is included to complete the aircraft less the engine, prop, spinner, and instruments.
"The complete set of plans contains 26 large drawings with all bulkheads, wing ribs and skins [depicted in actual, full] size. A 30-page step by step manual is very complete. Only simple shop tools are required," said company owner Terry Hallett.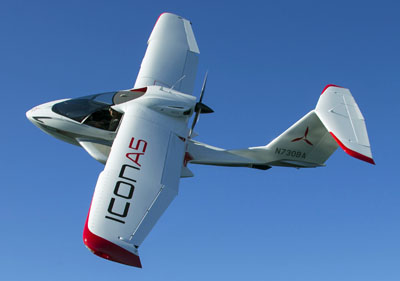 As AirVenture 2015 drew to a close, Friday was the day I got to fly the A5 from Icon Aircraft. Weather as the week started delayed Icon's two-airplane demo flying schedule. Oshkosh has so much going on that my schedule also got loaded yet after a couple false starts we found a workable time slot and I finally got my chance on the most discussed airplane in the Light-Sport space.
I will begin work on a more detailed A5 review in the days ahead. but following are a couple brief temptations of what to expect.
A few supposedly jaded aviation journalists flew A5 and the reviews I've heard have been quite favorable. No, that's not right. They seemed to love A5. As AVweb's Paul Bertorelli put it, "coverage the A5 has gotten so far has amounted to one long sloppy wet kiss from the aviation press." Former Cessna president and EAA Chairman Jack Pelton repeatedly used words like "incredible" and "remarkable." You know … to a great extent their warm embrace of A5 is deserved.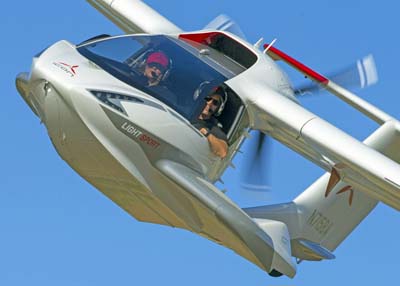 Two of us flew A5 in 12 gusting 22 mph wind conditions and lake water with one to one and a half foot swells. As CEO Kirk Hawkins put it on my return, "not all light seaplanes could handle that." A5 did very well in those rowdier circumstances. I certainly did not fly the plane in smooth summer breezes and a gently rippled water surface.
On whole, I found A5 very docile to fly. We did the Icon spectacle of pitching into a stall, holding the stick full aft (literally pulled all the way rearward) and moving the stick briskly from left to right without any upset of the airplane. Even when power was moved to idle thrust and we repeated the maneuver with 30 degrees of flaps, A5 merely set up about a 900 fpm descent rate. Taking that to the water with zero corrective action would result in a very firm but survivable landing, I believe. Given all A5s sold in the USA will also have an airframe parachute, safety has been carefully approached.
Like most seaplanes, speed is not paramount in A5 with cruise from 85-95 knots (100-110 mph) according a top Icon test pilot. Banking sharply and gracefully is easy in A5. We did 60+ degree banks only a few hundred feet off the water in complete confidence. She feels very solid and Icon's intuitive Angle of Attack indicator — the best execution I've seen — is a good guide to the limits when executing such steep turns. We commonly cruised around at 70 knots with 4500 rpm from the Rotax 912 iS engine.
Water operations, even in fairly challenging conditions, were quite straightforward. As you sense in the air, Icon's large vertical tail surface brings good A5 flight behavior and makes maneuvering on the water authoritative. Even with the added complexities of water ops and retractable gear, piloting A5 is within reach of any well-trained newbie pilot. Icon is also gearing up an entire training program that I'll discuss more fully later.
I was pleased to get my experience on this long awaited Special LSA seaplane and I look forward to telling you more about it.
More Oshkosh light aircraft news will follow …