Day 2 AirVenture began with "rain that went sideways," according to one vendor. After a late night cranking out a report, I was grateful for an excuse to get another hour's sleep. The overnight rain gave way to another beautiful, if hot, day in Oshkosh.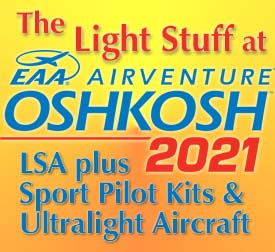 Tuesday, I hiked up to the north side, where the main displays are located. Most of the higher end Light-Sport Aircraft are located in this high-traffic area. Several LSA companies have jockeyed for years to find what they consider to be the optimal location for their exhibit. Being near the main foot-traffic road is very alluring to vendors.
In almost two decades of Light-Sport Aircraft (the then-new rule was announced at AirVenture 2004), LSA have integrated themselves into mainstream aircraft manufacturing …and not simply because of the aircraft offered. As late-night TV ads once said, "There's more!"
LAMA board of directors member Phil Solomon — active in the flight school business and a former importer of Tecnam — expressed that the sales of LSA and the growth and development of the industry is only one of its successes. The method of gaining "acceptance" (FAA's preferred term) has been so well regarded that it has affected how Part 23 aircraft will be approved in the near future. Using industry consensus standards created by industry experts with guidance from ASTM has allowed far more rapid changes than is possible under a prescriptive FAA certification system. Aircraft get better and safer, faster.
Sales Running Strong
Perhaps it's because Americans have been saving at a far-higher-than-usual pace in 2020 and into 2021. Perhaps it's what happens after eighteen sluggish months dominated by virus talk. Perhaps the industry has matured to such a state that more pilots have faith in the products; the LSA safety record has been "acceptable," FAA has often stated.
Maybe it's simply a statement that it feels good to be getting back to normal. While EAA has signs at entry points recommending (but not mandating) face masks for unvaccinated visitors, few wore them, less than 5% use, I'd estimate. Of course, we are mostly outside, in the sunshine, with a breeze blowing. Everyone I've met outwardly celebrates a "normal" feel to the airshow.
…and it's busy. I will not be surprised to hear some record numbers; fly-in airplane parking is close to using every available space.
Whatever the explanations and many more are possible, it appears at least the larger, stronger Light-Sport Aircraft manufacturers are experiencing solid business. Several told me so straightforwardly. Some companies are taking orders for delivery well into 2022 — and this is not because they can't get enough computer chips (like the auto industry) or other supplies. They have enough orders in hand to cause this situation.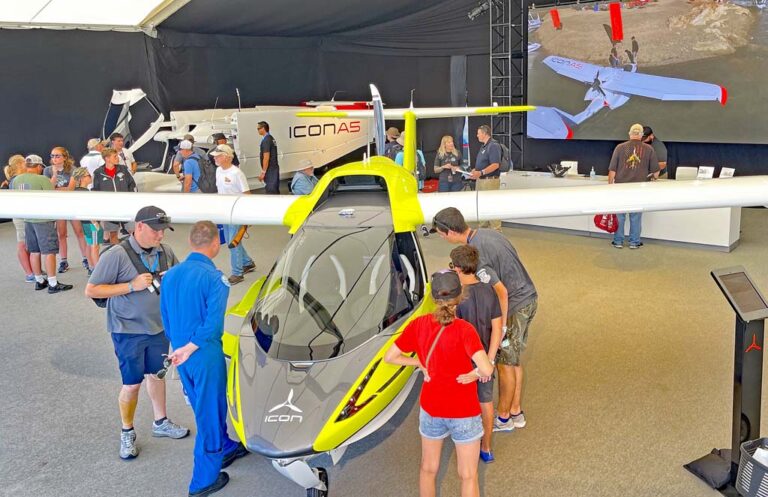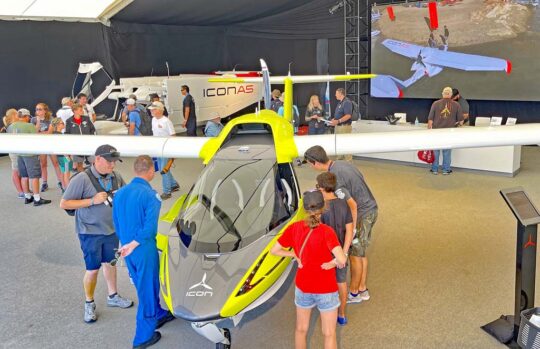 ICON — Once-closely-watched Icon Aircraft is back at AirVenture with a large, impressive display — though far more conservative than a few years back and not right on the main walkway as they previously were. After a difficult company reorganization and subsequent personnel turnover, the company has added new staff, drawing experience from other manufacturers to rebuild their approach. Icon arrived on the scene with such gusto that they raised expectations to the moon. That's a high bar. When manufacturing costs proved higher than first expected, prices rose sharply to levels not seen among LSA. More recently, other brands have made their models more luxurious, added more advanced avionics, and powerful engines like Rotax's 915iS. This has brought their prices closer to Icon's though the A5 remains top of the price pyramid. New management is aware they have work ahead but fresh talent, adequate financing, and a resolve to move forward are a big help. Icon reported achieving Primary Category certification; this can help make sales into countries that do not use ASTM standards.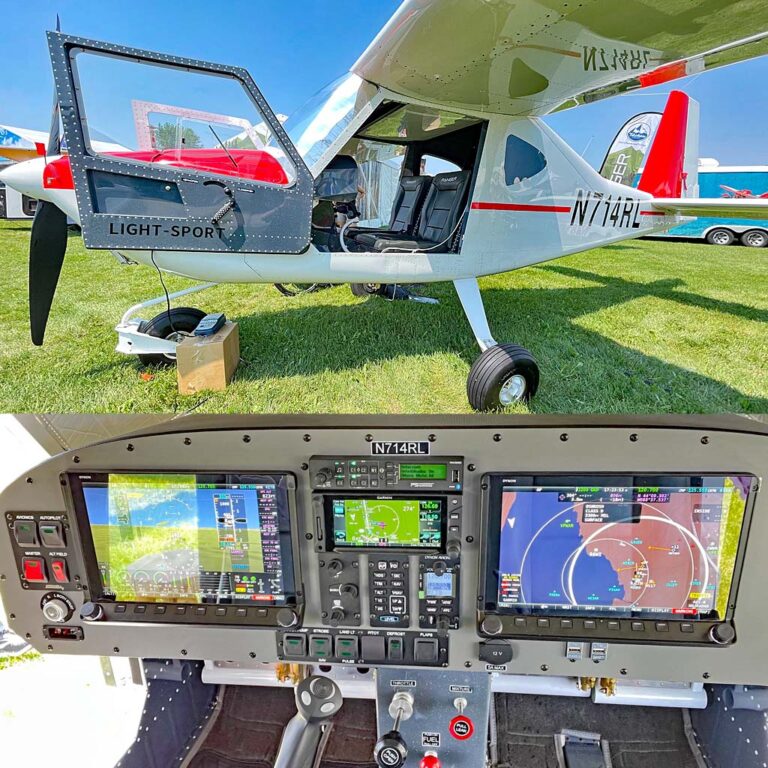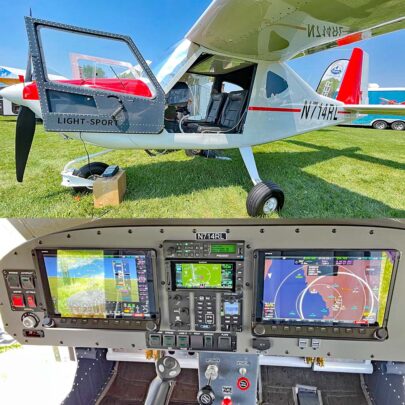 VASHON — Another company reporting a full order book is West coast-based Vashon Aircraft. One area of success for the company closely associated with Dynon Avionics has been with flight school operators. That's why Vashon showed a full IFR Ranger at AirVenture 2021. Company owner John Torode acknowledged that this does not permit flight into IMC but can let Ranger be used for instrument instruction. Flight schools like the familiar, and very sturdy, construction of Ranger. They know its Continental engine. The flight school market is important for Vashon, complimenting a warm reception they've received from individual pilots. Vashon remains a relative bargain in the LSA field. Their booth buzzed with activity while I visited with John.
SCALEBIRDS — Sam Watrous and his ScaleBirds team have been on a tear with their excellent scale replica light aircraft. These are Experimental Amateur Built aircraft but they've made a solid effort to make building go as easy as possible. The aircraft carefully replicate the original versions, so purists looking for that certain look can get it but in a much more affordable package than the original it mimics. Sam runs the enterprise with his son Scott and a group of support people that help them in the project. ScaleBirds was looking good in the revised North Aircraft Display area, colloquially referred to as the "Kit-Built Area." Most folks are attracted to bright polished aluminum surfaces. Certainly all that elbow grease pays off at big airshows like Oshkosh.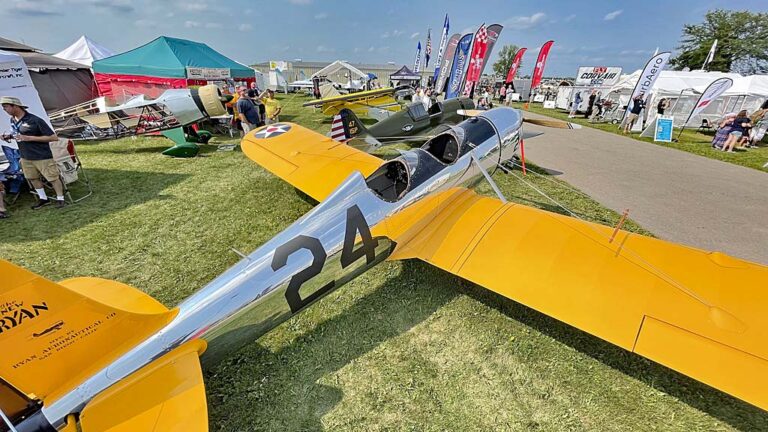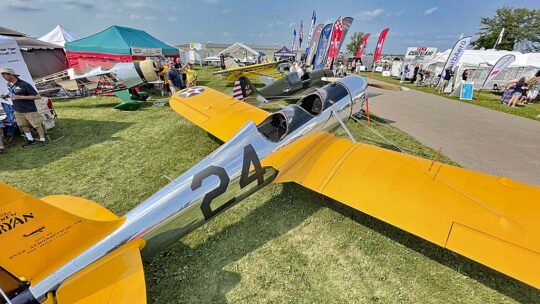 And, speaking of area movements…
Changes Ahead
FUN FLY ZONE RELOCATION — It may be sign of success. Judging from a full contingent of vendors in the light plane area, with a few vendors reporting they could not get space until someone backed out, this area reflects the health of light aircraft and ultralights. As with the LSA purveyors up north on the field, the Fun Fly Zone airplane sellers are reporting solid activity in leads and sales.
At least some vendors had been informed about and were therefore discussing a possible movement of the Fun Fly Zone, colloquially known as the "Ultralight Area," to a position further south on Wittman Field. Historically, this area has already moved considerably south. It was once much closer to the Vintage Aircraft area (near Theater in the Woods).
Proposed with the new idea being discussed is a longer, better positioned runway. To their credit EAA and the Ultralight Area managers over the years have made the angular Ultralight Area strip work successfully. Yet to maneuver for short final, pilots must make a series of turns, all while staying well west of traffic on the main north/south runway. It is far from optimal even if good leadership and cooperative pilots have made the current runway work.
This week, EAA is demonstrating once again that they know how to produce a great show so I'd expect they'll make the Fun Fly Zone relocation go well and look good.