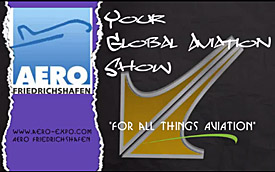 We were busy at Aero Friedrichshafen 2013, knocking out more than 30 videos for your viewing information and entertainment. That's more than seven videos per day and a sum of more than five hours total running time (more than three Hollywood movies in minutes of viewing time). With these and all the videos shot at Sun 'n Fun the week before Aero started, we expect to offer more than 300 videos on our LSA Video page. I'd like for you to understand how much effort that represents. I'd also like to thank BRS Parachutes, ICP North America, and Renegade Light Sport Aircraft for providing financial assistance to Lightsport and Ultralight Flyer. Without their support, these videos would not likely have been made.
Today, I uploaded more than a dozen new videos to ByDanJohnson.com. We have many more coming. The newest ones include • Introduction to Aero and what you'll see • Tecnam's aerobatic Snap • FlyEco's Diesel engine • FK 51 replica Mustang • Yuneec's electric-powered eSpyder • lightweight electric aircraft • Zlin's customizable Bobber • ICP's Savannah taildragger and new engine • BOT SpeedCruiser with D-Motor • BRM Aero's Bristell taildragger • Phoenix Air's electric-powered ePhoenix • Nando Groppo tri-gear and, • one from AirVenture 2012 on the Zenith CH-650.
You might better understand the work it takes to make a video by relating to major motion picture films from Hollywood or other movie making centers. You've probably seen "Making of …" videos where the concepts, equipment, and tasks are explained in detail. Of course, Hollywood spends millions of dollars and often hundreds of man-hours for scenes that sometimes last just a few seconds. Naturally, my effort with Lightsport and Ultralight Flyer, which uploads to YouTube channel "UltralightNews" isn't the same as a big-budget Hollywood production. Nonetheless each video is no small effort and I'd like to give you just a glimpse.
First you have to travel to where the action is, be it Sun 'n Fun in central Florida or a week later in southern Germany. Then you carry equipment and supplies for literally miles (or kilometers) at these big events to get to where airplane projects are being shown. Before shooting starts, you work with representatives that know their products and run through a routine to be used in video taping that is similar to live-studio productions … that is, we coach the people being interviewed as to what they can expect and how to follow our lead. To save time and make the final production effort simpler, we try to keep editing to a minimum. These are not staged or scripted events and we work hard to avoid retakes. All interviews are essentially live action and we are grateful for those whose native language is not English as they participated.
Honestly, though, all the above is the easy part. Once the video is captured much more is required. "Static" shots — those scenes you see while the interview continues on an audio track — are often shot early in the morning before crowds gather around new aircraft. Company video is secured to add action. After logging all the footage editing starts. This is at least a full day task for every one of the 10-minute videos you see here and on YouTube. Now that we have about 300 videos "in the can," we offer a library with the viewing-minutes equivalent of more than 33 full-length Hollywood movies. Believe me, we don't have Hollywood's multi-million dollar budgets nor do you pay anything to watch the videos. Thanks to all our subjects for their creative work designing airplanes and products and to Lightsport and Ultralight Flyer for the substantial post-production effort.