OK, I admit it. I'm a huge fan of Aero Friedrichshafen. This show packs a lot of delight into four days and 12 gymnasium-sized exhibit halls.
In 2023, many of the aircraft on display are known to Americans. However, Europe tends to produce more proof-of-concept projects than we see in America. This is partly as European governments subsidize certain developments, such as when a designer engages a national university. The builder gets technical assistance. The students get real-life experience.
Help with these costs yields many interesting designs but few make it to market. However, novel ideas can find their way into other, marketed designs.
Other projects are carried, just like in America, by entrepreneurs that simply will not stop until they reach their goal. Jörg Hollmann of JH Aircraft is a driven engineer who has steadily developed and improved his super-light Corsair lookalike. For Aero 2023, he has something new… again!
Part 103-Eligible Corsair
When Jörg first introduced his carbon-fiber-tube-primary-structure Corsair, lot of us had to pick up our jaws from the floor. Corsair was so distinctive in its shape and so unique in its construction that most initially refused to believe it could fit Germany 120-Kilogram Class (empty weight allowed is within a couple pounds of Part 103).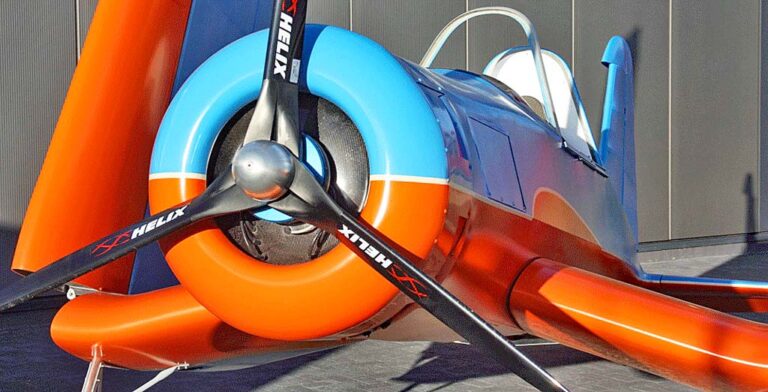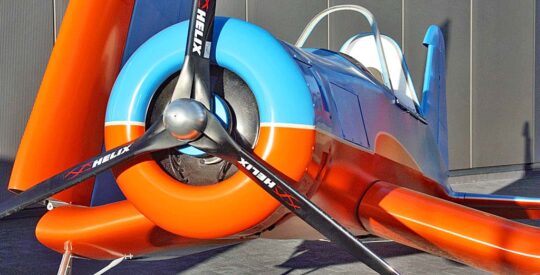 Then he finished the aircraft, flew it, and proved it could make weight. Later Jörg worked with a three-cylinder internal combustion engine that seemed to fit the era well. He wasn't done as you'll see below.
Corsair is "a microlight single seater fulfilling different national regulations such as England's SSDR or the U.S. Part 103, yet it is capable of +6 and -4 g without compromises on safety," explained Jörg.
Designed and built in Germany, Corsair has an extremely strong carbon primary structure composed of laboriously-assembled carbon tube. "Furthermore," Jörg added, "the complete cockpit area is constructed as a Kevlar reinforced safety cell." Of course, this being a German design, an aircraft rescue system with a ballistic parachute is available as well. Germany requires such equipment.
"If you want to start your own project and build an aircraft on your own," Jörg observed, "Corsair is not only available ready-to-fly but also as a kit."
Get e-Motional!
If an aircraft is good, is an electric-powered one even better? Maybe, and those keen on this propulsion now have that choice on Corsair.
"With electric propulsion, Corsair e-Motion is nearly maintenance-free, thus it is less complicated and leaves more time for the pure pleasure of flying," believes Jörg. "Especially with open canopy in nice weather you can directly feel the freedom of flying."
Different types of batteries are available with up to 14 kWh, allowing up to two hours of flight time. Batteries can be recharged in approximately 4.5 hours at a standard wall outlet or in just 1.5 hours using a quick charger, reported JH Aircraft.
Those attending Aero Friedrichshafen 2023 are warmly invited to examine Corsair at Aero (April 19th – 22nd) in Hall 5, stand 305.
---
TECHNICAL SPECIFICATIONS
JH Aircraft Corsair eMotion
all specification provided by the manufacturer
Wing span (folded wings) — 24.6 feet (9.0 feet)
Length — 20.7 feet
Wing area — 108 square feet
Empty Weight (without batteries) — 187 pounds
Payload — 364 pounds
Load Factors — +6g / -4g
Engine — Electric motor HPD16 or HPD20
Power — 16 kWc / 20 kWpeak or 20 kWc / 30 kWpeak
Batteries — 7. 1 or 14 kWh / max 136 pounds
Flight time — Up to 2 hours (14 kWh)
Take off roll distanc — < 130 feet
Take off over 50 ft obstacle — < 400 feet
Stall speed — 30 knots
Cruise speed — 86 knots
Maximum speed — 108 knots
Best climb — 1200 feet per minute
ARTICLE LINKS:
---


This video interview was recorded three years ago, before Covid, on my last visit to Aero until 2023.
And here's a shorter review of the aircraft before it flew, featuring in-flight views at the end.