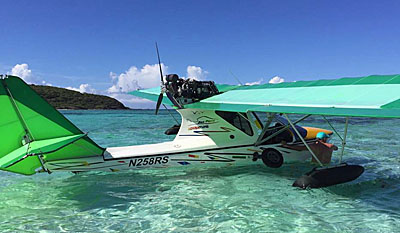 Let's make an important point right up front. Seaplanes cost more than land planes. A fully-built, ASTM-compliant LSA seaplane starts at $150,000 and can go way up from that point. With a boat hull and retractable gear, of course, these water birds cost more to manufacture.
Must seaplanes be so costly? Fortunately, no! Aero Adventure manufactures a surprisingly affordable light seaplane kit.
With the Suzuki-based AeroMomentum engine, you can get an Aventura in the air for less than $50,000 …yep, nose to tail, tip to tip, including a basic panel and powerplant for $49,000. Elect the super-popular Rotax 912 and the cost rises a bit to $55,000, at which level Aventura remains one of the major bargains in light aviation. Learn more about the AeroMomentum engine in this video.
AeroMomentum has a few choices for you, Alex indicated, including their 100 horsepower AM 13 model or the 117 horsepower AM 15.  Aero Adventure supplies these powerplants with everything needed including a prop and all engine accessories needed to get in the air. "We measured 550 pounds of thrust with AeroMomentum, more than other brands we've tested," said Alex. Aventuras with the Suzuki powerplant have logged more than 100 hours collectively and customers appear pleased.
The Aero Adventure brand has been around for more than 20 years and the fleet includes more than 200 airplanes, reported Alex. They've been industrious in 2017; here are some things they've been developing:
Aero Adventure News
---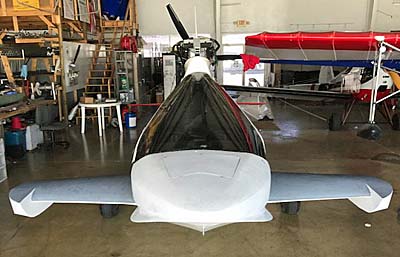 Hammerhead "canard sponson" — Although it looks like (and is) an add-on feature, this could easily catch on for Aventura buyers and current owners. Dispensing with the wing-mounted sponsons you see in the nearby photos, their canard sponson offers more than a cool look.
These sponsons do the same job as the wing-mounted ones, namely keep the wings out of the water on turns or in moving water. However, since you can also walk on them, they aid entry, give you a platform in the water — for fishing, as one example — and they eliminate the drag of the tubing structure to hold the wing versions. "They actually develop a small amount of extra lift," said business owner Alex Rolinski.
This is no Icon A5-inspired idea. The canard sponson idea was first conceived under the leadership of Carlos Pereyra, a previous owner of this company who was something of a guru about fiberglass construction. The prototype was first fitted in early 2000 on a 1998 Aventura for a kit builder who wanted to explore the idea.
The original was built of fiberglass and used an interior aluminum tubular structure. It also had extra fuel in the sponsons, but when Alex and his group brought back the canard sponson, they removed the fuel tanks. Aventura carries plenty of fuel in a tank aft of the seats.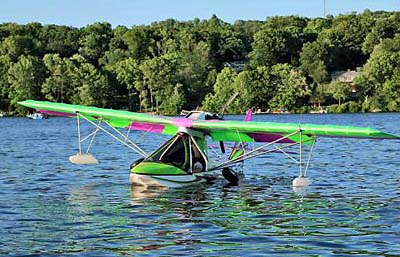 "Aventura with these canard sponsons flew fine," added Alex, "but the assembly was heavy." Eliminating the fuel tanks considerably lightened the component. "They are made of very dense and very light foam," said Alex, "The construction uses technology borrowed from boats and is very strong."
Installation can be done to older Aventura seaplanes. Two 2.25-inch holes are cut in each side of hull but this is not a structural issue as the hull is independent of the airplane's structure. Nothing is fiberglassed to the hull but the assembly conforms with a snug fit. "One aluminum tube runs under your knees and another behind the seat, continuing through the hull to protrude on the other side," explained Alex. The canard sponsons extend 43 inches from each side. They have a taper from 44 inches of chord to 33 inches near the sponson. This is an all-new sponson design; it is not the wing mounted one moved inboard.
"They work well in water and in-flight cruise," Alex noted. Drag is reduced due to component's overall shape  as it eliminates support-tube drag from the original wing-mounted sponsons. Aventura's retractable wheels tuck behind the sponson showing slightly above the upper surface. "The sponsons have no effect on turning; you still maneuver in the water with rudder and prop blast."
New Front Deck & Instrument Panel — "We have a new nose deck that you can identify with its extra hump and a larger hatch," Alex observed. A nose cavity allows a limited space for some cargo items.
That new nose deck integrates with the instrument panel and Aero Adventure has some news about that as well.
"When you choose one of AeroMomentum's engines, wiring is simpler, freeing up space in the panel," Alex said. Aero Adventure will also wire the panel for those that prefer not to tackle this job.
Many homebuilders choose this — indeed, Aircraft Spruce has a whole division that will prewire panels for builders (see video on this) — so it fits in FAA's task-based method of determining compliance to the so-called 51% rule.
Still More Developments — Other new work in development is fiberglass ribs in lieu of slide-in tubular ribs. "These do not change the wing shape or profile," said Alex, "it's still a Hershey bar-style wing."
"With more than 200 aircraft flying we often hear from current customers and new customers who bought used ones," Alex added. He reports a fairly active overseas market as well as American customers.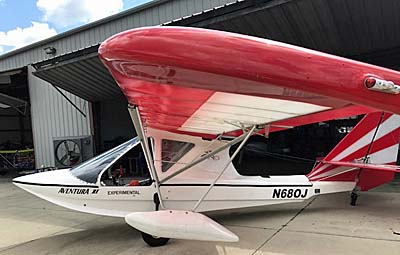 Support for Buyers — Beside making airframes in kit form, Aero Advenure does regular refurbishment of previously-built Aventuras. "We have two Aventura IIs in inventory right now. One is a 2006 model with just 74 hours on it; another is a 2009 model that has close to 400 hours logged," Alex said. I predict these won't last long but Aero Adventure will happily make more at their DeLand, Florida location (right next door to Aerolite 103 manufacturer, U-Fly-It).
If you need training, Aero Adventure has a new certified flight instructor joining the team to offer flight training, transition training, and seaplane ratings. The company is organizing a club to allow such training in Experimental aircraft.
Want your own Aventura seaplane? You can buy from inventory or order the kit and start work on a brand-new Aventura. The airframe without engine is $31,000 but you can buy any of 19 assemblies and get going without investing the entire piggy bank. Contact Aero Adventure and see how much fun water flying can be.