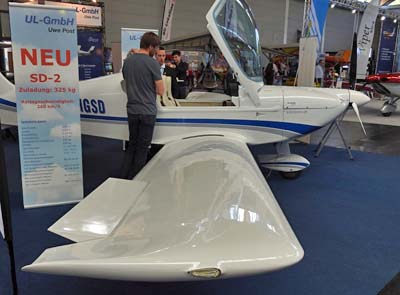 Immediately following Sun 'n Fun 2018 is Aero 2018. Crammed in on the lone repack day in between shows I photographed a great showing of six LSA or LSA-like seaplanes at my home airport. I'll report more on that gathering in another post because blast off to Germany and Aero we did that afternoon.
Aero Friedrichshafen is my favorite European aviation event for one principal reason — it always delivers on new, never-before-seen aircraft. Full days means that most reports must come later but I want to keep the Sun 'n Fun pace some readers liked by getting regular articles out regarding new things I saw at Aero. First up…
SD Planes' New Two-Seater
Americans have seen and we have reported on SD Plane's single seater, the SD-1 Minisport. Here's a series of articles about that modestly-priced aircraft — and here's our video.
Yet what once looked so promising when a group of young entrepreneurs attempted to get through ASTM compliance with SD-1 suffered when FAA did not agree to their readiness and a main investor had to withdraw. Fortunately, John Vining (video) quickly stepped up to continue representation of the kit.
That's the U.S. scene but in Europe, the brand has been steady under its owner and designer, Igor Spacek. After doing engineering work for other manufacturers Igor started Spacek s.r.o. (Ltd.) in 2007 to fulfill interest in his SD-1 homebuilt airplane. That design originated in the late '90s and took its first flight in 2005.
SD-2 SportMaster is a new kit-built airplane about which its designer said, "The main emphasize is given on high performance, payload, and comfort at lowest possible price." Who can't love that?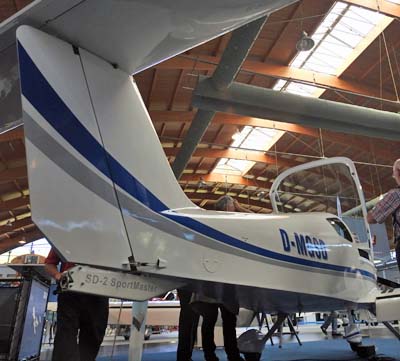 Igor appears to achieved his goal.
SD Planes' show aircraft at Aero 2018, its first production example, is powered by the Rotax 912 ULS2 engine, which should yield sprightly performance from this very light aircraft. SD-2 weighs in at a lean 578 pounds. Given a 1,320 maximum takeoff weight, it can carry 125% of its empty weight. Even with full fuel (26 gallons) SD-2 can carry a payload slightly greater than its empty weight. Few two seaters can match that feat. It's largely wood structure is tough enough to handle a +5/-3 g limit load.
SD-2 can run at LSA speeds of around 120 knots and stalls at a low 34 knots, very close to the 4:1 holy grail of maximum to minimum speed.
Similar to SD-1 Minisport, SD-2's fuselage employs primarily a wood truss design although the wing has a carbon main spar with composite integral fuel tank. Covered with thin (1.5 mm) plywood, SD-2 is a genuine composite aircraft. Wingtips are built of glass and PVC foam sandwich, but wood does most duty as it is low cost and proven. Big slotted flaps are made of carbon with PVC foam sandwich while counterbalanced ailerons are built of plywood and XPS foam. Wings attach to the fuselage using two main and two auxiliary pins that Spacek said allows disassembly in only 10 minutes.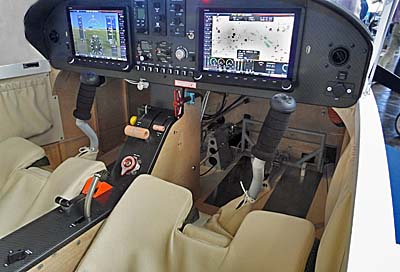 Side by seats seats are equipped with in-flight adjustable pedals with 6-inch (150 mm) range, that the designer said will accommodate someone 6.6 feet tall (200 cm) tall. Inside, SD-2 is spacious with a 46-inch (117 cm) cockpit width at the shoulders. A fairly roomy baggage compartment holds 44 pounds (20 kg) behind the seats.
To discover more about SD-2 SportMaster and to learn its cost, email the company.