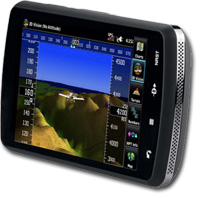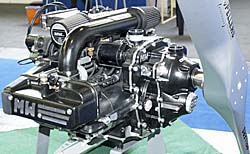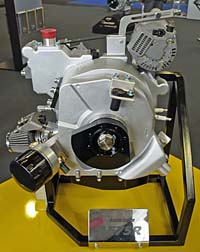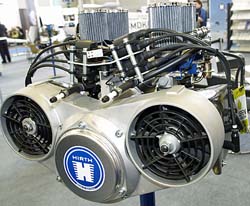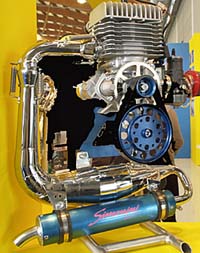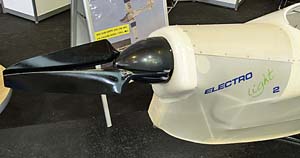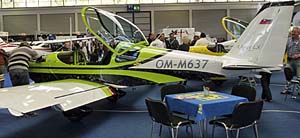 Aero 2012 concluded and we present a final round of aircraft news to be followed by a wrap up view. All photos by Dave Unwin —DJ ||||
LSA SUPPLIERS & ENGINES
Garmin had a pretty big presence at the show. I spoke to Matt Harran who told me that the newest items Garmin had at Aero 2012 are improved VFR charting for the GPSMAP 795, which includes more specific data from Jeppesen, which can be uploaded onto the unit.
*** Along with the usual two and four-strokes there were some diesels, a hybrid and a couple of rotaries at Aero 2012. More esoterically, there were also some small jets and turboprops, and several electric motors.
••• An Italian company, MW Fly, also had three versions of its B22 on show; the 95 horsepower 22D, 115 horsepower 22L and 130 horsepower 22R. These geared, liquid-cooled flat-fours feature electronic ignition and injection.
••• Although not the usual ByDanJohnson content, Diamond's DA-52 VII deserves a mention because the new aircraft generated a great deal of interest. Of more focused interest to light plane fans is Austro — the Diamond subsidiary that builds its engines after the original Thielerts were deemed unsatisfactory. Austro also produces several lightweight Wankel-type rotary engines. The single-rotor AE50R produces 55 horsepower, the AE75R perhaps unsurprisingly, 75 horsepower, while the twin rotor IAE110R puts out 110 horsepower.
••• Hirth also had the latest incarnation of its well-proven F30 on show: the 3003. This fan-cooled two-stroke flat-four produces 92 horsepower at 6500 rpm, and is claimed to weigh only 92 pounds.
••• After looking at several powerplants I gave a "most aesthetically pleasing" award to the Simonini Mini 2 Plus, if only because the curvaceous exhaust was practically a work of art. This compact single-cylinder Italian engine puts out 26 horsepower.
••• As a keen exponent of electric flight, I was quite taken by the ElectroLight 2 from Electravia. Based on an old L-Spatz single seat glider airframe (a bit like a Schleicher K-8), it has a 26 horsepower motor and can climb up to 10,000 feet with the large LiPo battery pack. ||||
MORE LSA AIRCRAFT
*** Well, just when I thought there couldn't possibly be any more new aircraft — I found some!
••• Aimed at the German 264-pound category (it can also meet the England's SSDR and the USA's Part 103 criteria) the Song is an unusual single-seat, twin-boom pusher from Czech manufacturer Gramex. Available in two different versions the high performance model ("high performance" being used here in the loosest possible sense) has a span of 24 feet and is powered by a Verner 35 horsepower engine. It can cruise at up to 66 knots on the Vernor engine, has a Vne of 72 knots and stalls at 32. Both versions have the same 517 pounds gross weight, so it is fortunate that the version fitted with the 20.5 horsepower Bailey motor has a 36 foot wingspan.
••• BRM's Bristell looked very smart in this yellow paint scheme. This particular aircraft was very well finished, with flush-riveting used on some parts of the machine. BRM also had a retractable version on show, and this generated quite a lot of interest.
••• Slovakian airframer Tomark had two versions of its Viper SD-4 on display; the LX was painted in this rather lurid green, while the glider tug version was bright yellow, and even had shark's teeth! Both are powered by the near-ubiquitous Rotax 912. In fact, Rotax appears to have increased its domination of the LSA market.
••• Zlin had its Savage Cub and Savage Classic on display, and also the airframe of the Savage Bobber. The idea of the Bobber is that it can be totally customized by the customer. It is offered with 15 different colors for the engine, 20 colors for the welded (4130) fuselage, two different types of chrome, and a wide variety of just about every other parameter such as eight different types of leather, plus various options for the luggage holders, seat belts and seats. Currently, there are ten different paint schemes available; there are even four different colors available for the propellers! I would imagine that leaving the aft fuselage un-skinned must also improve the handling when landing and taking off in strong crosswinds.
*** Watch for an assessment of the show later this week!