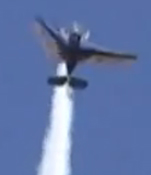 Before I go forward with this story, let me tell you that for 18 years, I was a VP at BRS Parachutes.
I was the one who kept the early list of the company's "saves," that is, the sparing of a human life by the use of a whole-airframe parachute (usually rocket deployed). As the keeper of such a list, I always sought information on what happened and why, seeking ways to help BRS engineers further improve its products and to better prepare pilots for the use of such a system. Always, always… the most valuable thing was a video of the deployment event. Rarely did any such video surface.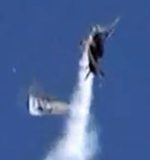 But today, BRS sales rep Derek Keufler reported a deployment in Santa Fe, Argentina. He wrote, "We are still looking to obtain more information, but it appears that the pilot was doing aerobatics and his wing collapsed at 700 feet above ground level."
Whatever they later find out, the video shows the situation quite clearly. A stunt pilot flying a RANS (what appears to be a S-9 model) was inverted when his left wing broke at the fuselage. The pilot was identified as 22-year-old Dino Moliné by the newspaper El Trébol ("The Clover") via their online story titled, "Miracle in the Sky."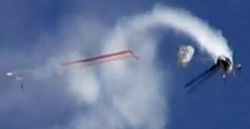 He deployed in plenty of time and you can watch his remarkably slow descent to the ground. I have seen video for a handful of actual events and I've observed many parachute canopy tests and Moliné indeed experienced a slow descent rate. The airplane subsequently caught fire — with the parachute still inflated and pulling on the fuselage — but the pilot can be seen walking away from the incident. The Fire Chief reported, "The pilot was fine, in perfect condition, walked and talked with us all the time."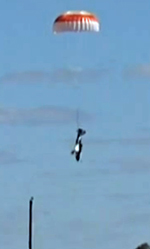 Articles like this help us learn the value of an airframe parachute. And I remind you this is an extremely rare capture of one of these event. BRS reports this as "save" number 253.