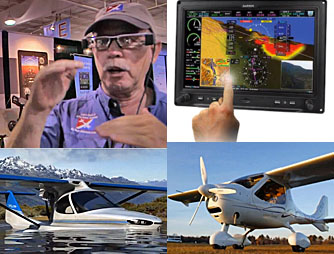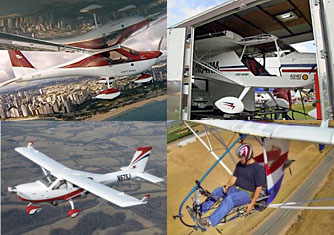 Traffic to this website grew significantly in the last few years, starting a steep upward path in 2012 and in May this year hitting a peak of almost 75,000 Unique Visitors. First, a thank you for your regular visits! Then, a question: why is that so? It's impossible to say why 60-70,000 people do something each month but a leading candidate reason has to be our embrace of video thanks to our partnerhip with Lightsport and Ultralight Flyer, publishing these days to YouTube under the name SportAviationMagazine.com. It seems clear … people love video! Comments we receive at airshows are now commonly related to video though we hear good things about our effort at covering all the news for Light-Sport Aircraft, light kit aircraft, and ultralights.
Recent Posts — (top left, clockwise) Sampling the AeroGlass heads-up display eyewear when visiting Levil Tech • Garmin's new G3X Touch • Flight Design CTLSi comparing Rotax 912ULS and 912iS plus new Dynon gear • New MVP from MVP.aero wowed the crowds at AirVenture 2014
My video partner and I create well over 100 new videos per year and I just uploaded eight new ones (images) with many, many more to follow. We will post a few more each week, but if you want to see what else is available now — head over to Lightsport and Ultralight Flyer channel. Google's statistics service reports this channel logs about a million minutes per month of viewership. That's over 550 hours per day and at 10 minutes per video on average, that's better than 3,000 videos every day. Obviously, they tap an interest. More than a billion unique users visit YouTube each month and the website is therefore an excellent tool for aviation outreach to the unwinged masses that need to see and hear our joy of flight.
With this in mind one of our conclusions about the growth in traffic: Since people are watching more video than ever, YouTube's reach is sending people to websites like this one for more info. Great! Welcome!
Recent Posts (top left, clockwise) Ekolot's Topaz and importer Kris Siuba •Aerotrek A240 inside a custom trailer with a companion Fiat 500 • Adventure Aircraft's new Electric Motor Glider • Interview with Eric Evans of the Midwest LSA Expo about his new flight training service using Jabiru