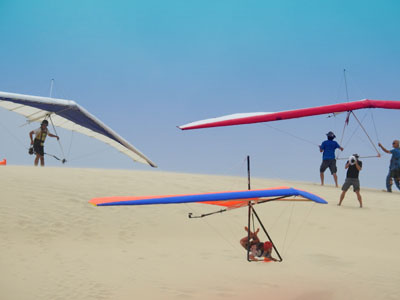 Wind blows across the dunes here in Nags Head in a way that first drew the Wright Brothers 114 years ago. Indeed, a couple miles north a memorial commemorates the famous bicycle shop owners who made history in this breezy outpost on the Outer Banks of North Carolina.
For 45 years, an event has occurred on these ever-shifting dunes qualifying it as one of aviation's longest-lasting events. To some eyes, it may also be one of the most fun, a nearly innocent way to take to the air in the lightest of wings. Many do it barefoot, and here, that's perfectly fine.
This is the grandly-named Hang Gliding Spectacular. The staff who run it refer to it simply as "Spec."
The old saying about not flying higher that you want to fall practically defines sand dune flying on Jockey's Ridge. The idea: fly from an 85-foot-high, rather gently sloping sand dune using the wind and your skills targeting a set of concentric rings at the base of the dunes to see who can most closely plant both feet in the bulls eye. Not many do. It's harder that hitting that little center ring on a dartboard.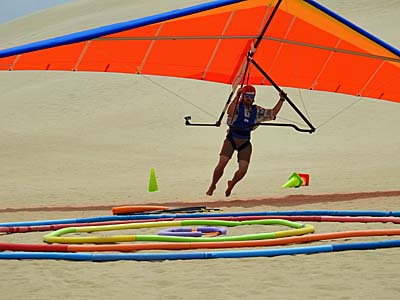 Fun abounds and no wonder. "Spec" is sponsored by Kitty Hawk Kites supported by other local businesses. Kitty Hawk — Nags Head — the Outer Banks… this is a major tourist haven. Mile upon mile of beach houses are rented to millions of tourists from all over the east cost.
All those folks are looking for some fun on their vacation and Kitty Hawk Kites owner John Harris' multiple businesses give many ways to enjoy the area. His hang gliding school, established in 1974 has probably trained more hang glider pilots than any other school on Earth. Many went on to fly airliners and other working aircraft. Another large bunch of them still enjoy this simple and inexpensive way to go aloft.
Not all hang gliding is sand dune flying, of course. Impressive flights of many hundreds of miles have been achieved and competitions occur around the world showcasing truly expert pilots using high-tech gliders and gear. However, nearly all these "sky gods" learned to fly in a manner similar to what happens here at Kitty Hawk Kites.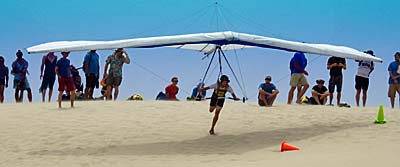 Powered aircraft pilot might not think this appeals to them. That's understandable. Yet those of us who spent years in hang gliding can attest to the good times this kind of flying provides. More than any other aircraft, a hang glider comes closest to delivering the childhood fantasy of your arms as wings. Angels of the sky? Maybe, but if you fly, you know the enjoyment going aloft can bring; sand dune hang gliding is another fine way to enjoy the air.
This short video produced at the 2016 event gives a flavor of the festivities and gives an up close glimpse at the dune flying.