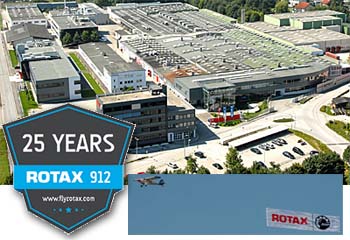 Twenty five years ago the world celebrated a major event in human history: the tearing down of the hated Berlin wall. That was 1989 and the same year brought forth another great occurrence in human freedom (for a completely different reason). That year, Rotax Aircraft Engines introduced their then-brand-new Rotax 912 … or 9-series as some call it. While the Berlin wall allowed Germans to cross a line forbidden for many years, the 912 powerplant gave pilots the freedom to fly with greater confidence. In evidence, several around-the-world flights have been achieved with this popular engine. Today, Rotax's 9-series engines propel an estimated 80% of the Light-Sport, light kit, and ultralight airplanes flying. The release of the 912 was a big deal — perhaps not as momentous as the fall of the Berlin wall — but to we pilots, that engine represents a key element in the growth of light plane flying in dozens of countries.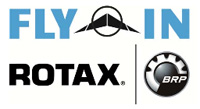 To properly celebrate the 25th anniversary of the 9-series and production of 50,000 912 & 914 engines, Rotax BRP will host a Fly-in on June 5 to 7, 2014 at the Weisse Moewe airfield in Wels, Austria (northeast of Salzburg and west of Munich, Germany). Those attending this second company fly-in have a chance to fly amid the scenic surrounding of upper Austria plus have a chance to test ride a Rotax Can-Am Spyder Roadster (a three-wheeled motorcycle). More than 100 Rotax 912 iS-powered aircraft are expected from all over Europe. Tours will also be offered for Rotax's large factory in nearby Gunskirchen (photo above) and various events are planned to include sessions of engine tips and tricks from Rotax factory experts and engineers.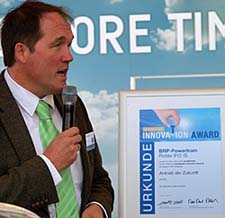 Weisse Moewe airfield, home of the local aero club, is where Rotax engineers and test pilots regularly put their engines through real-life tests. Rotax's 912 is a significant departure from earlier aircraft engines. It is physically smaller, uses liquid cooling, an electronic control unit, and a gearbox to change engine revolutions from 5,000 rpm to slower speeds that work for props. The 912 enjoys a much better power-to-weight ratio than old stand-bys like the Lycoming O-233. That veteran engine produces 100 horsepower (at 2300 rpm; higher power is available at increased revolutions) using 233 cubic inches of cylinder displacement. In a sharp comparison Rotax's 912 ULS makes the same horsepower using only one-third the displacement, 83 cubic inches. Announced earlier in 2014, the 912 iS Sport takes the 9-series engines to its highest operating and performing plateau. This innovative powerplant is why Rotax won an award from EAA last year and from Aerokurier magazine this year (photo).
Since 1973 Rotax has delivered more than seven million engines to a wide range of vehicles. In the aviation sphere, Rotax is celebrating delivery of the 50,000th powerplant in the 9-series. Counting all engines ever produced for aircraft, Rotax has delivered more than 170,000 units. Complementing the Rotax Aircraft Engine line, BRP Powertrain also supplies such well known brands as Ski-Doo and Lynx snowmobiles, Sea-Doo watercraft, Evinrude and Johnson outboard engines, plus Can-Am off-road vehicles and on-road motorcycles.