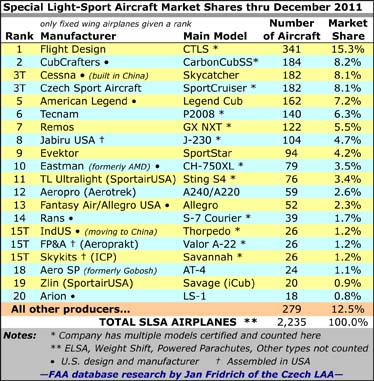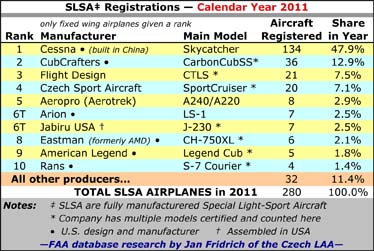 The LSA Market Share numbers are complete for 2011 and we offer them below. But first, if you will permit, I wish to say a hearty thanks to all the visitors that helped ByDanJohnson.com achieve an all-time record month in January 2012 following a strong December 2011. In the first month of the new year we broke nearly every prior record: Unique Visitors, Total Visits, and Hits. We also serve a 25% international audience in nearly every country on Earth. We appreciate the long-term loyalty of our sponsors and each of you who are Members. Your $29 annual donation to this website helps us provide lots of free information. Thank you for your support.
2011 Market Share Report Nearby, we present our standard market share numbers. Our original chart remains consistent, illustrating the "installed base," or "fleet size." However, we know many of you want current-year information and therefore we begin our first Calendar Year chart. *** No question about it. Cessna easily won the 2011 race with 134 registrations, the most ever in one year for one company and 48% of all registrations for the year. Flight Design achieved nearly this number for two years running (109 and 103 in '06 and '07). Even Cessna can't yet match that. Experts and former Cessna people wonder how many of the 1,000 original Skycatcher deposits could be returned after a dramatic 30% price increase but that takes nothing away from Wichita giant's performance at delivering aircraft, slowly in 2009, accelerating in 2010, and zooming upward in 2011. *** The second biggest story in 2011 registration performance is CubCrafters. Their 36 new registrations vaulted the company into the number two spot in overall fleet, while Cessna and the SportCruiser are tied in third. Last year deliveries were good enough for second in 2011, yet CubCrafters has a solid record of adding to their fleet (15-51-19-24-39-36 in '06 thru '11). Cessna didn't start delivering until 2009. *** In third and fourth place for 2011 are perennial leader Flight Design, which remains convincingly atop the overall fleet, and the SportCruiser. Importer US Sport Aircraft has done well to carry on after Piper left the LSA scene. Both Flight Design and US Sport Aircraft have strong customer support programs that help account for their success. *** Another interesting accomplishment are the twin (but different) companies of Jabiru USA and Arion, which tied for 2011 registrations. Jabiru is one of our Big Eight with more than 100 aircraft in the fleet (though Evektor is nearly ready to make it Big Nine). Arion is all-U.S. design and manufacture and has been steadily adding SLSA to a respectable fleet of kit-built LS-1s. *** Some solid producers American Legend, Tecnam, and Remos had a slow year but reported sales at Sebring 2012 in response to new models and programs from each company. *** It's little surprise to see Aerotrek in the #5 spot for 2011 and #12 overall. The company has one of the best price points among SLSA and an impressively built, folding wing aircraft available in tailwheel or trigear. *** In the Up-and-Comers Department, I suggest keeping an eye on American producers Allegro, World Aircraft, and Progressive Aerodyne plus European builders Pipistrel and Fk Lightplanes. Finally, SportairUSA has the broadest selection of SLSA plus the coolest options worth a closer look. *** This brief review of the LSA market is not complete. Please see all our SPLOG reports and Featured Aircraft for more on the Light-Sport Aircraft and other aircraft Sport Pilots can fly.
Notice: As always, we observe for you that all numbers here are derived from FAA's N-number registration database. These figures are not identical to sales logged by the companies. ••• A sincere thank you goes to Jan Fridrich of the Czech LAA for his work on the LSA Market Share report. Jan is also head of LAMA Europe and a tireless worker for the advancement of Light-Sport aviation. He invests many hours to analyze data for each report. Thanks Jan, on behalf of all ByDanJohnson.com readers.