When your product fits a small space in the instrument panel, how do you show off such a small product in a more visible way at airshows. TQ Sales Director Sebastian Glück had an idea. He worked with TQ Aviation managers to acquire a beautiful Dornier Do 27 and applied the bright blue TQ logo to the airplane.
Did it work? Absolutely. The handsome aircraft (it is far from a Light-Sport Aircraft) was prominently parked during the DeLand Showcase 2019 and TQ could be pretty certain every single attendee saw the aircraft.
Dornier Do 27 is a light single-engine six-seat STOL multi-purpose transport aircraft produced by the German manufacturer Dornier-Werke GmbH. Instead of four passengers, Sebastian and his associate Karl-Heinz Reichmann used the huge aft doors to load all their airshow exhibit gear. The space was full but loading it looked very straightforward except for hoisting it up high. Do 27 stands tall on its landing gear.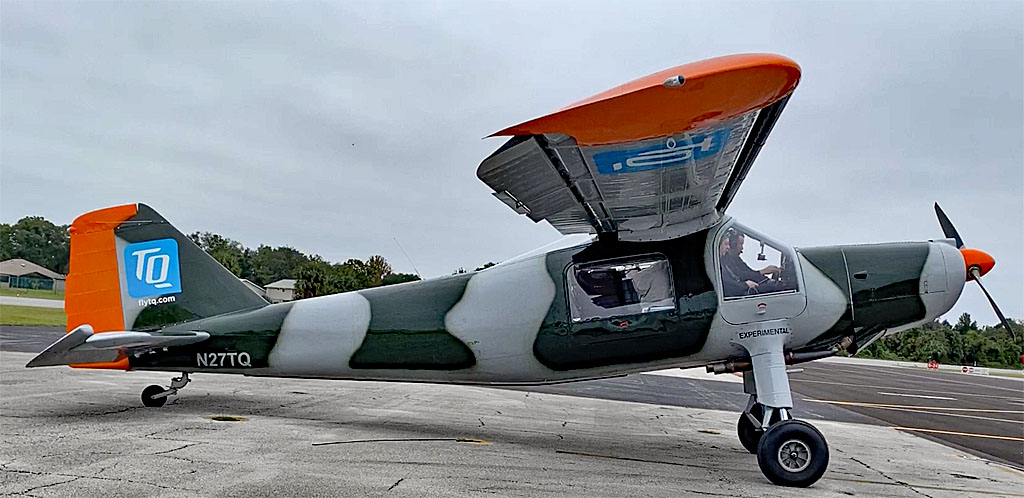 Regretfully, since DeLand closed and they flew the aircraft to its base, TQ bosses decided to sell the aircraft and are bringing Sebastian Glück back to Germany, leaving Daniel (Er-Jin) Jang to carry the TQ flag in America.
Panel Line Broadening
At DeLand, TQ representatives displayed the company's latest radio and transponders. These new models complement a range of components available in various form factors to fit the wide variety of aircraft in which they may be installed. The newest shape conforms to the common center stack in many GA aircraft.
A new benefit is a screen that can be read in bright sunlit using "transflective" technology, different from readouts in the smaller form factor radios and transponders TQ offers. Performance didn't change, according to Sebastian.
Learn about all TQ products at this web page.
"The TQ-KRT2-F 6.3-inch aviation radio for the standard generation aviation center stack is one of the most modern flying radios on the market," Sebastian noted. "Low weight and low power consumption are made possible by the highly digitized technology."
"A brilliant, transflective color display is perfectly readable even in direct sunlight," Sebastian added. KRT2-F also offers an integrated, voice-controlled intercom and intuitive operation result in what TQ calls "an unbeatable price-performance ratio."
Similarly shaped, TQ-KTX2-F Mode-S transponder also conforms to the standard center stack and is "one of the most modern transponders on the market." Low weight, compact dimensions, and low power consumption are made possible by TQ's digital technology.
Like their KRT2-F radio display, the transponder can easily be read in direct sunlight. It also boasts ADS-B out 2020 Mandate compatibility and intuitive operation. Pricing is competitive they say. KTX2's exclusive loop-through antenna eliminates the need to install a second antenna for any ADS-B in hardware.
TQ manufactures their avionics products at company headquarters in Seefeld, Germany.
Aviation Radio KRT2-F
Communication radio in 160 millimeters (6.3 inches) width for center stack installation.
Transflective color display
Direct sunlight compatible
Light weight
Minimal power consumption
Integrated voice-controlled two-place intercom,
Transponder KTX2-F
Mode-S unit in 160 millimeters (6.3 inches) width for center stack installation.
ADS-B out FAA 2020 mandate compliant
Transflective color display
Suitable for direct sunlight
Adapter for connection to other radios
Light weight
Minimal power consumption
---
In this short video, watch the Dornier fire up and fly away plus see the TQ radio line in various form factors…