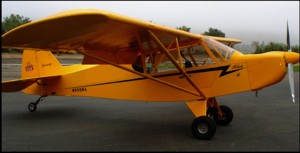 [UPDATED — May 2007: Savage Cub is now represented by Savage Aircraft Sales (www.savageaircraftsales.com) located at 6609 Northeim Road, Manitowoc WI 54220; or call (920)726-5260.]
Is the concept of a renewed Cub a phenomenon that developed with
the LSA rule? Actually, no. The Savage Cub has been in production since
1997. An Italian design team created the plane and first built the model
in Italy. In 1999 production was taken over by Zlin Aviation S.R.O. in
the Czech Republic, which has connections to Czech aviation pioneer,
Moravan Aeroplanes, maker of the Zlin all-metal GA aircraft.
[UPDATED — August 2007: Savage Aircraft Sales of Wisconsin took over from former distributor Bob West who used the name North American Sport Aviation. Savage Aircraft Sales is run by Julie & Keith Hartlaub.
Savage earned S-LSA certification just prior to
EAA AirVenture Oshkosh 2005 and is the only one of the three new Cubs to use Rotax
powerplants, no surprise given the design's origin in Europe where
Austrian-based Rotax dominates the light aircraft engine market. You
can order the Savage with either an 80-hp 912UL or 100-hp 912ULS.
Twin 9-gallon aluminum fuel tanks provide about 4.5 hours of operation,
a nice economy advantage over the Continental engines favored
by American Legend and Cub Crafters (see next sidebar). Rotax engines
may also use autogas, extending the cash savings.
The Savage's wing is a bit smaller than the Legend's, at 153 square
feet versus 178.5 on the Texas-built airplane. At 639 pounds empty,
Savage is more than 200 pounds lighter than the Legend Cub or Cub
Crafters Sport Cub, even when equipped with the slightly heavier
Rotax 912 ULS engine. The Savage flies about 5-7 mph faster than the
Legend, and its range is considerably greater (almost 100 miles more),
despite having 4 gallons less fuel on board than the Legend Cub all
attributable to its lighter weight, which also contributes to a 50-foot
shorter ground roll on takeoff or landing.
If lighter is better for you, the Savage deserves a deeper look. And
if you like Rotax engines, it may be your Cub choice. Conversely if you
don't care for Rotax engines and prefer the in-flight smoothness of a
heavier airplane, the Legend Cub or Cub Crafters' Sport Cub might
remain a better choice.
However, it will be a tough choice as the Savage has a modest
selling price of $53,000-$55,000 in ready-to-fly form (the difference
being the 80- versus 100-hp engine). A list of options can raise that
price, but even fully loaded the Savage is $10,000 less than the base
price of the Legend Cub or $25,000 less than Sport Cub. [UPDATED — August 2007: Starting price of Savage in 2007 is $60,000.] The plane is
somewhat simpler in construction, but with that much savings, the
Savage is one to consider.
Information: Savage Aircraft Sales, Manitowoc Wisconsin;
call 920/726-5260, e-mail info@savageaircraftsales.com, or
visit www.savageaircraftsales.com.
Published in EAA Sport Pilot & Light Sport Aircraft Magazine