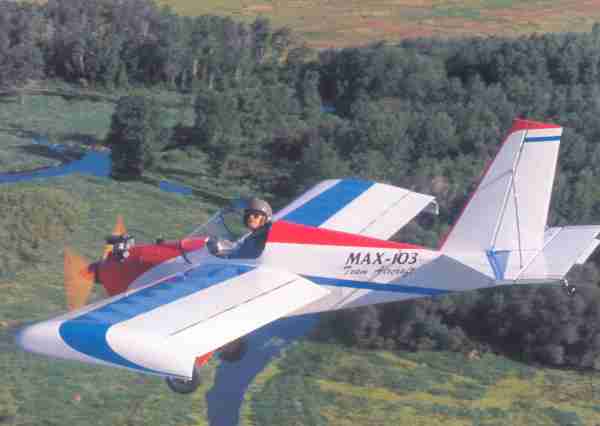 TEAM, builder of the MiniMax, High Max, and other -Maxes, introduced their new Max-103 at Oshkosh 1993. With flowing lines, a snappy paint job and an adorable "convertible" canopy, the Max-103 was a hit with airshow goers.
TEAM president, Scott Severin, was the motivation behind changes to old serial #2 MiniMax, completely transforming it to the beautiful plane above. In order to keep the price low and building easy, the MiniMax has always shown rather boxy lines. The '103 was visually striking with fiberglass cowlings, a shapely turtle deck, and sweeping red and blue accent stripes over an clean white base.
Fortunately, TEAM didn't mess with success, leaving the fine handling and solid feel intact. The MiniMax line is known for light controls with quick-not-jumpy aileron response. Taildragger takeoffs and landings are as easy as most tri-gear designs. A wide-open MiniMax is a joy to fly; the view is tremendous.
Not only is the Max-103 a hot little plane, it carries an absurdly low price tag. Why everyone doesn't write TEAM a check for $2,495 is beyond me. If price isn't enough reason, the company nurtures its customer/builders to a point where these pilots have the highest regard for the TEAM team.
Oh, by the way, in case you missed the name, the Max-103 is F.A.R. Part 103 legal. Worth noting!
Full Review in Oct. '93 UF!