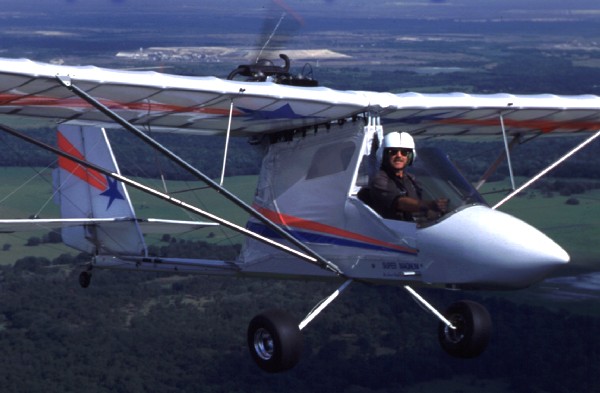 Among the aircraft produced by Sport Flight Aviation are the tandem 2-seat Talon XP, the Talon Magnum single-seater, and our plane for this test, the single-seat Talon Super Magnum. The energized version comes from the substantial 80-hp twin-cylinder 4-stroke engine that pushes the single-seater aloft with an enthusiasm that is truly inspirational.
Published in Light Sport and Ultralight Flying
| | |
| --- | --- |
| Seating | Single-seat |
| Empty weight | 494 pounds |
| Gross weight | 1,056 pounds |
| Wingspan | 29 feet 6 inches |
| Wing area | 156 square feet |
| Wing loading | 6.8 pounds/sq ft |
| Length | 21 feet 9 inches |
| Height | 6 feet 4 inches |
| Fuel Capacity | 10 gallons |
| Kit type | Assembly |
| Build time | 130-150 hours |
| Standard engine | Verner SVS-1400 4-cycle |
| Power | 80 hp at 5,000 rpm |
| Power loading | 13.2 pounds/hp |
| Cruise speed | 76 mph at 3,900 rpm |
| Never exceed speed | 110 mph |
| Rate of climb at gross | 1,000 fpm |
| Takeoff distance at gross | 170-200 feet |
| Landing distance at gross | 300 feet |
| Standard Features | 3-position flaps, rudder trim, steerable tailwheel with takeoff/landing lockout, 4130 chromoly steel landing gear, streamlined struts, windscreen, nose fairing, instrument panel, 4-point shoulder harness pilot restraint, aluminum wheels, padded seat, cargo area. |
| Options | Rotax 582, 618 or Hirth 2706 2-cycle engine or Rotax 912 4-cycle engine, nondifferential hydraulic disc brakes, in-flight adjustable elevator trim, ballistic emergency parachute, wheel pants, pylon/cargo enclosure, quick-build kit (75 hours). |
| Construction | Aluminum, welded steel, AN hardware, presewn Dacron fabric covering. |
Design
Cosmetic appearance, structural integrity, achievement of design goals, effectiveness of aerodynamics, ergonomics.
Pros – Ultralight-type single-seater to satisfy those big pilots. Payload exceeds 500 pounds. Based on the Drifter-then-Explorer models. Design in production since early '90s and built from common well-known materials. Safety record is good after several years of operation.
Cons – Not even close to a Part 103 ultralight, this single-seater requires an N-number and pilot's license to fly. Heavy engine and large design make this a more ponderous aircraft than some competitors.
Systems
Subsystems available to pilot such as: Flaps; Fuel sources; Electric start; In-air restart; Brakes; Engine controls; Navigations; Radio; (items covered may be optional).
Pros – Our test Super Magnum had three-position flaps, in-flight trim, and hydraulic brakes which may be the best ultralight brakes I've ever used. Since it can't make Part 103 weight, you can select any system the company offers. Electric starting is valuable on the big 4-stroke engine.
Cons – Especially with its Czech Republic-made 4-stroke powerplant, keeping up with engine maintenance may be more time-consuming than a Rotax 2-stroke. Although the brakes were excellent, they are not differential. Fueling isn't quite as neat and smellproof as on the more open Talons.
Cockpit/Cabin
Instrumentation; Ergonomics of controls; Creature comforts; (items covered may be optional).
Pros – If you don't fit in the Super Magnum cockpit, better find your nearest weight loss clinic. Solid feel to airframe is reassuring during entry and flight. Step aids entry considerably. Seats are very comfortable. Four-point pilot restraint is appreciated. Controls have very easy access. Some cargo area could be made available in pylon-enclosed area.
Cons – Less-flexible pilots may struggle a bit with the climbing entry. Adequate but not complete wind protection from medium-sized screen. Panel is too small for all the instruments some pilots enjoy. Enclosure may not be enough for cold weather climates.
Ground Handling
Taxi visibility; Steering; Turn radius; Shock absorption; Stance/Stability; Braking.
Pros – A full-swiveling tailwheel (with lockout for takeoff and landing operations) makes Talons very easy to maneuver in tight quarters. Super visibility for checking pretakeoff traffic. Superb braking – possibly the best in ultralight aviation. Solid airframe feel on rough ground and good clearance.
Cons – Brakes are not differential to aid braking (though hardly needed with full-swiveling tailwheel). No other negatives.
Takeoff/Landing
Qualities; Efficiency; Ease; Comparative values.
Pros – Like a Drifter, you have to love the visibility (see "Cons" below). Ground roll in the Talon is short with a Rotax 503; with the big Verner, it was exhilaratingly brief. Flaps help slow speed down into the 40s for landing on small strips. Ground clearance reduced concern about off-site landings. Slips worked better (than the 2-seat Talon XP) thanks to the side area afforded by the pylon cover.
Cons – Though visibility is positively huge (see "Pros" above), it may not offer enough reference to those used to some airframe around them. The heavier feel of the Verner-powered Super Magnum requires somewhat more attention to speeds than a lighter aircraft.
Control
Quality and quantity for: Coordination; Authority; Pressures; Response; and Coupling.
Pros – Controls will be familiar to any ultralight pilot: a dominant rudder, modestly heavier ailerons and light pitch. Smooth control feel and secure solid linkage to elevator. Roll is a little faster than average among ultralights. Steep turns went very well with little input during the turn.
Cons – While familiar to ultralight pilots, the handling is not optimized in harmony; you'll take a couple hours to develop a light-rudder touch with more aileron movement. Rudder pedals have a very light feel that takes some acclimatization.
Performance
Climb; Glide; Sink; Cruise/stall/max speeds; Endurance; Range; Maneuverability.
Pros – At any throttle setting, the 4-stroke gave a feeling of more-than-ample power. Climbs were awesome at about 1,500 fpm. Cruise in the 80s with lower noise and vibration than is typical from Rotax power. Put the flaps full down and enjoy slow-speed cruising low over the fields.
Cons – Except for the higher cost (compared to a 2-stroke) and higher weight of the Verner engine, no performance shortcomings were unearthed.
Stability
Stall recovery and characteristics; Dampening; Spiral stability; Adverse yaw qualities.
Pros – Stalls were benign in every trial attempted. Nose breaks through on power-off stalls, but quite predictably so. Accelerated stalls and full-power stalls never happened; they were nonevents you can practically ignore.
Cons – Power additions from trimmed flight will move the nose opposite of any certified aircraft (though pitch authority was always strong enough to overcome). Longitudinal stability checks required a longer time for recovery, perhaps due to a then-new Verner engine installation. Slight tightening of turns requires some stick "high-siding."
Overall
Addresses the questions: "Will a buyer get what he/she expects to buy, and did the designer/builder achieve the chosen goal?"
Pros – The Super Magnum with Verner SVS-1400 engine and all the options of our test aircraft is not an inexpensive aircraft, though it should satisfy those hankering for more power. Big guys won't feel cramped at all. Superb aerial viewing platform; among the very best in the air. Suitable for less-experienced pilots. Safety record appears good.
Cons – Not even close to qualifying as a Part 103 ultralight (get your N-number and a license to fly it). The Verner engine adds weight that requires some extra attention to speeds and landing approaches.