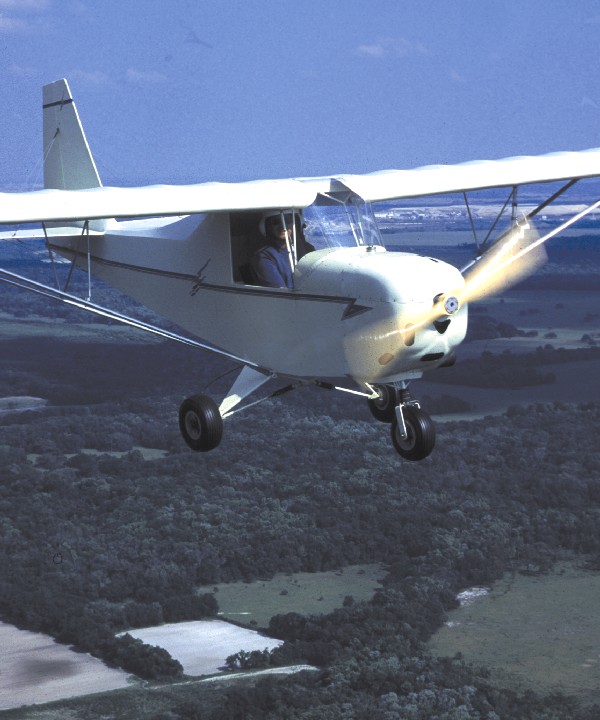 Carlson's White-Throated Sparrow 503
General aviation pilots who visit the ultralight area at an air show often regard some aircraft with apprehension, wondering if these different-looking machines are indeed actually airworthy.
In the early days of ultralight aircraft, many designs were in fact of questionable quality. These days, however, the aircraft you see on display generally are solid machines with admirable safety records.
It's a little confusing at first, but not all ultralights are officially Ultralights. Some weigh just a little too much — a product of trying to satisfy customers by adding larger engines and other features. Some fly a little too fast or carry a little too much fuel. It doesn't take much to barely miss the tight FAR Part 103 regs.
Fortunately that doesn't matter much to Flyer readers, as the majority of us have private pilot certificates and our medicals are current. We can simply put an N-number on our ultralight-like aircraft and fly it as we would any certified airplane.
Ultralights Have Benefits
Ultralight-like aircraft attract Cessna and Piper drivers. They offer a certain joy of flight that is pure and hard to duplicate with other types of aircraft. More pragmatically, they cost less, operate for peanuts, are generally forgiving to fly, can handle fairly strong weather conditions (by experienced pilots), and have low maintenance and insurance costs. Some can be trailered or stored in a garage. Add it up, and lots of reasons exist to consider ultralights.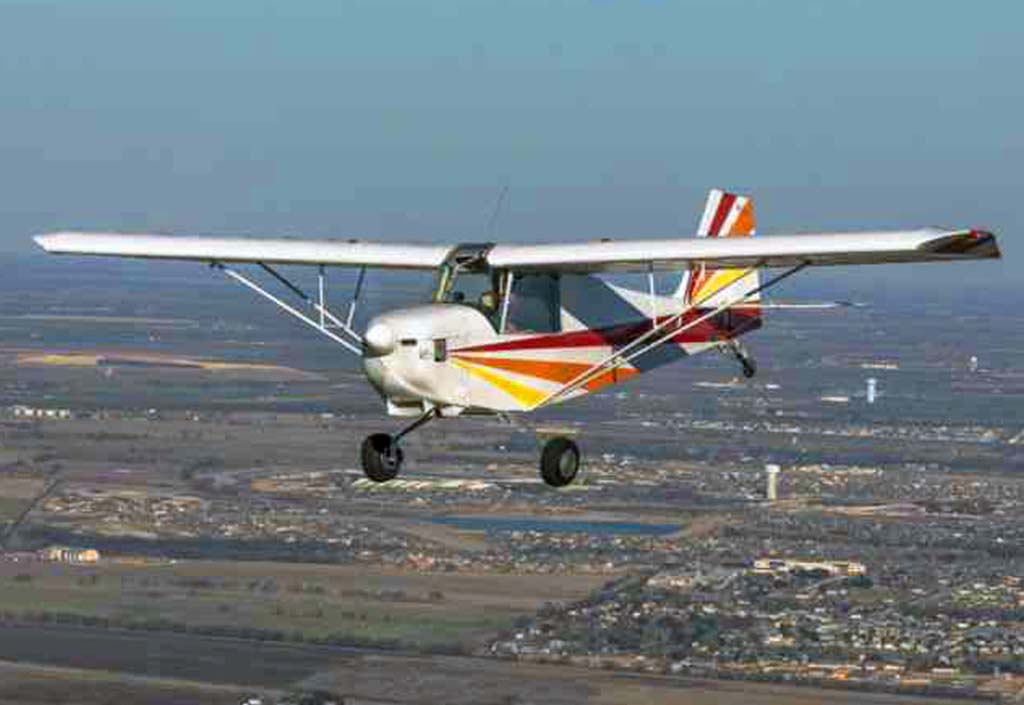 General aviation pilots who are interested may very likely focus their attention on the Sparrow.
The Sparrow has a familiar look to it; in fact, it closely resembles the Cessna 150 if you imagine a 150 with a single seat and overall smaller dimensions. That isn't to say that designer Ernie Carlson tried to emulate the popular Cessna trainer, but its appearance surely stems from Ernie's long years of involvement with GA planes.
For many years Carlson Aircraft has done FAA-approved recovering jobs on Piper Cubs and other fabric-covered general aviation aircraft. Today, the Ohio-based company is busy building all-aluminum replacement wing kits for popular kit-built aircraft that normally call for wood. Ernie's decades-long background is as much GA as ultralight, so when he makes an ultralight it should come as no surprise that it has a more standard look.
Many onlookers conclude that the conventional-looking Sparrow must be a pretty tame aircraft. That perception is partly right and partly wrong.
Certainly, on taking a flight, most pilots would agree that the Sparrow has virtually no evil bones in its body. To think it too tame, however, might be a mistake.
In fact, factory pilot Bob Mason maneuvers the Sparrow around quite dynamically when he flies it for air-show demonstrations. In his hands it doesn't look at all wimpy. On the other hand, if you goofed up in the Sparrow you probably weren't paying attention; it's that straightforward.
Going Way Back
I first flew Sparrow in early 1988, more than 10 years ago. That bird used a single-cylinder, two-stroke Rotax engine that allowed it to stay within the Part 103 definitions. Later I flew the Sparrow II two-place trainer ultralight as well as the Sparrow Sport Special.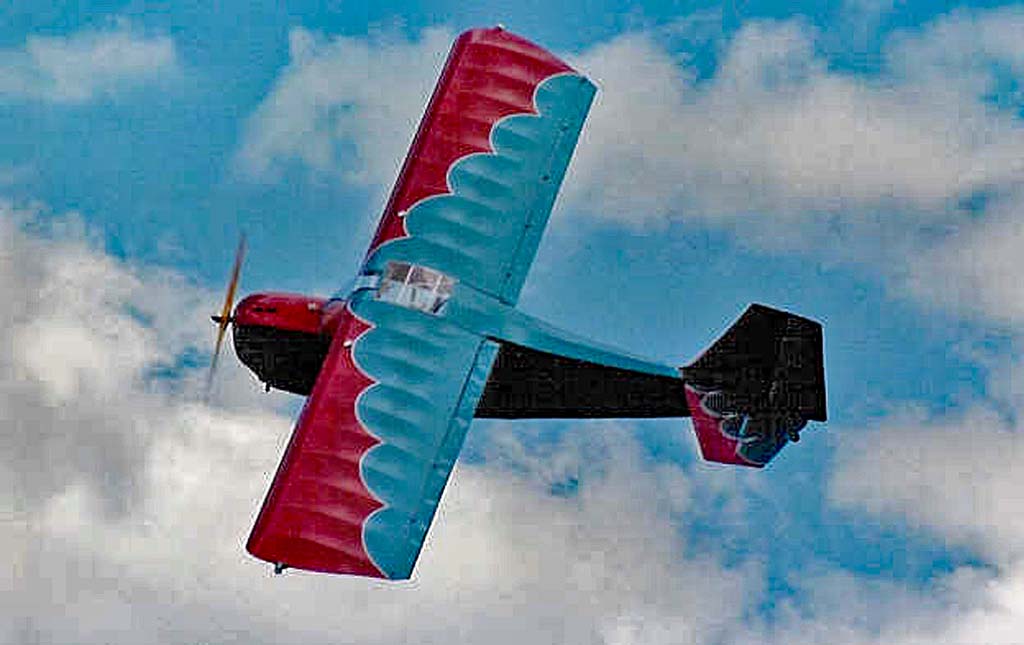 The latter was easily my favorite because it used the robust and popular Rotax 503 engine. It was also a taildragger and sported a snappy paint job that was designed by Ernie Carlson's wife, Mary. It looked great, had lots of pep, and handled like every Sparrow I've flown from Carlson Aircraft.
Our test Sparrow this month does not make legal weight, as it uses the more powerful twin-cylinder, two-stroke Rotax 503, and is finished with plenty of paint, brakes and other finishing touches.
Carlson Aircraft is not one of the big builders among ultralight companies, although a fleet of about 100 Sparrows currently populates the skies. Perhaps even more interesting, Ernie maintains that only three or four Sparrow kits have not been finished. That gives the Sparrow an enviable completion rate that should be meaningful to anyone who contemplates building one.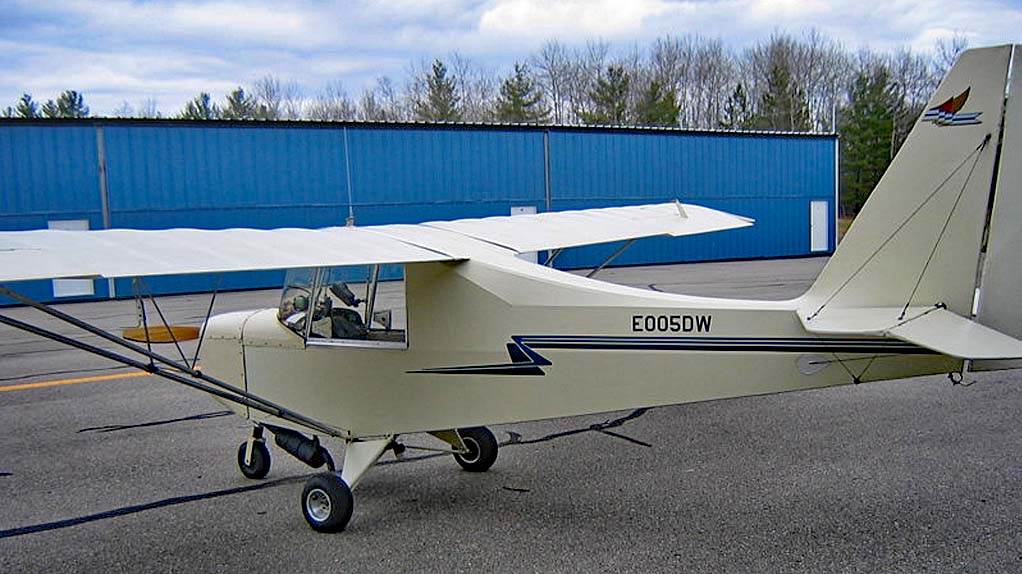 Despite flying a lot of different aircraft, I'm always anxious to get a factory checkout. I ask questions to be sure. What speed do you recommend for climbout? ("50 mph.") Is the same used for approach to landing? ("Yes, but you can come in a little slower with practice.") Any temperatures to observe? ("The usual for a 503, no more than 425° CHT and less than 1,300° EGT.") Any special starting techniques? ("She's all warmed up; just pull the handle. You have a primer right on the panel, but you won't need it.")
In reality, though, I probably could have just jumped into the Sparrow and flown away. I don't make such a statement casually, but that's how straightforward the aircraft is. The result? Go enjoy yourself in the Sparrow. It has a short learning curve and is a joy to fly. If predictable, enjoyable, satisfying flying in that special ultralight realm is what you enjoy, then a Sparrow may be just about perfect.
Getting In
As you approach the Sparrow, she seems small. On short gear, the plane sits relatively low, which aids entry. Flip the right-side-only door forward (it swings all the way forward to touch the front fuselage), turn around bottom first and sit down. Swing your legs in last and you have yourself a simple entry method. If you want, you can also stick your left leg in first but the door and cabin are roomy enough to use the first technique.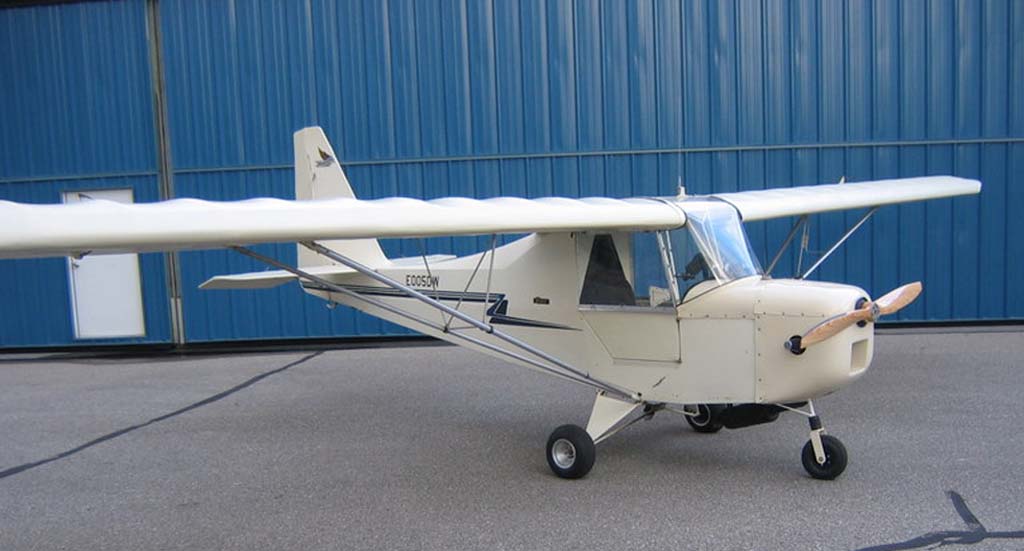 As I looked around inside before and after entry, I notice that this bird is well-finished inside. Sparrow has a factory-supplied, fully painted steel fuselage, and owner Ray Williams followed the factory style by painting all the interior fabric the same as the outside. The wing roots are finished, and the open space behind the seat is also finished off nicely. Even the little door is covered inside and out, lending itself to that factory-built look.
In front of you a rounded control panel cowl hides the wires and tubes running to the gauges, which is not always the case in fundamental ultralights. Under the panel you see the bottom rounded portion of the metal fuel tank. A shut- off valve can be seen clearly to assure you're ready for flight.
A floor of stained plywood gives you a firm place to rest your feet. At the outer edges of the cabin your feet find the rudder pedals, a pair of welded steel rods that will easily fit most any size of feet.
In the center of the floor pan, directly under the fuel shut-off valve, you'll see the brakes. They are operated by your heels and can be worked independently for additional steering control. Heel brakes are not my favorite; you have to coordinate your foot movements similar to using two feet for the clutch, brake and throttle in a standard-transmission automobile. Fortunately, steering is so precise and responsive that the heel brakes won't often be needed.
Visibility is quite good. With tricycle gear, your forward vision is wide open. At my average height, I don't have to scrunch down in the seat to see laterally. Of course, high wings mean that you'll have to spin around at the runway end to look for other traffic, and in such a maneuver the differential brakes will be appreciated.
Directly in front of you as you line up on the runway for takeoff is the fuel tank indicator. A bobbing wire emerging from the fuel cap shows me that the tank is full. Just before launch, this is a welcome reassurance.
Feeding the throttle steadily forward, the 503 tugged the Sparrow and me forward with great enthusiasm, and we quickly accelerated to takeoff speed. I began rotation at 40 mph indicated, but the Sparrow was ready to go before, so we just lifted off the turf in a flight level attitude.
Pleasurably Responsive Controls
Some ultralights give pause to new pilots or pilots who are new to that particular aircraft. I know that feeling well. Some designs require you to really concentrate on handling, but the Sparrow isn't one of them.
When a newly finished airplane is ready for its first flights, a pilot can be quite nervous. No question about it, first flights are attention sharpeners.
However, I predict that anyone who builds a Carlson Sparrow will become exceedingly relaxed right after liftoff. Of course, you should proceed cautiously with any newly completed ultralight, but at least you won't struggle to maintain control of the Sparrow.
Once aloft, the 503 Sparrow will run 80 mph with ease, placing the aircraft in the upper ranges of ultralight operation.
The aircraft slows down very well. Flight over a pasture can be done at 35 mph in calm conditions. That same high-lift wing that lifts the Sparrow off the ground quickly works just as well at altitude.
Climb is exceedingly strong with the 503 – more than 1,000 feet per minute, I found. That's far better than the many Cessna 150s I've flown, which can barely manage 400 fpm.
The high-lift wing will also give you a slower ride to earth once you chop the power.
For landings, your only dilemma will be how to plan for the long ground-effect float I've experienced on every Sparrow I've flown.
Takeoff is very quick, and that same capability keeps the model drifting along the runway awaiting touchdown. On the plus side of the equation, this makes for an exceptionally broad flare window and generally smooth touchdowns. Naturally, it is this same set of qualities that makes the Sparrow – especially the lightest ones – so good at low-level pasture flying.
Stalls and other stability examinations are benign. The stalls do break in a Sparrow, and I prefer that to one that slowly enters mushing flight.
However, it recovers so quickly from a stall that it truly is a non-event unless you stubbornly remain there with full aft stick. In all the stalls I performed, the wings tended to keep from falling consistently to either side, further easing the effort of recovery.
Throttle response is completely normal in the Sparrow. When you add power, the nose raises and conversely it drops on power reductions, just like any certified airplane should.
When I set trim speed and power, and then deflected the stick fore or aft, the Sparrow always returns to level flight in a few minor oscillations. Sticking to convention in aircraft design is a positive thing in the minds of many buyers, just as it is for aircraft reviewers.
Is Sparrow Right for You?
With an airframe retailing for less than $8,000, you can expect to get in the air for around $11,000, depending on your choice of paint and instruments. Thoroughly finished, the aircraft probably runs better than $12,000.
You'll spend between 400 and 500 hours assembling the bird, far less than most homebuilt airplanes. Ultralights are the demanding construction challenge of "more capable" aircraft, and that's good. It means you're flying sooner, and isn't that really the point for pilots (as opposed to craftsmen)?
Funny though, the little Carlson Sparrow looks so innocent, you may still be wondering if she'll be enough for you. Somewhat like an extraordinary woman or man, dashing looks may grab your attention, but the plainer version may be more satisfying in the long run.
Believe me, after close to 250 airplanes, I confess I just love getting into a plane like the Sparrow, feeling relieved that she's not going to challenge me every airborne minute. One of the things I like best about flying – and surveys show the majority of you agree – is the view from above. There's no finer way to enjoy the scenery than from a comfortable seat in a secure aircraft.
In the cockpit of a single-seat Sparrow, you can find a lot to love. And built right, you should get years of enjoyment for about half the price of the average new automobile. As I have several times before, I highly recommend both Carlson Aircraft and their charming little Sparrow.
Published in Light Sport and Ultralight Flying
| | |
| --- | --- |
| Seating | 1 |
| Empty weight | 300 lbs |
| Gross weight | 504 lbs |
| Wingspan | 30 ft |
| Wing area | 120 sq ft |
| Wing loading | 4.2 lbs/sq ft |
| Length | 17 ft |
| Height | 7 ft |
| Fuel Capacity | 5 gal |
| Build time | 400-500 hrs |
| Standard engine | Rotax 503 |
| Power | 2-stroke Rotax 503 |
| Power loading | 11 lbs /hp |
| Cruise speed | 75 mph |
| Never exceed speed | 105 mph |
| Rate of climb at gross | 1,100 fpm |
| Takeoff distance at gross | 90 ft |
| Landing distance at gross | 200 ft |