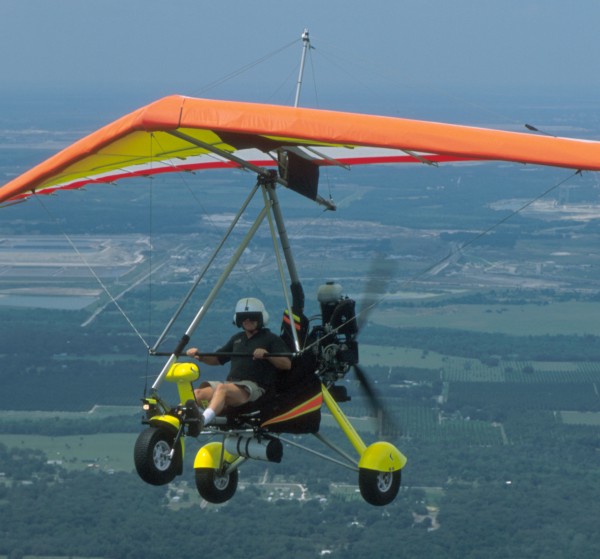 Not long ago, Americans couldn't buy products from South Africa because of that country's apartheid policies. Our government employed economic sanctions that kept South African aviation developments off our radar. However, as their ultralight producers did business with Europe, the Southern Hemisphere country kept up with ultralight aviation despite the sanctions imposed by the United States.
One South African ultralight product is the Aquilla, a sturdy trike from Solo Wings in South Africa.
If the name Aquilla sounds vaguely familiar and a bit Italian to you, go to the head of the class. You'd be right on both counts. Aquila – spelled with one "l" – is a constellation in the Northern Hemisphere and the Milky Way. Exactly how a star in the northern skies inspired someone in South Africa I don't know. Aquila is also a city of central Italy northeast of Rome.
Nonetheless, Solo Wings owner Aidan De Gersigny, who has been involved with hang gliding since the late 1970s, says Aquilla means "Eagle" in Latin, a name he used for a hang glider he sold 15 years ago. De Gersigny, who looks and sounds much like any American aviator except for a telltale South African accent, has now brought the name back with an engine and landing gear attached.
So our focus in this article is on the ultralight trike with the double "l" spelling. Aquilla is pronounced "Ah-QUILL-uh," according to U.S. representative Bateleur Sky Sports owner Mike Devenish. He provides trike sales and instruction seven days a week.
Making the Jump
to Ultralights
Before De Gersigny got involved with trike manufacturing, he built hang gliders for a number of years. "I had a good run with them," he says, but he began to see the future. "Hang gliders last a long time and it was challenging to come out with a new sales-inspiring model every year," De Gersigny remembers. In those days, the trend was for manufacturers to release a new model almost yearly in order to grab the attention of the glider-buying community.
Therefore, in the mid-1980s, De Gersigny made the jump to trikes, an activity that made good use of his background in creating hang gliders.
His first trike was a single-seat model created to attach to the wing that hang glider pilots already owned. At first De Gersigny had owners bring him their hang glider and he would fit their wing to his chassis.
De Gersigny went to a big airshow in the early '80s. Despite a good turnout he didn't take an order for even one single-seater. Again, he felt he'd seen the future and at that time he transitioned to the Windlass 2-seat trike design. The year was 1985 in younger days of the ultralight community.
Over the years Solo Wings has sold more than 550 Windlass model trikes, De Gersigny reports. In 1997, the South African builder released their Aquilla model and they say about 350 of these machines have been sold. That's an impressive rate of 70 Aquilla models alone per year. De Gersigny is the sole owner of the company, which presently employs 26 people.
Both the Windlass and Aquilla remain on the company's list of models for sale. For this review, the more deluxe Aquilla is our focus. Given a $13,650 price tag and a long list of standard features – many of which are not common on other trikes – I believe many Americans will prefer this model. However, for those on a smaller budget or whose needs are simple, the Windlass may be a better choice. It retails for $10,965. Among other simplifications, the Windlass uses a smaller instrument pod and it does not have the compound mast, but many buyers could be satisfied with the less elaborate model.
Like some other imported brands, the Aquilla uses dual side wires as they carry the highest load of the lower cables. Unlike other brands they were located close to one another, which engineers found could cause a buzzing in flight. Twisting them cured that problem. My first reaction was that the side wires were improperly rigged but De Gersigny says this solved the buzz without affecting structural integrity.
The main gear support has a concentric rubber doughnut shock absorber. One takes up the softer bumps and another firmer doughnut absorbs the heavier loads. These are called elastomers in the mountain bike industry where De Gersigny got the idea for his system. In my experience on fairly smooth turf runways, the suspension system worked well.
A small mud flap at the rear of the generously sized front fairing kept the dirt out of my lap. By the same token, the wheel covers over the main gear kept dirt from flying up into the prop. I hesitate to call them wheel pants because that term represents a drag reduction feature to most pilots.
In a similar style as Aquilla's wheel spats (as Solo Wings calls them, reflecting a British heritage), the fairings around one of three gear legs are more visual and protective than drag-relevant. That's fine in a trike that cruises comfortably below 50 mph. And the spats also represent another way Solo Wings differentiates their product from other trikes.
I was impressed with the low amount of vibration transmitted by the engine. Obviously the mount created by De Gersigny's team works well to isolate vibration, an enemy of most aircraft designs. But I wondered about the engine parts, which sit up rather high directly in front of the prop. The plastic oil tank seemed particularly precarious and as an owner, I'd be inspecting its mount regularly. However, some of this construction comes from keeping the engine upright, which I prefer to upside-down mounts where oil drains down on the spark plugs.
Simple and Well-Equipped
Sometimes a designer's attention to detail is minor but appreciated. The Aquilla's control bar can be secured to the forward support tube (when parking temporarily) by a ball and bungie system that is permanently attached. This seems a good idea as I've often misplaced the cinch for my trike. Anyone would call this a minor design achievement, but the little things often make our lives better in ways we don't always notice.
Other seemingly minor features may be more important. Take the humble foot throttle. It's not common on trikes to have foot throttles at both seats, but the Aquilla has them available at both positions. Clearly this is a machine intended to appeal to instructors. Further suiting that need is the now standard rear ignition switches that allow an instructor to kill the engine as appropriate.
The Aquilla's seats are not solid constructions. However, neither are the South African seats merely two levels of the same seat like many older trikes. Instead, all-fabric construction with heavy padding makes the Aquilla's seats more private. Anyone who flies two up in trikes regularly can appreciate a little separation.
Regrettably, the Aquilla lacks shoulder belts in the forward seat. The rear has them but the front has only a lap belt. Evidence strongly suggests this probably wouldn't be enough to secure that occupant in the event of violent upset. I communicated my concern over this and De Gersigny says the company is considering changes. True, shoulder belts can be messy for the front seat in a trike – webbing must route farther and this gives chances for tangling and dangling. But solutions such as recoil belts can solve the problem.
Oftentimes the back of the trike "cabin" is not particularly comfortable. Solo Wings changed the construction of the Aquilla from the earlier Windlass. By angling the mast as seen in the photos, De Gersigny says he gained 6 inches of extra space for rear seat occupants.
North Wing and some other trike builders have split the mast so the rear pilot's head doesn't contact the structure, which can bring quite a buzz when the engine vibration is transmitted through a helmet. Split masts cure this completely but even the Aquilla's angled mast is a big improvement.
I also liked the Aquilla's extra, stronger footbar used only for entry to the rear seat. It only appears on the left side but since this is opposite the two foot throttles, left entry is preferred.
The Aquilla also features standard equipment stash bags on the left and right side of the seats. You will need to exercise care when taking items out of the bags in flight as a dropped object might go through the prop. But the compartments are roomy and convenient to access. They are part of the Aquilla skirt setup that hides the fuel tank. The 50-liter (about 13-gallon) tank capacity will keep you aloft longer and boasts a sump pump and a drain that will allow removal of any water that creeps into the reservoir.
The foot throttle in the front seat seemed angled back a bit much for my comfort (though others may feel differently). Solo Wings does offer a fitting that can be used to adjust this angle, but later in my flight, my notes reflect I was getting used to the angle. You use the foot throttle a lot in trikes, so angle is important.
The front seat only offered leg support to about mid-thigh. I'd like it to extend a bit further though the Aquilla is not alone in this quality. Designers may have wanted to give the pilot more leg maneuverability for ground steering.
Fly Like an Aquilla
Before you take flight you definitely want to check the wing hang point and you may wish to adjust it. A 4-point adjustment is available where the Aquilla's chassis joins the wing. With detents to bracket the adjustment, this allows fore and aft adjustment for different weights or trim speeds.
At the forward position with two on board, the Aquilla steadies out at 60 mph. At the most rearward position and the same load, the trike should trim at 40 mph, according to De Gersigny. The relatively wide spacing of these two ends of the range show the effectiveness of this method of ground-adjustable center-of-gravity change. To date, I know of no commercially available system to adjust the hang point in flight though several trim systems make aerodynamic adjustments with similar speed results.
The Aquilla's control bar base tube is covered with a shrink-fit rubber material that assures your grip across the bar. Many brands offer such a grip in the common hand location but I like to move my hands around and full-width grip material helped.
An extra grip can be a good thing. Even in the evening's smooth air, the Aquilla bucked around a little. It seemed to accentuate my control input at times. I mentioned this to De Gersigny and he didn't disagree. Without a much more thorough investigation I can only speculate about the reason, but it could relate to a tall keel pocket, a builder of more responsive wings, and a beefy trike underneath.
Tall keel pockets left the hang gliding scene years ago when designers realized the entire airframe moves enough to replicate the handling improvement implied by tall keel pockets.
Tall keel pockets became popular in the 1980s when engineers saw the construction helped the sail to shift from side to side. This creates some asymmetric loading and reshaping of the wing, which aids weight-shift handling. Indeed some pockets grew to 12 inches high and made large wings turn so easily, some actually started to reduce height. However, studies as part of the Hang Glider Manufacturers Association (HGMA) – a private, manufacturer-run certification system – showed that the triangular tube airframe flexed enough to bring this benefit without the need for tall keel pockets. After the discovery, tight keel pockets provided a modernized image.
So, add the Aquilla's tall keel pocket to a wing with better-than-usual handling (among all trike wings) to a trike that can gross at 825 pounds and you have a formula for sufficient responsiveness to permit pilot-induced oscillation.
Long story shortened, it may have been me, but then again Aquilla's wing may trade good handling for a little stability. In the end, it is the right tradeoff, in my opinion.
No one will call the Aquilla a hot performer. Cruise at hands-off trim speed was 45 knots (52 mph). A generous pull-in produced about 70 to 75 mph according to the installed airspeed indicator. This test Aquilla had the optional 65-hp Rotax 582 engine. Though the standard 50-hp Rotax 503 should theoretically fly about the same speed (but climb slower), a bigger engine generally pushes you along somewhat faster. But on trikes, the wing design dictates speed more than power. Some of this is due to the flexible connection between wing and engine.
I found the Aquilla's speed ratio a bit narrow at a measured 30 to 58 knots (34 to 67 mph). However, this range is not so different from many other trikes. You make faster trikes with wings that are designed for it (Pegasus wings are a good example). Better handling wings generally fly more slowly and faster wings generally have stiffer handling. The Aquilla handled quite well, showing the direction Solo Wings went.
De Gersigny refers to 45-50 mph as his "happy hands-off speed," a comfortable trim speed. It was the baseline for straight-and-level flight followed by my adjustments to evaluate stability characteristics.
Full push-out will cut the Aquilla speed to about 30 mph with an under-gross load or perhaps 35 mph at full gross. This is consistent with reported numbers on company literature.
In all regimens of stall, I found no evil bones in the Aquilla wing. Stalls under full power saw the control bar at the forward support tube. Holding it in this position merely saw climb proceed as though nothing had changed.
With no power, the Aquilla broke but gently enough and without any significant tendency to fall off on one wing or the other. Accelerated stalls were as unspectacular as power-on stalls if I added a couple hundred revs (common in steep banked turns). Flown with low power, the break could be induced but it wasn't threatening.
I was very pleased that my evaluation trike had a ballistic parachute mounted. I wish all the aircraft I test-fly were so equipped.
Fly Your Own "Eagle"
Solo Wings is the manufacturer, but Americans will deal with Mike Devenish, the U.S. representative for 5 years. He knows his brand and he removes all the challenges associated with importing products made overseas. If you need lessons, Mike can help with that as well.
Your purchase choices from Bateleur start with the very reasonably priced Windlass trike. Though it lacks some features and refinements found on the Aquilla, the Windlass carries a modest entry price tag of $10,965 for a complete and fully assembled ultralight. The base price of the more elaborately built Aquilla is $13,650, although that's still a fair bargain since the Aquilla comes very well equipped.
Standard items include wide tires (18 x 8.5) plus front and rear suspension, wheel pants, saddlebags, and a T-shaped instrument pod including a fuel gauge. The latter is a good thing since the Aquilla's saddlebags hide the tank keeping you from seeing fuel remaining at a glance. Solo Wings also supplies a water temperature gauge (for the Rotax 582 engine), remote choke, a "cruise control" hand throttle lever, and a 13-gallon fuel tank with a sump plus quick drain to get rid of any water that settles to the bottom. The Aquilla also features a rear seat foot throttle, unusual among trikes. Solo Wings builds the Aquilla wings themselves. Our test wing was a double-surface 14.2-square-meter size (153 square feet) certified by South African authorities. You can choose from four sizes of this wing.
The Aquilla's nice T-shaped instrument pod comes standard with a fuel gauge, 0-80 mph airspeed indicator, a sensitive altimeter, dual CHT with probes (for Rotax 503), dual EGT with threaded probes, tachometer, water temperature gauge (for Rotax 582), and twin 12-volt DC power points (for GPS units or radios).
Despite the long standard equipment list, a few options are offered by Solo Wings and Bateleur, including a clamp-on "after-muffler" kit ($113); dual intake silencer ($134); strobe ($60); a BRS 750 ($2,195) or a BRS 900 ballistic parachute ($2,495); and the deluxe Lynx intercom and helmets (call for price).
Solo Wings is the South African dealer for the 60-hp 4-stroke HKS 700E engine so De Gersigny has tried it on his trikes. Like many American users, he finds the new HKS model quite satisfactory. Two Solo Wings trikes so fitted now have about 200 error-free hours and he feels the brand has a future in South Africa as well as in the United States.
De Gersigny also likes the E gearbox from Rotax, as it is the first to offer both electric and pull starting. Perhaps enough hasn't been made of this feature which adds redundancy.
With nearly 1,000 Solo Wings trikes flying, those concerned with buying a trike from faraway South Africa can be assured by so many other buyers preceding them, many in countries outside South Africa. Since Bateleur Sky Sports has been consistently representing this brand, you are dealing with Americans just as you are when you buy a Japanese or German automobile. Finally, trikes are relatively simple constructions and if you need repair or maintenance for an Aquilla you buy, it shouldn't prove too hard to locate.
A well-rounded trike, the Aquilla offers good value, good handling, and many nice features including many that are optional on other brands. Its performance will suit most ultralight enthusiasts and the Aquilla appears fine tuned for instructional use.
Published in Light Sport and Ultralight Flying
| | |
| --- | --- |
| Seating | 2, tandem |
| Empty weight | 336 pounds |
| Gross weight | 825 pounds |
| Wingspan | 34 feet |
| Wing area | 150 square feet 1 |
| Wing loading | 5.5 pounds per square foot |
| Length | 9 feet |
| Height | 12.6 feet |
| Kit type | Fully Assembled |
| Set-up time | 2 hours |
| Notes: | 1 Other wings are available from Solo Wings. |
| Standard engine | Rotax 582 2 |
| Power | 65 hp at 6,500 rpm |
| Power loading | 12.7 pounds per hp |
| Cruise speed | 42-62 mph |
| Never exceed speed | 81 mph |
| Rate of climb at gross | 550 fpm |
| Takeoff distance at gross | 200 feet |
| Landing distance at gross | 100 feet |
| Notes: | 2 As tested; 50-hp Rotax 503 dual carb is standard. |
| Standard Features | Double-surface wing certified in South Africa; dual foot controls including foot throttle for both seats; steerable nosewheel (push right, go left); suspension at all wheels; separate, heavily-padded fabric seats; wheel pants; instrument pod; saddle bags; Rotax B-gearbox; 2-blade composite prop; 13-gallon polyethylene fuel tank with quick drain (useful to remove water); fuel gauge; hand throttle; full instrument package; landing light; wide tires. Wings are available in sizes 14, 15, 16.5, and 17.5 square meters (or 150, 161, 177, or 188 square feet). |
| Options | 65-hp Rotax 582 engine; 60-hp HKS 700E 4-stroke engine; luggage pod; ballistic parachute system; selection of props, custom colors, intercom systems, instructor bars. |
| Construction | Aluminum airframe; steel landing gear parts; wire bracing; fiberglass wheel spats and nose fairing (optional); Dacron wing covering. Made in South Africa; distributed by U.S.-owned company. |
Design
Cosmetic appearance, structural integrity, achievement of design goals, effectiveness of aerodynamics, ergonomics.
Pros – South African trike with a 17-year history (Windlass model came before Aquilla). Features of the design include the angled mast that provides more cockpit room at the rear seat, sturdy construction able to handle the rigors of training, and a wing designed by a company which was once involved in building hang gliders (who are known for demanding good handling).
Cons – Few components set the Aquilla apart from other trike brands (though the rear seat foot throttle is one). Maximum payload is lower than some brands, at 362 pounds (assumes fuel of 13 gallons – contact Bateleur to qualify the tank for the Exemption to FAR Part 103).
Systems
Subsystems available to pilot such as: Flaps; Fuel sources; Electric start; In-air restart; Brakes; Engine controls; Navigations; Radio; (items covered may be optional).
Pros – One of the Aquilla's strengths is a simplicity that leaves some systems out of the mix. Central T-shaped instrument pod gives a close reach to switches and gauge knobs. Remote choke. Dual foot throttles. Rear ignition switches. Standard landing light. Foot pedal brake assures plenty of muscle strength. Though not a "system" the Aquilla can be supplied with a fiberglass cargo pod under the seat.
Cons – It's a trike, so no flaps and the Aquilla doesn't have the trim some newer trikes have. You are dependent on the standard fuel gauge as the body skirt covers the tank. Electric starting and pull starting only available with costlier E gearbox. Electric cabling for instruments and switches is exposed on underside of fore/aft keel tube.
Cockpit/Cabin
Instrumentation; Ergonomics of controls; Creature comforts; (items covered may be optional).
Pros – Well suited for instruction with rear steering and rear foot throttle, a rather unusual feature in trikes. If entering on the left side (proper as it's opposite both foot throttles), a fixed bar is provided to aid entry to the rear seat. A permanently fixed bungie cord helps secure control bar to forward support tube when parking. Angled mass gives rear occupant more "head room."
Cons – Front seat has only a lap belt, which many consider insufficient in aircraft. Seats, while separated more than some trikes, are still cloth and place pilot between legs of passenger. Though the Aquilla's brake is quite effective, nose brakes on trikes aren't particularly authoritative due to light nosewheel loading.
Ground Handling
Taxi visibility; Steering; Turn radius; Shock absorption; Stance/Stability; Braking.
Pros – Very secure gear stance should work well on rougher fields. Effective nosewheel fender and mud flap keeps runway debris out of the "cockpit." Wide tires are standard plus suspension on all three wheels, although wider-still tires are available. Standard brake. Excellent parking area maneuverability, a common trike strength.
Cons – Brakes on the lightly loaded nosewheel are less effective than on main gear (unless you pull in fully to load the wheel). Usual trike challenge to hold the wing still in strong or gusty conditions. No other negatives.
Takeoff/Landing
Qualities; Efficiency; Ease; Comparative values.
Pros – Roll with 65 horses pushing was less than 200 feet, I estimate. Landing approaches are facilitated by the Aquilla's slow speed capability (stalls showed 32 mph). Visibility is always a great strength of trikes. Touchdown in the Aquilla was easily predicted and controlled. Robust chassis construction will help on emergency outlandings. Floats have been fitted; not tested.
Cons – No flaps are fitted and slips don't work well in trikes, so you must plan your approach better. Not tested with the Rotax 503 but obviously, takeoff performance will suffer a little. Energy retention has been better in some other trikes I've evaluated. Crosswinds can be difficult in trikes until you have experience.
Control
Quality and quantity for: Coordination; Authority; Pressures; Response; and Coupling.
Pros – The Aquilla's wing is an outgrowth from a company experienced in building hang gliders – those pilots demand finer handling. Hands-off trim speed is a comfortable 45 mph depending on loading and carriage attachment location. Turns to headings went well in the Aquilla, speaking well of handling authority.
Cons – Even in smooth air, I felt the Aquilla lurching around somewhat, possibly a function of the now-dated tall keel pocket configuration. Larger wings available from Solo Wings may handle differently; not tested. Weight-shift controls, while effective and simple are not usually well understood by 3-axis pilots.
Performance
Climb; Glide; Sink; Cruise/stall/max speeds; Endurance; Range; Maneuverability.
Pros – Multiple adjustment carriage/wing mount allows a good range of trim speed adjustments (must be changed on the ground, however). Sink rate appeared to be quite good, lower than average among all ultralights. Endurance is reported good by vendor ("2.6 gph" when dual); not independently evaluated.
Cons – Speed range is narrower than many fixed-wings (35-81 mph max, a 2.3:1 ratio). Climb will be a bit soft for the 50-hp Rotax 503 if used regularly as a 2-seater; I recommend the 65-hp Rotax 582 for instruction. Rear wheelpants are more "fenders" than drag-reducing fairings. Vne at 81 mph shows Aquilla isn't built for speed (fine by me, though).
Stability
Stall recovery and characteristics; Dampening; Spiral stability; Adverse yaw qualities.
Pros – Stall characteristics are so mild as to be overlooked. Power-on stalls can be pushed to the front support tube without breaking. Power-off stalls are only somewhat more obvious, coming down to the low 30s mph even at gross. Accelerated stalls never happened (though not done radically). Shoulder belt for rear occupant (only).
Cons – Front seat has only a lap belt, widely considered insufficient in an upset situation. Operators must take care to assure the chassis is connected to the wing in the right position of several possible hang points. Thrust always pushes a trike nose up. Some lateral neutrality in steep banks (not enough to be a problem).
Overall
Addresses the questions: "Will a buyer get what he/she expects to buy, and did the designer/builder achieve the chosen goal?"
Pros – The Aquilla counts more than 350 sales, with 550 Windlasses before it, making Solo Wings one of the larger producers of trikes in history. Established company with steady U.S. representation in Florida. Well priced with many features standard that are options on other brands. Design has been certified by the South African Department of Civil Aviation. Comes fully assembled.
Cons – Not a well-known brand in the USA (though sales have been made around the globe). Many trikes don't differ enough to build strong brand loyalty; many choices are available (though other brands often cost more). Full assembly means customization is more challenging.