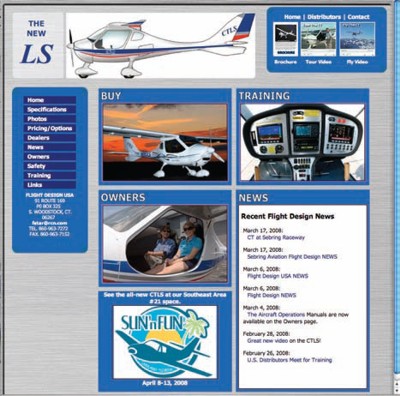 Most folks have probably never heard of ASTM International document F2295, Continued
Operational Safety Monitoring of a Light-Sport Aircraft. But Tom Peghiny, president of
Flight Designs USA, is intimately familiar with it. As the former chairman of the ASTM
Airplane Committee, Tom was a driving force behind requiring SLSA manufacturers to
face up to service after the sale and airworthiness monitoring. According to Tom, "The
SLSA industry will not survive unless we take our after-sale commitments seriously.
SLSA Service After the Sale Flight Design USA has a dedicated safety and compliance manager plus a number of
procedures in place to make sure customers get the service they need."
Flight Design USA initiates its after-sale quality control by starting in the
beginning. Any individual involved in the assembly of CT airplanes imported into
the United States must undergo assembly compliance training through Lockwood
Aviation's Aero Technical Institute. Thus customers are assured that their CTSW or CTLS
meets all original manufacturer quality standards.
Each CT is delivered with detailed aircraft operating instructions (AOI) similar
to a pilot's operating handbook, a flight training supplement, a maintenance and
inspection procedures manual, a Rotax operator's manual, and a Rotax introduction
DVD. The maintenance and inspection manual (which meets another ASTM standard,
F2483) tells owners how to fix things and what skill level (FAA maintenance rating)
is needed. But, as Tom puts it, "The maintenance and inspection manual is only one
layer of a many-layered onion. We also need to support major repairs that are not
specifically detailed in the maintenance manual, the installation of non-factory-installed
avionics, and installation of after-market equipment. Given the need, we
will ask engineering staff from the factory in Germany to visit the United States for
one-on-one consulting."
Flight Design USA has set up a series of documents to cover these needs. Each new
owner also receives a "Read this first!" letter that details how the owner or operator
fits into the continuing airworthiness process. A dedicated website resource at www.FlightDesignUSA.com enables owners to keep current on
maintenance and safety of flight issues.
Flight Design USA recently passed a thorough quality audit of its entire assembly,
distribution, and support structure by the Light Aircraft Manufacturers Association (LAMA).
Tom comments, "We fully support the work being done by LAMA and consider it our duty
to help other manufacturers, especially LAMA members. Our industry needs to earn a
reputation of delivering great airplanes that have the support to last a very long time."
Not a bad goal.
Published in EAA Sport Pilot & Light Sport Aircraft Magazine