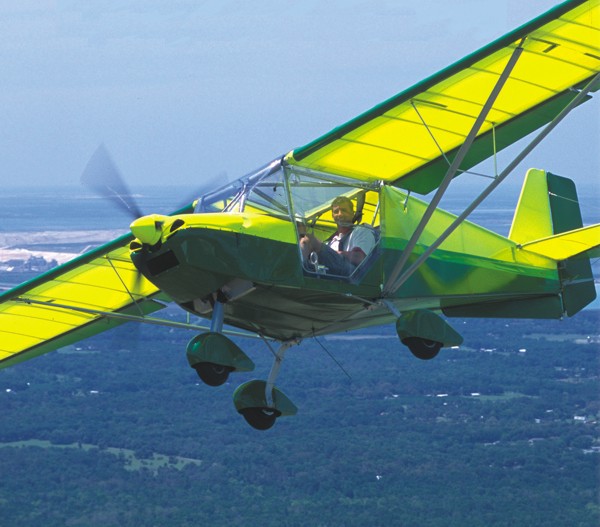 Listening to the aviation media drumbeat about Sport Pilot/Light-Sport Aircraft, you could be excused for thinking ultralights had "vanished" and that it now takes $55,000 to $95,000 to buy a light recreational aircraft. Fortunately, this just isn't so.
We're beginning to identify the emergence of a middle ground and the Sky Ranger is positioned in this space. According to my Sky Ranger check pilot Ryan Gross, our test plane could be supplied by Sky Ranger Aircraft Company for $40,000 in ready-to-fly form. While this is significantly more than the Sky Ranger 503 kit I flew four years ago, it is about half the cost of the average new 3-axis light-sport aircraft (LSA), though some models, like the Fantasy Air Allegro 2000, are only $15,000 more than the Sky Ranger.
Regardless of how the Sky Ranger Aircraft Company may elect to supply fully-built aircraft versus kits, the design of this airplane was optimized to be a quick and easily-built kit. The emergence of SP/LSA doesn't change that so the best strategy for the U.S. importer may be to stick with the modestly priced kit as an Experimental Light-Sport Aircraft (ELSA) after first certifying a Special Light-Sport Aircraft (SLSA) according to the regulation. This would give the company a chance to sell either model as they wish and as the market requests.
Ultralights, Kits, LSAs… And Sky Ranger
Buyers today have at least three distinct layers of purchase options in light recreational aircraft.
You can buy a Part 103-compliant ultralight or some low-cost 51% kits and get in the air for $10,000 to $20,000. While some opportunities go above and below that range, it's a reliable starting point. A fully-built model can add $5,000 to $8,000 to the price.
Then we move to 2-place ultralight trainers or larger kit-built 51% kits where prices can run from $15,000 to $18,000 to $30,000 to $40,000 before you get airborne. Of course, you can always consider a used aircraft to cut the cost; I'm writing about new prices.
Finally, at the high end of the light aircraft recreational aircraft, we have LSA, where prices start at $55,000 and go close to six figures, with a typical price for a sleek all-metal or composite airplane falling at about $80,000 to $85,000.
Nearer the center of this wide range is the Sky Ranger, currently available from the importer for $40,000 in ready-to-fly form. With an SLSA or ELSA certificate, the price might rise somewhat but financing has become available to manage the purchase.
Two-place (transition-ready) ultralight trainers, 51% kits, and approved ELSA or SLSA can be flown by Sport Pilot licensed aviators using a valid driver's license as their medical.
Back to Square One
In the early '90s the Sky Ranger was designed by Frenchman Philippe Prevot in the Southern France town of Toulouse. This Mediterranean capital of the French aviation industry is also home to
the giant new Airbus 380.
Prevot says his aim was to produce a high-performance European ultralight with the simplest possible construction to be easily built and repaired. Using all straight tubing and the geometric strength of a triangle, Prevot is said to have secured a patent for his fuselage design. A respected French aeronautical school conducted structural studies to confirm the strength and light weight of the craft using only straight tubes and no welding.
After giving a license agreement to a French company called Synairgie, nearly 200 Sky Rangers were manufactured in France from '92 to '97.
About that time Prevot became aware of the capabilities and low cost of Eastern European countries, which later led him to Kiev, Ukraine, and the Aeros company that was and still is involved with building hang gliders. In fact, Aeros has become one of the world's top five producers of hang gliders and their top pilot has consistently done well in international competitions.
Today the Sky Ranger is manufactured under license by Aeros Ltd., in the Ukraine. This company employs many former workers from the ex-Soviet company, Antonov, who bring engineering training and factory experience to build the aircraft to high standards.
Sky Ranger Aircraft Company, which imports the design to the U.S., says that more than 600 Sky Rangers are now flying all around the world. More than 150 of all models of the Sky Ranger are flying in the United States and the company reports improved sales since the Sport Pilot rule was released.
History of the Importer
The present company was not always the importer. This business has gone through one full generation and has entered into another. Let's take a moment to meet the folks behind the design's presence in the USA.
In early 2001, trike builder Richard Helm of Sabre Aircraft, began
importing the Sky Ranger as a kit. The Sport Pilot rule was still years away although many thought it would come sooner than it did. While Helm had a nice business in trikes, he could see a change coming. And, he'd already been working with Aeros for trike wings when they started to build the Sky Ranger under license. Helm seemed a natural candidate to import the 3-axis aircraft.
His first Sky Ranger appeared at Sun 'n Fun in April '01. It grabbed enough attention with its low cost and quick-build features that several of Sabre's trike dealers signed up to sell the Sky Ranger.
Kevin Green, who owned Green Landings Airsports in Virginia, bought that first demonstrator and began to seriously market the kit. He sold several the first summer and quickly set up shop to build several aircraft concurrently.
As Green launched into building kits it became obvious that the construction manual left much to be desired, even if you could read French. He began to record building techniques on video to assist his builders.
After some initial sales of the Sky Ranger, Helm started to develop a new trike (later named the Wildcat), so he spent less time marketing the Sky Ranger. Meanwhile Green had focused on building and selling Sky Rangers, becoming the major sales force for the French/Ukraine airplane. Kevin worked hard at airshows both national and local, giving introductory ultralight instruction to a number of people, and generally promoting the aircraft to a receptive audience captured by its combination of quick build, good performance, and pleasant handling.
Despite his business success, the current company says, "A higher calling became irresistible to Kevin. As much as he liked the aviation business, he cared about needy people even more. He decided to sell his private airport and import rights to the Sky Ranger to buy a building and house a new church. Named 'The Living Room,' the church has grown even faster than the Sky Ranger business."
During his build-up of the Sky Ranger business, Green had taken Ryan Gross under his wing and made him his young protégé. Gross' passion for aviation developed quickly. So, in conjunction with his father, Dean, the father-and-son team bought the business on December 1, 2003, forming Sky Ranger Aircraft Company, Inc.
As Ryan and Dean worked through the purchase in November '03 they also bought Sky Ranger distribution and brought in Doug Koenigsburg as a partner. They've left the business based at Green Landings airport, an airpark operation also started by Green.
Ryan has worked at Green Landings for three years as a flight instructor, builder, and facilities manager. He's in charge of inventory, the builder construction program, and the flight-training program, taking the title of CEO for Green Landings Flight Center.
Doug Koenigsberg, an experienced pilot and Sky Ranger builder, holds an FAA Commercial certificate with an instrument rating. He's also an ultralight flight instructor and serves as CEO of Sky Ranger Aircraft Company with responsibility for sales and management.
Ryan's father, Dean, has been a skydiver for many years. A businessman moving into the light aircraft industry, Dean keeps both enterprises on point with responsibilities for Green Landings Flight Center and Sky Ranger Aircraft Company.
For this review, I flew with Ryan, who proved to be a competent flight instructor who calmly let me go through my investigative routines involving stalls, control exploration, speed range trials, and touch and goes. Over many years of doing such evaluation flying, I've often found the owners of companies to be poor companions aloft. They aren't doing the flying and they want a good review, so as I learn my way through the airplane some have been visibly nervous. On the contrary, I thought Ryan might take a snooze while I did my thing, he was so relaxed throughout the entire hour and a quarter of flying.
Ranging the Sky
In my last review of the Sky Ranger in August '01, I'd flown a Rotax 503-powered model with an electric adjustable prop. That 50-hp machine flew and performed very well, and I genuinely believed then and still believe the small 2-stroke engine is plenty for this light airframe (the 503 version weighs only 450 pounds empty while the 912 model is 535 pounds empty). With Ryan, we flew the Sky Ranger with the 81-hp Rotax 912 UL engine swinging a 3-blade fixed-pitch IvoProp propeller.
Although the big Rotax 912 is not much thirstier than the little Rotax 503, you can choose 10- or 20- gallon fuel tanks. If you pick the latter you could fly four hours and cover better than 400 miles. The Sky Ranger comes with flaps, in-flight trim, a panel-mounted primer and our demonstrator had hydraulic brakes actuated by a hand lever on the joystick.
Sky Ranger doors are available in variations depending on what the builder prefers. Our test plane had gull-wing style doors. You may also have a forward hinged door or you can have a split door where the top half opens upwards.
The doors on our test Sky Ranger use a gas piston to hold them while you enter. Gull-wing doors can be removed for flight without them, says Ryan, but they cannot be opened in flight. However, if you like the wide open feel or perhaps want to do aerial photography from your Sky Ranger, a split-style door with upper and lower halves can be opened in flight. Some might feel the forward opening door to be easier for entry and this may be true as the struts attached aft of the cabin structure. The only impediment to entering the Sky Ranger is a short angled tube on the outside of each seat, though this won't complicate entry for many pilots.
The gull-wing doors have a dual latch system with one pin that goes forward and one that goes down when you twist a T-handle mounted on the lower center of each door.
Inside, the Sky Ranger's cockpit is quite spacious though neither Ryan nor I are large, so we didn't give it the large-American test. I had about three inches of space to my outside shoulder while we were a couple inches apart in the center. The bowed-out door technique adds good interior volume while making the structure more rigid. I concluded that a couple of bigger fellows could fit inside quite comfortably.
Thankfully, as we flew in warm, humid Florida, small, round adjustable vents brought in plenty of ventilation.
Visibility inside the aircraft is excellent with the all-plastic doors and the wide overhead skylight. Banks to the opposite direction of my seat yielded a panoramic view of the turn ahead.
Takeoff was quick with 81hp doing the pulling. Ground roll is reported at less than 300 feet and that's easy to believe. As you come around in the pattern, Sky Ranger Aircraft Company suggests you use 55 mph for an approach speed with the larger, somewhat heavier 912 model. Best glide speed is 70 mph and this is the appropriate figure to use while setting up your approach.
Flap extension speed is anything below 80 mph, which gives a wide range of usefulness to this control surface. The Sky Ranger also slips well but the flaps in combination with the light airframe weight obviates the need to use slips to landings.
The Sky Ranger has enjoyed good success in international competitions. Three times it has been the official world Fédération Aéronautique Internationale (FAI) 3-axis ultralight champion and its French developer says, "It is the first plane winning this award for the third time (in 1996, 1999, and 2003)."
Handling the Sky Ranger
One addition since I last evaluated the Sky Ranger is a generous ventral fin, which gives a little better yaw stability. This modification was done to meet Britain's demanding B/CAR S certification standard.
The Sky Ranger is one of those middle-of-the-pack airplanes with good control response but plenty of feedback so no one will call the model twitchy or sudden. This mix of handling should prove popular among the majority of recreational pilots, I believe.
Steep turns went very well and the Sky Ranger seemed to hold the energy quite well. I never had to use more than 5,000 rpm (a reasonable reduction from max power) and, in fact, somewhat less power proved to be adequate.
I often experiment with unusual controlling to sense how the airplane handles when the pilot does not use coordinated use of the controls. Turning with the rudder only produced a reasonably coordinated turn to the left since P-factor was helping. You could drive the Sky Ranger around with only the rudders if needed. But when rudder-only steering was done, the ball tended to stay out of center when controls were released. It took deliberate effort to get the ball centered.
Stick forces and rudder pedals harmonized nicely but you must use all controls to make coordinated turns. For students, this should help build the correct control manipulation with helpful instructor input.
My efforts to learn Sky Ranger handling qualities via Dutch roll exercises required a good bit of aggressiveness on the rudder pedals in order to stay coordinated. The rudder exhibited a stiff response in that when you deflected the rudder, it would stay deflected. Fortunately the Sky Ranger showed no adverse qualities of flight during this action, and responds properly when input is correct.
Up at safe altitudes Sky Ranger maximum speed showed 115 mph although at this clip we were starting to overspeed the engine, as Ryan observed for me. When Ryan flies cross-country in the Sky Ranger 912, he uses 5,300 rpm for power and reports 100 mph of cruise speed. At that setting in this airplane, I'd estimate the plane burns 4 to 4.5 gph giving the 20-gallon model some 400 miles of range with a modest reserve.
Typically, though, I flew at around 4,600 rpm where noise and vibration were diminished. At this setting, the ASI read 80 mph, a nice, brisk cruise at modest fuel burn. Unless I was flying a longer cross-country flight, this is where I'd operate the Sky Ranger.
Slow flight was achievable at about 40 mph, but we were bumping up against stall. However, even at this low speed, the Sky Ranger exhibited good control authority, suggesting that very experienced pilots of the design could make very slow approaches and land quite short.
Other speeds explored included best rate of climb at 65 mph and best angle of climb at 55 mph. In a 1-minute climb from 300 feet above ground level, the Sky Ranger 912 took us to 1,300 feet at about 200 pounds under gross on a fairly warm and humid day.
A timed descent was about 800 feet in a 1-minute trial. The company reports glide at 10:1. Both are on the modest performance side when compared to sleeker LSAs, but are comparable to many classic ultralights.
Stalls came in slightly below 40 mph indicated in most tests. Accelerated stalls did not tend to fall out of the turn and lots of burbling suggests the onset of stall. You could hear the fuselage fabric moving in response to the disturbed airflow.
When I checked longitudinal stability, I found acceptable traits. Removing the power after setting up trim lowered the nose slightly and stabilized in a modest descent. Power up raised the nose and then tended to neutral though the Sky Ranger continued climbing.
The Sky Ranger exhibited a significant amount of adverse yaw and did not come around without the use of coordinated controls. This was true in both directions, though it was more accentuated to the left than to the right.
It's clear after evaluating the Sky Ranger's characteristics that while it may not cruise at speeds comparable to some high-end LSAs, it is nonetheless a handsome performer that can work well as a trainer. That spread of capabilities will keep this aircraft in demand. And then we return to the cost of acquisition.
Catching a Ranger
How well the Sky Ranger flies and handles is obviously important to any potential buyer. However, you may also like the way many fiberglass, carbon, or metal LSAs fly, yet paying for one brings more challenge. The Sky Ranger is much easier on the family budget.
Supplied with a British B/CAR S-certified airframe, the Sky Ranger is available for $14,850 as of early summer 2005. I focused on this choice though a slightly less costly kit is available because I judge the UK-certified model would be more likely under the ASTM certification standard. An 81-hp Rotax 912 and engine mounting kit is $13,550 from Sky Ranger Aircraft company bringing your kit total to $28,400. Since my last report on the Sky Ranger in August '01, this figure is up about $4,000, yet even that is demonstrably lower than other European-supplied aircraft. Koenigsberg says the U.S.-based distributor has worked effectively with France-based Philippe Prevot to hold down the effect of currency fluctuations.
Ryan Gross reported that the aircraft equipped as flown with the Rotax 912 UL would sell for about $33,000 in kit form (in the summer of 2005). A comparable fully-built aircraft would sell for about $40,000. By most measures, this is a relative bargain. And if it's still too much, you can always choose a 2-stroke powered Sky Ranger. Since I discovered four years ago how well the design can perform with a 50-hp Rotax 503, this option remains alive and well for those who don't have to go 4-stroke.
The basic Sky Ranger is a dollar-wise purchase but you may select from desirable options.
Because of the many prop choices available Sky Ranger Aircraft Company is not alone in making a necessary component into an optional kit. A Patriot ground-adjustable 3-blade prop with installation bolts and prop extension plus a fiberglass 9-inch spinner adds $705, pushing the complete kit to $29,100.
Most everyone may elect to buy the instrument and electrical kit which includes airspeed indicator, sensitive (3-pointer) altimeter, vertical speed indicator, tachometer, hourmeter, oil pressure gauge, oil temp gauge, water temperature gauge, voltmeter, a hardware installation kit, ASI range marking kit, instrument labels, key switch, single post toggle switches, and breaker switches. This very complete package sells for $899.
You can take a fuel system upgrade kit for $399, which includes a large fuel tank, electric fuel pump, fuel filter, 25 feet of Aeroquip blue fuel line, brass T's, a shut-off valve, and other fittings.
For additional security, you can choose a BRS parachute for $2,995, or you may want fiberglass wingtips for $200, wheel pants with a front and rear cuff kit for $475, or an electric flaps kit for $495.
If you buy every option, a Sky Ranger kit will run into the low $30,000 range, as Ryan indicated, and you'll have a quick-build kit that morphs into a comfortable aircraft with good performance and pleasant handling. At this price point and given a strong track record of 600+ Sky Rangers flying, this makes a compelling choice you should consider. It may be a new age of Light-Sport Aircraft but Sky Ranger helps maintain a liberal dose of reality in your flying-for-fun ambitions.
Published in Light Sport and Ultralight Flying
| | |
| --- | --- |
| Seating | 2, side-by-side |
| Empty weight | 535 pounds |
| Gross weight | 1,212 pounds |
| Wingspan | 31 feet |
| Wing area | 152 square feet |
| Wing loading | 8.0 pounds per square foot |
| Length | 17.9 feet |
| Height | 7 feet |
| Kit type | Fast-build kit |
| Build time | 100 hours |
| Standard engine | Rotax 912 |
| Power | 81 hp |
| Power loading | 15.2 pounds per hp |
| Max Speed | 105 mph |
| Never exceed speed | 130 mph |
| Rate of climb at gross | 1,200 fpm |
| Takeoff distance at gross | 275 feet |
| Landing distance at gross | 250 feet |
| Standard Features | 50-hp Rotax 503 (tested with 81-hp Rotax 912), ASI, tachometer, hydraulic brakes, 3-position flaps cabin with removable doors, remote choke, shock absorbing gear, steerable nosewheel, choice of colors for slip-on Dacron covers with lash-up tightening (no painting required), quick-build construction. |
| Options | 81-hp Rotax 912 or 100-hp Rotax 912S, electric starter, four-blade prop, additional instruments, assembly option, doors, and ballistic parachute. |
| Construction | Aluminum airframe, fiberglass fairing, presewn Dacron wing, fuselage, and tail coverings. Designed in France by Best Off. Made in the Ukraine by Aeros. Distributed by U.S.-owned company (Sky Ranger Aircraft Company). |
Design
Cosmetic appearance, structural integrity, achievement of design goals, effectiveness of aerodynamics, ergonomics.
Pros – The Sky Ranger is a design optmized for quick and easy kit building; very simple aluminum tube and bracket/gusset construction: no welding, only straight main tubes, sewn Dacron covering. Features well rounded performance, simple repairs. Aircraft well proven through years of use. More than 600 have been built around the world; 150 in the USA.
Cons – In an age of sleek composite and all-metal LSA, the Sky Ranger looks to be an older design. Dacron covering lacks longevity of fiberglass or metal (though rather easily replaced). Brand known in America though still establishing a nationwide presence. Simple design has a boxy appearance.
Systems
Subsystems available to pilot such as: Flaps; Fuel sources; Electric start; In-air restart; Brakes; Engine controls; Navigations; Radio; (items covered may be optional).
Pros – Test Sky Ranger was well equipped, with Rotax 912 UL engine, electric starting, flaps, in-flight trim, and hydraulic brakes. Convenient access to fuel tanks behind tilt-forward seats. Easily accessed primer on instrument panel. Plenty of room for extra avionics or radios.
Cons – Fueling tanks located inside fuselage without removing tanks risks smelly spills inside cockpit; no exterior refueling point. No differential braking to tighten turn radius. Engine repair requires cowl removal.
Cockpit/Cabin
Instrumentation; Ergonomics of controls; Creature comforts; (items covered may be optional).
Pros – Center joystick used by instructor and student but dual pedals and a throttle provided for each seat. Flap and trim controls between occupants proved easily accessible. Seats tilt forward to allow access to the twin fuel tanks. Removable doors. Four-point seat belts standard. Optional fabric cargo bag aft of seat is large. Entry is very good; no stucuture blocks your movements. Roomy cockpit thanks to bowed-out doors.
Cons – Some pilots won't like the reach to the throttle. No throttle hand rest location. Airframe support structure passing through panel disturbs visibility somewhat. Gull-wing doors cannot be opened in flight (though split doors can be). Occupant's legs angle toward the pedals in a somewhat awkward fashion.
Ground Handling
Taxi visibility; Steering; Turn radius; Shock absorption; Stance/Stability; Braking.
Pros – Standard hydraulic brakes were quite effective at slowing and stopping the Sky Ranger. Brake lever mounted on joystick so both seats have ready access. More comfortable during ground operations with door removed. Panel readability and distance are good.
Cons – Simple seats may not prove comfortable on long flights (my 1-hour flight showed no discomfort, however). Gear absorption limited to flex in large gear leg slab and air in the tires. No differential brakes to aid maneuvering. Taxi turn radius was not particularly tight.
Takeoff/Landing
Qualities; Efficiency; Ease; Comparative values.
Pros – Durable main landing gear has proved itself in many French flight schools. Large clearance height permits unimproved field landings. Good forward, lateral, and overhead visibility. Short takeoff and landing ground roll. Approach speed is slow enough that flaps are hardly needed. Good slip potential.
Cons – Overhead skylight not helpful when turning to the side you're seated on (though good when banking opposite). Rotax 912 provides more power than needed for most takeoffs. Factory recommends limiting crosswind operations to 17 mph.
Control
Quality and quantity for: Coordination; Authority; Pressures; Response; and Coupling.
Pros – Central joystick is reasonable to use from either seat; adequate movement range inside cabin. Coordination exercises went well to shallow angles (where most students fly). Precision turns to headings went very well; Control authority is good for cross wind operations. Controls light enough that trim barely needed.
Cons – Rudders tended to stay put unless manually returned to neutral (though rudder pressures were well harmonized with stick). My Dutch rolls weren't very successful to steep angles initially. A center stick may not be optimal for all users. Adverse yaw was fairly significant.
Performance
Climb; Glide; Sink; Cruise/stall/max speeds; Endurance; Range; Maneuverability.
Pros – Rotax 81-hp 912 assures spirited performance; light airframe weight helps. Three-blade prop smoothes engine operation. Short takeoff rolls plus energetic climbs, even at higher altitudes. Cruise approximately 100 mph at reasonable power settings yielding good cross country capability.
Cons – Broad speed range with stall below 40 and cruise speeds over 100 mph. Low fuel use with 912 and light airframe. Economy cruise slows to 80 mph (more than adequate for shorter trips). Glide and sink performance are weaker than more expensive LSA deisgns.
Stability
Stall recovery and characteristics; Dampening; Spiral stability; Adverse yaw qualities.
Pros – Benign stall characteristics; no significant stall break and no drop on a wing. Longitudinal stability evaluated well with appropriate response to throttle changes from trim flight. Four-point seat belts add security. Stalls recovered quickly and without wing drop. Steep turns were easy to maintain.
Cons – Clear doors without side airframe members may not feel secure enough for some potential buyers. Significant adverse yaw. Longitudinal tests were acceptable but did not neutralize quickly. No parachute was fitted (though company offers the option).
Overall
Addresses the questions: "Will a buyer get what he/she expects to buy, and did the designer/builder achieve the chosen goal?"
Pros – Optimized fast-build kit with substantial work done by factory (flaps, ailerons, tailplane, rudder, elevators all built and covered; many bolts already in position); kit significantly lowers purchase cost. New import company owners since November 2003 offer new energy to enterprise. Modest prices (fully built for $40,000) compared to many LSA.
Cons – Simpler ultralight-style design compared to composite and all-metal LSA (which cost twice as much); may not appeal to sophisticated buyers. No S-LSA/E-LSA approval at press time (though design has met demanding British B/CAR S program). Dealer support is sparse around USA.