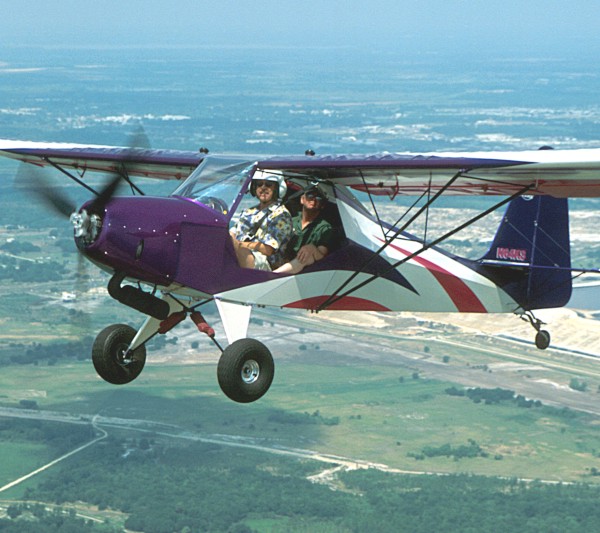 Part-Time 2-Seater
Like the Kolb FireStar II, the Sky Raider II has a second seat for occasional use – but not for flight instruction. After flying with 165-pound Grant Rappe – a long-time Sky Raider pilot – as my volunteer rear seat passenger, I feel that two big fellows won't fit. And even with small rear-seat occupants, you probably won't want to fly for too long. Nonetheless, if you want a ride-along jump seat for occasional use, but you truly prefer single-seat handling and you don't want to pay a bundle extra for the second seat and dual controls, the Sky Raider II might be for you.
Admittedly you have other choices in this vein. French trike maker Air Création addressed it with their Buggy. Here's a 2-seat aircraft, which the manufacturer says is mainly intended for single-place operation. The New Kolb Aircraft Company has two models that can do this (the FireStar II and Slingshot II) and of course, the very similar Rocky Mountain Wings Ridge Runner Model II also works much like a Sky Raider II. CGS Aviation's Hawk Plus could also fit this bill with a second seat added though it isn't sold as a 2-seater. Most other 2-seat ultralights are built larger throughout to accommodate a second person. This drives up the prices manufacturers charge. Often these aircraft are used for training where, in addition to dual controls, two seats must be comfortable for longer flights; they are often side-by-side seating.
In contrast, the Sky Raider II is only $400 more than their single-seat model, where most 2-seat ultralights are thousands more than comparable single-seat models. Keep in mind that 2-seat trainers have more parts added, justifying their higher price.
Many pilots will compare the Sky Raider II and the Ridge Runner Model II since both are born of the same original ideas.
According to Flying K, the Sky Raider II is 10 inches longer than the Ridge Runner Model II and this appears correct if you compare profile photos of each. They also say it is 3 inches wider.
Flying K knows an FAA pilot certificate and N-numbers are presently required for the Sky Raider II, so they made the 50-hp Rotax 503 dual carb standard. It was well cowled inside its engine nacelle. As their show planes have often exhibited, the Sky Raider II featured a very slickly executed paint job.
Flying K retains the folding wing as in their single-place Sky Raider. This option has proven very popular with buyers. This design features no disconnecting of controls when folding the wings, which cuts it to a reported 5-minute task.
The Idaho-based manufacturer states +6.6 and
-3.3 G capability at 950 pounds gross. You may have to work to fly at gross, though.
Plenty of Goodies
Since you must have an FAA student or private pilot's certificate (the latter required to carry a passenger) and N-number registration, the Sky Raider II can weigh what you want, which means you can load it up with goodies. Its high useful load of 570 pounds allows a range of options though, as you make it heavier, handling and performance may degrade slightly.
The Sky Raider II as tested had electric trim on the panel with a position indicator so you don't have to stick your head out of the fuselage (though double-checking gauges is an aviation tradition). The trim tab is mounted on the left elevator only and proved amply effective.
The flap lever is improved over the older model I tested where I had to search a little for a detent position. The new one is a push-button arrangement that is easier and more secure feeling. You can have the push-button lever as an option on the Sky Raider single-place model.
The Sky Raider II's throttle is on the lower left side approximately at knee level. A fuel cut-off switch was also positioned by my left knee. If it was horizontal and not poking you, that meant it was on.
I like the look of the Sky Raider II's fiberglass instrument panel. To my eyes it looks modern and can be painted to match. I find wood panels rather dated, though others may call it "retro" and love the look. To each his own where style is involved.
Getting in the Sky Raider II is easy, at least in the front. You sit down and swing your legs in, a maneuver all but older and less flexible pilots can achieve. Getting in the back seat is much tougher.
The Sky Raider II comes standard with a door package though in Florida's heat they weren't needed, so I gained no experience with their operation or potential efficiency.
Head in the Clouds
As my head actually stuck up into what would be the headliner, I almost fell like I was sticking up out of the aircraft. Though it may sound awkward, it gave me the feeling that I was sitting in an open cockpit design. The Sky Raider II's thin steel tubing prevented any claustrophobic feelings.
I also found it comforting to be able to look at the wing secure pins; however, I could not see fuel quantity. I'd change that by adding a tubing or instrument gauge.
However, with your head up high, looking laterally meant you had to lower your head. The overhead skylight did allow me to see laterally very well once banked over 30°.
I didn't sit in the aft seat but it clearly has more lateral room than many conventional aft seats. Flying K has provided adequate legroom for the rear- seat occupant, though this comes at the expense of lateral space for the front-seat pilot. It also means the front-seat cushion is narrower, making it less desirable for wider pilots. Balancing that is the cushion's length, which gives the legs more support. At my rather average size, I found the Sky Raider II's front seat very satisfactory.
Wind noise in the front seat was nil, though I don't know about the rear seat. With the standard doors, of course, wind noise and interference would be minimized. On hot days a breeze might feel good, so I can't call any windiness of the rear (without doors installed) a negative.
Some storage area is provided aft of the second seat. I'm told items will not blow around if placed in this location, assuming you choose the optional cargo bag.
Flying K provides a shoulder belt in the front seat, which I'd call the minimum proper restraint for aircraft. The rear has only a lap belt and I would pay to add a shoulder belt in my own Sky Raider II. Lap belts have proven inadequate in violent upsets.
Grant Rappe gave me a checkout in the Sky Raider II. As he familiarized me with the Sky Raider II model, Grant indicated that the tailwheel was a little stiff as it was a new airplane. I found it plenty responsive and I'm not sure more would be better. Those with no taildragger experience may find the quick rudder action disconcerting.
The Sky Raider II does not use a full swiveling tailwheel, which keeps it from pivoting tightly like some ultralights. Yet heel brakes are directional, giving you added turning power as needed. The brakes were reasonably effective though heel brakes can be less intuitive to use. Those on the Sky Raider II have a very small actuating tab, which cannot be felt well with your feet.
Big "800 x 6" tires work like tundra-type tires; in combination with the bungee suspension they offer plenty of absorption. Calling the Sky Raider II a bushplane may be a bit enthusiastic but she shouldn't stumble in an off-field landing.
Up We Go, In a Hurry
Since the Sky Raider II is a taildragger, my goal with rudder steering was to keep steady. The Sky Raider II's rudder power is significant and the pedals proved quite responsive. On takeoff roll or landing, this combination could contribute to a ground-looping tendency for pilots behind the curve.
Landing on the big, well-suspended tires was quite straightforward, although one time when I tried a full flaps, slow approach, short field landing, the fast transition from flying to stalling had me bounce rather firmly. However, four other landings were very smooth. The Sky Raider II seemed to absorb my rougher landing without flinching.
Flying K's "slotted flaps" are quite powerful and slow the plane nicely for approach to landing. At full flaps, I felt quite comfortable approaching at 45 mph once I'd done a couple approaches at higher speeds. The push-button lever makes it easy to select one notch more flaps without having to look at the lever or the flaps. On the single-seat Sky Raider, a detent system made me want to visually check position each time; I much prefer the push-button as I didn't have to look at flaps to assure I'd set them correctly.
Once airborne again, I tried to familiarize myself with the Sky Raider handling characteristics. My favorite way to tune up my technique is to perform Dutch rolls. The coordination exercise went well quickly and to quite steep angles, very satisfying.
This is the Kitfox heritage, that is, light handling and fast response. However, Flying K uses discreet ailerons and flaps where Kitfox uses flaperons. Therefore I preferred the predictable handling qualities of the Sky Raider II.
The Sky Raider II wasn't as fast-handling as regular Kitfox models. I believe most pilots will prefer the Sky Raider II handling. A mass-balanced rudder may also help by lightening pressure without hastening response.
Being an N-numbered aircraft, the Sky Raider II can have the power best suited to it. Flying K chose the 50-hp Rotax 503 dual carb engine and its 50 horses do the job admirably.
With two on board – and Grant's a skinny fellow of just 165 pounds – the Rotax 503 performed quite energetically even though we flew in hot, humid conditions. When I flew solo, the word is "wow." Flying K claims 1,600 fpm on their Website, though this may be earlier data as the more recently published Ultralight Flying! "Buyer's Guide" lists 1,300 fpm among information furnished by the factory. Whatever the exact figure, I found its climb power very potent.
However the standard lone 5-gallon fuel wing tank won't be enough. Virtually all buyers will elect the $150 optional 5-gallon tank. With 10 gallons on board, you should have 3 to 4 hours of solo flying and 2 to 3 hours when flown dual. Personally I need to land for unfueling more often than that.
My experience in proving stability in the Sky Raider II was positive, although I did not do particularly aggravated maneuvers and the Sky Raider II returned to level more slowly than many ultralights. This is not uncommon on higher performing ultralights (or general aviation airplanes for that matter). However, such a quality suggests the Sky Raider II is not for a beginner. If you don't keep flying the plane it can take you to speeds you may not want to see.
Some who have flown the Sky Raider claim it needs a larger vertical tail to keep it flying straight without pilot input. Indeed I found a high degree of adverse yaw, which happens less on aircraft with large vertical fins.
Experienced pilots will probably find no problem with Sky Raider II longitudinal or lateral stability, and they'll love the handling response.
Stalls were quite mild. They broke cleanly as I expected at a bit over 30 mph indicated, and felt slow and nonthreatening. No stall I performed showed any particular tendency to fall on a wing.
Ready to Raid?
If you are what I call a move-up pilot, the Sky Raider II may beckon you. Move-up pilots are those with a good bit of ultralight flying experience, let's say a couple hundred hours. These pilots often started on something simple and easy, like a Quicksilver.
When pilots gain some experience in varying conditions and log quite a few hours, they often get the urge for something "a little hotter." The Sky Raider II qualifies (along with numerous other choices in the ultralight field.)
At "under $10,000" before engine, this is a kit within reach of many budgets. Add a Rotax 503 engine and basic instruments plus paint and finish, you could get airborne for around $15,000. Equip your Sky Raider II like the test plane and the price tag can hit $18,000 (not including building). But for this price, you've got 2-seat capability and single-seat performance.
Starting with the base price of $9,950, you add the Rotax 503 engine at $3,400 (add about $800 for the "E" box electric starting). For my dollars I'd select the quick-build wing kit at only $400 extra. I'd also select the factory option to set the wings to the fuselage for another $400, eliminating concern about this important attachment. If you're a better builder than I – and that includes many pilots – then you might prefer to save the $800.
Other options you may want include the following: another fuel tank (truly needed if you do 2-place operations with any frequency), $150; electric trim, $250; embroidered seats, $225; and baggage sack, $80. If you want floats, you have two choices: straight or nonamphib floats for $4,200, or amphibious ones for $5,800 (not tested).
Flying K has a couple of 60-hp 4-stroke HKS-powered Sky Raider II's flying and plans to fit the 4-cycle Hexadyne P60 engine. If they do, they'll be the first I know of to try the new engine. At press time, Flying K reports sales of 40 Sky Raider II models and 180 single-place ultralights.
Though lots of companies are using the Internet successfully, Flying K does not have a great deal of information available on the Web. They do have e-mail connections to nonemployees where you can ask questions and this is certainly helpful. Nonetheless, I recommend picking up the phone.
Any company showing a cool, broadly grinning, thumbs-up cartoon character as their logo shows they're into flying for fun. Flying K's little cartoon pilot makes me smile and the Sky Raider II may make you smile as well.
Published in Light Sport and Ultralight Flying
Seating
2, tandem
Empty weight
380 pounds 1
Gross weight
950 pounds
Wingspan
28 feet
Wing area
107 square feet
Wing loading
8.9 pounds per square foot
Length
17 feet
Height
5.7 feet
Kit type
Construction
Build time
300-400 hours
Notes:
1 414 pounds empty as tested.
Standard engine
Rotax 503 DC
Power
50 hp at 6,500 rpm
Power loading
19.0 pounds per hp
Cruise speed
75 mph
Never exceed speed
100 mph
Rate of climb at gross
1,300 fpm
Takeoff distance at gross
75 feet
Landing distance at gross
75 feet
Standard Features
Two seats, enclosure with doors (removable), heel brakes, skylight, folding wings, slotted flaps and ailerons, steerable tailwheel, 5-gal fuel tank, fiberglass cowling and instrument panel, engine mount,
fabric and glue, large tires, trim, bungee-suspended gear.
Options
Skis, floats, baggage area, embroidered seats, ballistic parachute, quick-build wings.
Construction
Factory-welded steel fuselage, aluminum wing spars, fiberglass fairing, birch wood wing ribs, dope-and-fabric wing coverings. Made in the USA.
Design
Cosmetic appearance, structural integrity, achievement of design goals, effectiveness of aerodynamics, ergonomics.
Pros – The Sky Raider II adds a second seat for passengers (requiring N-numbers). Very modest cost increase over the single-seat Sky Raider. Same proven package of construction, handling, and performance. Welded steel structure and Kitfox-style wings make for a predictable package.
Cons – Second seat has no controls, so all Sky Raider IIs must be N-numbered and pilot must have an FAA certificate; cannot qualify for Part 103 or Exemption to Part 103. Second seat is a part-time proposition that won't be optimal for traveling; I'd call this a single-seater with a jump seat.
Systems
Subsystems available to pilot such as: Flaps; Fuel sources; Electric start; In-air restart; Brakes; Engine controls; Navigations; Radio; (items covered may be optional).
Pros – The test Sky Raider II was well-equipped, featuring electric trim, 4-position (including zero) button-detent flap handle, directional heel brakes, electric start, and convenient throttle placement. Trim had an indicator gauge for position. Panel-mounted primer. Plenty of panel room for radios or extra gauges.
Cons – Fuel in standard 5-gallon fuel tank won't last long if you fly dual often. Engine accessible only with cowl removal, making maintenance more time-consuming. Flap deployment required somewhat more muscle at speeds above 50 mph. Fueling is on top of the wing; you can stand on a wide tire but smaller pilots may need a ladder.
Cockpit/Cabin
Instrumentation; Ergonomics of controls; Creature comforts; (items covered may be optional).
Pros – In the tradition started by Kolb's FireStar II, the Sky Raider adds a seat for occasional use (though it is mostly a single-seater). Rear seat has a very wide back and adequate legroom. Test aircraft was nicely finished in and out yet weighed only 414 pounds. Entry to front is easy; rear first, then swing in legs. Front-seat cushion extends well forward for better leg support.
Cons – etter leg support.
CONS – Front seat is skinnier to allow for the legs of the rear occupant; means wide pilots may not prefer the narrower front seat. Rear seat has only a lap belt, which I consider too minimal. Rear seat is fairly challenging to enter even if you're young and flexible.
Ground Handling
Taxi visibility; Steering; Turn radius; Shock absorption; Stance/Stability; Braking.
Pros – Tailwheel steering is quite responsive and is aided by directional heel brakes. Floor was finished with a "skid" material that allows your heels to slide for smoother brake application. Overhead visibility for traffic checks is quite good. Wide tires and bungee suspension make for good absorption of bumps.
Cons – Tailwheel response is fast enough to allow overcontrolling (which could lead to ground looping). Nonswiveling tailwheel made for wider turns despite directional brakes. Brake effectiveness was modest. Must either lean your body or swing back and forth in taxi to see over the nose.
Takeoff/Landing
Qualities; Efficiency; Ease; Comparative values.
Pros – Flown solo with the 50-hp Rotax 503, the Sky Raider II enthusiastically jumps off the ground in less than 100 feet. When flown dual (165 + 175 pound occupants), roll was still very short. Landing rollouts were also short, especially when using the flaps and slow approach speeds (45 mph worked well in mild winds). Strong aileron response helps in crosswinds. Good suspension helps in off-field landings.
Cons – If you're uncertain of your taildragger skills, the Sky Raider II may not be for you; it is more challenging than most trigears. Rudder response forces quick action at speed. Overall response is quick enough that new pilots will have to steady their motions.
Control
Quality and quantity for: Coordination; Authority; Pressures; Response; and Coupling.
Pros – The Sky Raider II is a Kitfox derivative and therefore exhibits strong handling qualities: light, fast, authoritative. Lots of good things to say about handling – controls are light, balance between ailerons and rudder is good, ergonomics of controls are very convenient. Coordination exercises and precision turns went well from the start.
Cons – The good news is also the bad news: the Sky Raider II's quickness may be too fast for newer pilots (however, adjusting should come quickly enough). All Kitfox derivatives are somewhat challenging to maintain coordination (keeping the ball centered), and the Sky Raider II is no different.
Performance
Climb; Glide; Sink; Cruise/stall/max speeds; Endurance; Range; Maneuverability.
Pros – The Sky Raider II is fairly light (380 pounds empty basic; 414 as tested), bringing a strong level of performance to a 2-seater. Excellent payload (well over 400 pounds) even when loaded with equipment. As with other Kitfox-like aircraft, performance is very good, especially for such a small wing (107 square feet). Blazing climb when flown solo.
Cons – With the Rotax 503 engine and two aboard (and even moreso with floats), you'll need the optional larger fuel tank. Low-over-the-field flying isn't as good as slower, open ultralights (though a slow stall speed helps). Sink rate with no flaps deployed is higher than average. Fuel use is on the high side when flown dual.
Stability
Stall recovery and characteristics; Dampening; Spiral stability; Adverse yaw qualities.
Pros – Stall speeds were slow; while I always suspect installed ASIs, I believe factory's "under 30 mph" is close. Stalls broke cleanly and straightforward. Stick range and effectiveness were very good even near stall. Longitudinal power response was positive (though rather slow).
Cons – Front seat has shoulder belt only and rear seat has only a lap belt – definitely not enough in case of violent upset. Stall break may be sudden for pilots with less experience. Disturb the joystick at trim and the Sky Raider II did not return to level quickly (though it was positive). Adverse yaw was clearly noticeable but no worse than many ultralight designs.
Overall
Addresses the questions: "Will a buyer get what he/she expects to buy, and did the designer/builder achieve the chosen goal?"
Pros – Priced modestly over the single-seat version; those with an FAA ticket may find this a better buy than the Sky Raider I. With airframe and new engine and selection of gauges, you'll spend over $15,000. Many options can ease your building and personalize your Sky Raider II. Company appears to have survived a rough patch some years ago.
Cons – Fully equipped may hit $20,000 including a parachute and all the goodies. Painting and finishing is not included in company prices and can add significantly – especially if you want your ultralight to look like the test Sky Raider II.