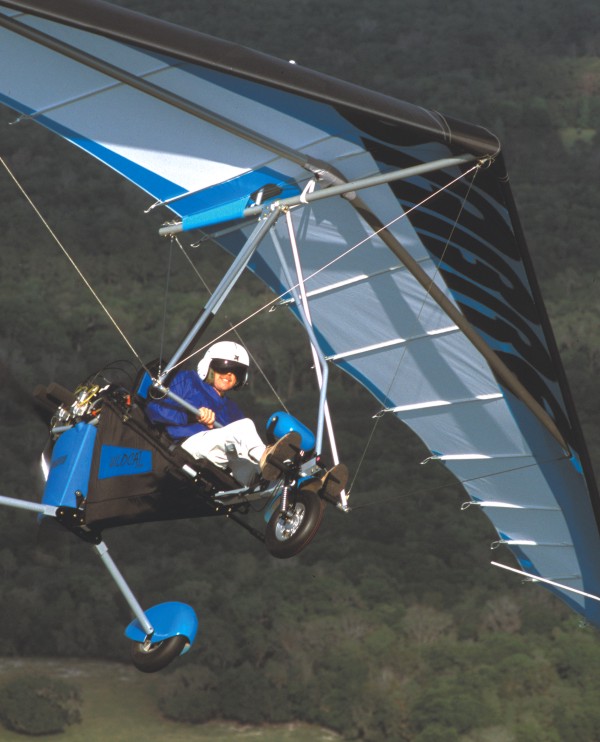 Smoother and More Refined
Sabre Aircraft's Wildcat is an evolving story of ultralight aircraft development. It also speaks to the increasing maturity of the light aviation industry.
For years, Sabre Aircraft's sales of their various trike models may have been the largest of any U.S. manufacturer. As 2003 ended the company was reporting delivery of some 700 ultralights.
The company has long offered a good flying, simple trike with a modest price tag. Proprietor and designer Richard Helm made steady improvements to his Sabre Elite and Sabre 340 designs. But he took no major strides forward.
The vigorous pace of Sabre trike sales and the company's need to stay on top of manufacturing issues can explain a drawn-out development period. Little time was left over for projects such as getting an entirely new trike ready for market.
That didn't stop Helm. He kept working on elements of what would eventually become the Wildcat. He didn't know that was the product name any more than he foresaw precisely how the new trike would come together. He just kept plugging away at it in spare moments.
Then came September 11, 2001 and its many aftershocks. Combined with a national economy in recession, events conspired to reduce aircraft sales throughout aviation from Boeing to hang gliders. Naturally, ultralight producers such as Sabre Aircraft were caught in the crossfire of this zero-sum game.
The good news from the slowdown is the trike being reviewed this month. With the time afforded by lower sales volume, Helm was able to create and introduce the Wildcat. After a close review of components, I'm pleased to report on the development.
Four Years in the Making
The present Wildcat design dates back to '99, when Helm had most of the ideas. Actual development of the trike had to follow his acquisition of some more sophisticated equipment including a CNC mill, a plasma cutter, and draw bender.
Frequently trike development involves, or is solely due to, wing changes. When you create a new wing for a trike chassis, you can get completely different flying characteristics. However, Sabre's new Wildcat uses the same wings as on earlier trikes.
It is the Wildcat chassis that is new in several notable ways. Because a trike carriage won't change flight characteristics as significantly as a wing, the new elements of the Wildcat are subtler to appreciate.
One more obvious change on the Wildcat evaluated in the spring of '03 was the use of the 60-hp MZ 202 engine developed by Zanzottera. This Italian design is gaining a storied experience in North America.
Now the brand name shows up on Sabre trikes. I've flown with Zanzottera a few times and have found the engine powerful and smoother than most 2-stroke Rotax engines. Through my experience, always in early hours of use for the tested powerplants, I've discovered no operational problems. The MZ 202 has obvious appeal with 60 hp from an engine weighing only 87 pounds "including reduction, electric starter, and exhaust," says the importer. (These power and weight figures are for a factory engine, not the one being evaluated with the R&D brand exhaust pipe.)
According to Helm, Compact Radial Engines of British Columbia, Canada, has acquired the manufacturing rights for all the Americas on the Zanzottera engine line and will now be building the engines used by Sabre Aircraft. The MZ 202 model name remains the same.
Boosting MZ 202
On the evaluation Wildcat, Sabre Aircraft used the Italian/Canadian twin-cylinder, 2-stroke, dual-carb engine to which Helm fitted a custom-made R&D exhaust pipe. Helm is enthusiastic about the specialty exhaust pipe saying it lowers max revolutions, noise, and reduces operating temperatures – in all, a nice package. Peak engine revolutions were lowered by 700 rpm, he says, and with such a drop comes the lower noise and temperatures. Lowered revs may also help extend engine life. At the time of my test flight, Helm quoted output at 71 hp although now that the Wildcat is in production, new manufacturer Compact Radial Engines prefers to state 65 hp.
Of the specialty exhaust pipe Helm says, "Even if the engine didn't produce 1 hp more, the R&D pipe is still worthwhile for the reduced noise and cooler temperature operation." The latter is especially important to a company based near Phoenix, Arizona and its oven-baked summers.
Zanzottera offers engines with some features not found on other popular 2-stroke ultralight powerplants. The gear drive on the Zanzottera has a clutch system as standard equipment. Electric starting is also a regular component.
Sabre's engine mount for the Zanzottera is the same as for the 4-stroke HKS engine as both have the same need. Each engine has a belly pan that drops below the engine and any mount must accommodate this feature. In addition the Zanzottera has a bell housing in the front that also descends lower.
The engine mount is entirely new compared to any engine mount Sabre Aircraft has ever offered. Helm assured me that it brings a lot less vibration to the airframe. You feel such tremors in your hands and feet and body, and indeed, I felt little vibes from this engine even when revved to the maximum.
Beyond its custom-shaped engine mount, Sabre supports the Zanzottera with dual Lord® mounts on each side of the engine plus a large one on the center rear below the engine. A large-dimension keel extension provides an underside support point.
Many pilots may remember Sabre's earlier fuel tank, a fiberglass construction tucked below the engine. For the all-new Wildcat, Helm has designed a cross-linked polyethylene tank that should prove to be more durable.
Low-Slung Affair
After the engine, the most visible change in the basic trike carriage is a drop-down compound keel construction that rises to the nosewheel but which lowers the overall chassis by a significant 5 inches. This yields a better center of gravity for ground operations without diminishing ground clearance. The gusset plates that link main gear legs to the central underlying keel no longer sit on top of one another as they did in earlier Sabre trikes. Now they interlock together like a puzzle resulting in height economy that permits the carriage to sit lower while retaining the older trike ground clearance, says Helm.
The lateral (left to right) gusset plates have a slot in them and the fore and aft plates fit into those slots. These slotted plates are aluminum in contrast to motor mount parts made of steel, though both are powder coated black. The newest Sabre lower slung chassis is easily seen from a distance, looking distinctly different from many other 2-seat trikes.
The Wildcat's seat frame reveals another innovation. A pip pin releases a lateral rear seat support tube. Once this component part is removed the mast can pivot forward to an acute angle, allowing it to reach farther forward. In so doing, the control bar can pass over the nose of more streamlined pods. "Many trike pods have to be blunted because the control bar cannot otherwise pass over the nose," observes Helm. Many modern trikes are designed with a higher mast fold point. One advantage is that the engine remains well supported during trailer transport but the reach of the mast is therefore less and the nose pod problem arises.
Sabre's new seat also reveals a voluminous, fabric-contained cargo area under the seat for items you'll need at your destination. In flight, you can use two side zippered bags that are sewn into the seat skirting.
The Arizona producer uses the same Sabre 16ss trike wing as mated to earlier models. This tried-and-true design is reportedly certified in France. No wonder Helm is hesitant to change it, plus an approved wing may give him a running start to comply with the new ASTM Light-Sport Aircraft standard.
While flying the single-surface wing, Helm said if I pulled in on the control bar I could get to about 50 mph. I couldn't verify this, as the evaluation Wildcat had no airspeed indicator. Nonetheless, the top speed of the simple wing was more than acceptable. To slow-flying enthusiasts like me, it was actually a pleasant change of pace from racing around in speedier aircraft.
As a show of efficiency, I was able to hold altitude with the Sabre 16ss with revs barely above 4,000 rpm, a very low figure where the Zanzottera must have been consuming little fuel.
The Wildcat's lowered frame not only makes it look cool and remain more stable on the ground, but it eases entry. Older, shorter, or less flexible pilots sometime struggle a bit to enter a trike, as you must step over the keel. That's easier in the Wildcat but even more noticeable is the relaxed entry to the back seat. You can almost turn around and sit down, whereas on many trikes you must climb on the frame to sit in the higher rear seat.
Helm likes to use wheel pants to protect the prop from rocks that may get thrown up into it. The wheel pants also look good and add nice lines to trikes that manage to look awkward to some observers. Since Sabre's home field is covered with such prop-dinging pebbles and rocks, the wheel pants are probably a good investment and might offer the same value to you at your home field.
Sabre's trike was displayed with distinctive tires completely lacking of tread pattern. In Florida this adds little value, but in Phoenix, treads tend to pick up small rocks and pebbles that can then be slung into the prop or on the occupants. After damaging your first prop in this way, you become more aware of the value of protection.
Throughout the Wildcat, aviation-standard hardware is used. Despite seemingly obvious use of exclusively AN hardware, Helm writes, "While studying the new [Light-Sport Aircraft] design standard for trikes, I found out that some companies don't use aircraft hardware. They use industrial fasteners [and while] I am sure they use good quality fasteners, they are not aircraft grade." He continues, "It's funny because for years [Sabre Aircraft has] been battling [salesmen for other brands who] told customers that we didn't use aircraft hardware. In fact, we did, and now it turns out that it is actually they who didn't [use AN hardware]."
Sabre has been selling the 16ss wing for some years and it retains its good flying qualities. Though some trike pilots like tautly configured wings for greater speed, less preloaded, slower, single-surface wings have handling ease the speedy wings can't match.
Helm says that he's documented a 22-mph stall break speed and 52-mph max speed for the single-surface 16 square-meter wing.
Roll-in and roll-out forces are much lighter with the Sabre 16 compared to nearly any double-surface wing. If you don't plan a lot of cross-country flying, and if you like maneuvering around the sky, a single-surface wing is probably the right choice for you.
Sabre's 16 wing is a 175-square-foot design; the "16" in this case referring to square meters, a concession to the lead Europeans took years ago in trike development. The 16 ­- and a smaller version Sabre has offered, the 14 – are based on the popular Lynx wing first designed in France, which boasts plenty of hang gliding expertise. Helm enlisted an experienced hang glider developer, Mitch MacAleer, when he made American modifications to the French design.
Thanks to reporting from USUA in this magazine, Sabre has a new bragging right. The January 2004 "Buyer's Guide" issue of UltralightFlying! shows the company's trikes as one of the top four most popular ultralights of any type used for training students. Sabre is the number-one U.S. trike maker following only AirBorne in use for training USUA students.
Sharpened Sabre
Richard Helm started flying trikes more than 20 years ago (and he's still a young fellow). He's also displayed an interest in 3-axis aircraft, selling them about a decade back, and then again when representing the Sky Ranger. But trikes are at the root of Helm's interest and are the backbone of the enterprise he has built called Sabre Aircraft.
Helm and Sabre have now logged more than 10 years in the trike business. In our young industry, this qualifies boss and factory as rather experienced. Selling a reported 700 trikes also gives him plenty of real-time experience at building planes and dealing with many customers.
Helm wrote, "I am proud of the new [Wildcat]. I think it's the best design out there. So many of the trikes look like they were designed in pieces. Our trike looks like it was designed at one time. The design flows together, and everything looks clean."
Helm quoted a current public selling price for the MZ 202 at $4,500 plus $250 for the R&D pipe. This helps contain the delivered price of his Z626 model (so named for the 626cc displacement of the Zanzottera). At the time this article went to press, Sabre was advertising a Wildcat with the higher horsepower (yet lower rev) plus electric starting at $1,500 off, yielding a selling price of $12,495.
However, even at the customary $13,995 for this ultralight, I'd call it a great value in a fun flying machine that is very well equipped with the features and components most American trike buyers want. But if that modest price is still too much for you, Sabre sells their basic 340 model for $7,995 complete with Kawasaki 340 engine. No wonder Sabre has a large fleet of trikes flying in Yankee skies.
The Wildcat may have been a long time coming but shows careful thinking in its many hardware improvements. The newest Sabre is a sharp choice for a new year.
Published in Light Sport and Ultralight Flying
| | |
| --- | --- |
| Seating | 2, tandem |
| Empty weight | 330 pounds 1 |
| Gross weight | 885 pounds |
| Wingspan | 35 feet |
| Wing area | 175 square feet |
| Wing loading | 5.1 pound per square foot |
| Length | 13 feet |
| Height | 11 feet |
| Kit type | Fully assembled |
| Notes: | 1 Wing weight, 95 pounds |
| Standard engine | Zanzottera MZ 202 1 |
| Power | 65 hp at 5,800 rpm |
| Power loading | 13.6 pounds per hp |
| Cruise speed | 30-50 mph |
| Never exceed speed | 55 mph |
| Rate of climb at gross | 800 fpm |
| Takeoff distance at gross | 250 feet |
| Landing distance at gross | 100 feet |
| Notes: | 1 Engine with R&D pipe sold with electric start and reduction drive; engine now manufactured by Compact Radial Engines of Canada, according to Sabre Aircraft. |
| Standard Features | Zanzottera MZ 202 engine equipped with electric start and reduction drive with clutch plus R&D exhaust pipe, 2-year warranty on engine, Sabre 16ss single-surface wing, steerable nosewheel (push right, go left) with nosewheel drum brake and trailing link suspension, hand and foot throttles, engine gauges (dual EGT and tachometer) in pod with mount, heavy-duty fiberglass main gear legs, wheel pants, front fender, 10-gallon fuel tank, 3-blade composite IvoProp propeller, seat with cargo area and saddlebags, folding mast, choice of colors, safety cables inside trike frame. |
| Options | BRS ballistic parachute (soft pack), optional wing fabrics, additional instruments. |
| Construction | 6061-T6 and 7075-T6 aluminum airframe, steel and aluminum fittings, AN hardware, fiberglass, Dacron sailcloth. |
Design
Cosmetic appearance, structural integrity, achievement of design goals, effectiveness of aerodynamics, ergonomics.
Pros – Sabre may be America's most prolific trike builder (700 deliveries claimed). Pricing is lower than most imported models. Simple trike but with features developed over manufacturing of many units). Lowered chassis comes with several benefits. Zanzottera engine on test trike is a new choice.
Cons – Sabre has not lead development like several European brands (though that has changed somewhat with new Wildcat features). Design test programs don't match imported designs (though Sabre enjoys a good safety record over many years of sales). Company preparedness for proposed Light-Sport Aircraft is undetermined.
Systems
Subsystems available to pilot such as: Flaps; Fuel sources; Electric start; In-air restart; Brakes; Engine controls; Navigations; Radio; (items covered may be optional).
Pros – Sabre's Wildcat continues to be a simpler design not employing many systems. Dual steering bar for aft seat ground taxiing. Foot and hand throttle with override feature. Front seat drum brake with spring suspension on nosewheel. Easy engine and fueling access. Electric starting is standard with Zanzottera engine.
Cons – Sabre's Wildcat continues to be a simpler design not employing many systems. Dual steering bar for aft seat ground taxiing. Foot and hand throttle with override feature. Front seat drum brake with spring suspension on nosewheel. Easy engine and fueling access. Electric starting is standard with Zanzottera engine.
Cockpit/Cabin
Instrumentation; Ergonomics of controls; Creature comforts; (items covered may be optional).
Pros – Comfortable, well-padded seats. Entry/exit are even easier than typically straightforward trike method, thanks to lowered chassis. Reach to controls good with rear seat steering and throttle. Amply sized instrument panel on test Wildcat. Cargo area under rear seat plus side zippered bags.
Cons – No shoulder belts installed nor offered; you'll have to add them as extra-cost aftermarket items. Minimal foot support to keep your feet on pedals. No nose or windscreen installed for wind protection (though a slower flying wing will make this unnecessary).
Ground Handling
Taxi visibility; Steering; Turn radius; Shock absorption; Stance/Stability; Braking.
Pros – Precise taxi steering. Good shock absorption with nosewheel suspension and brake. Brake was helpful for ground operations. Taxiing any trike on a crowded ramp is simpler, thanks to the tiltable wing. Generous ground clearance even though chassis has been lowered.
Cons – Push right, go left steering, although it has become standard on most trikes, is still unorthodox and throws some conventionally trained pilots. In stronger winds, steadying a trike wing may require significant muscular effort. Brake, though helpful for taxiing, was not particularly strong.
Takeoff/Landing
Qualities; Efficiency; Ease; Comparative values.
Pros – Sabre 16 wing approached quite slowly, allowing operations at many shorter fields. Slow approaches also aid in crosswind operations; the short ground roll allows cross-runway landings. Good glide performance made for gradual touchdowns and adds reach in the event of engine loss.
Cons – As with all trikes, crosswind operations demand different techniques than 3-axis pilots. Brakes will not help significantly in slowing the Wildcat on a short field (but slower approach speeds with the Sabre 16 wing make this largely unnecessary). Takeoff roll seemed a bit long.
Control
Quality and quantity for: Coordination; Authority; Pressures; Response; and Coupling.
Pros – Single-surface Sabre 16ss wing offers light handling, better than most double-surface wings (though at some sacrifice in speed range). Pitch was quite responsive and gave some diving ability even under power. Precision turns to headings in single-surface quite good.
Cons – As with all trike wings, you have no cross-control capability for crosswind operations. Coordinating controls on a weight-shift trike demands a new technique; you must push out (stick equivalent: back pressure). Low thrust line, common to all trikes, means power can overcome pitch control.
Performance
Climb; Glide; Sink; Cruise/stall/max speeds; Endurance; Range; Maneuverability.
Pros – Glide was quite good for a single-surface wing. Climb with Zanzottera was strong (though no instruments to measure). Low-over-field flying was most pleasurable with this single-surface wing. Speed range adequate for all but higher wind conditions.
Cons – Sink rate not measured (no altimeter). Speed range of Sabre 16ss wing is limited compared to most double-surface designs. More powerful engine means higher fuel burn. Sabre Aircraft no longer represents Aeros wings; interested buyers should check with company for other options.
Stability
Stall recovery and characteristics; Dampening; Spiral stability; Adverse yaw qualities.
Pros – Very modest stall characteristics; even with control bar held all the way to the nose support tube (stick equivalent: full back), Sabre 16 wing was docile. No stall breaks unless dramatically exaggerated. No wing drop. Push/pull-and-release test went positively.
Cons – Trike takeoffs, in Sabre and all other brands, are quite different than fixed-wing aircraft and required some familiarization. Throttle pushes nose up, as with all trikes; you must back off power somewhat in order to dive authoritatively.
Overall
Addresses the questions: "Will a buyer get what he/she expects to buy, and did the designer/builder achieve the chosen goal?"
Pros – The Wildcat is the result of several years of thinking about ways to build a better trike; slow economy allowed time to introduce this new model. Nicely color-coordinated. Zanzottera engine offered plenty of power without liquid cooling complexity. With a reported 700 trikes flying, safety record is good.
Cons – No matter what, trikes aren't going to please all pilots and this may affect resale ability values. Zanzottera engine has uneven sales and distribution performance in the North American market; is not known well by Yankee pilots. Takedown requires removal of a seat frame member.