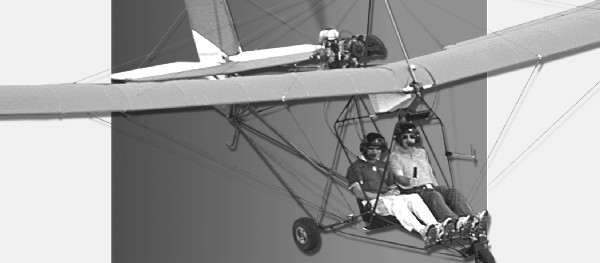 You've heard it before: Quicksilver is back! Again and again we've heard this, yet it seemed to be an apparition, a mirage in the desert. As soon as you thought the company had put its financial affairs in order, along came another disappointing tale of what was politely called "corporate restructuring."
In fact, the changes were often more provocative than substantial, but they gave the impression of a company that had lost its way. The worst thing that happened was that customers became unsure if they should send deposit money.
This was not a good place to be in the ultralight industry. Companies work hard to establish good reputations. They know those good vibes can disappear as quickly as a wing nut in tall grass.
The 1999 reincarnation of the company is called Quicksilver Manufacturing. Previously, the company had been called Quicksilver Enterprises and Quicksilver Aircraft (and before that a series of Eipper iterations, named after founder Dick Eipper). To the relief of the hordes of Quicksilver supporters, this new Quicksilver company appears stable, and distinctively not as flashy as some of its predecessors. In an environment of doubt, stable is good, flashy is not.
New Quicksilver president Carl von Hirsch and long-time friend and business partner Manuel Perez are far different than earlier leaders of the Southern California firm. Carl and Manuel are down-to-earth hard-working hands-on managers.
In fact, von Hirsch and Perez are the owners of several enterprises, of which Quicksilver Manufacturing is just one. Like Canada's ASAP and a small number of other companies in our industry, a wealth of machine tools and manufacturing capability can be used to build ultralights when, in reality, the equipment is primarily used for outside work. This is good synergy, yet allows impressive hardware to be built at prices that make ultralight buyers smile.
In the case of von Hirsch and Perez, the high-end machine tools (see "Touring the Quicksilver Factory" on last page) are owned by Astur N.C. Tooling, one of the partners' business enterprises. These related companies do exotic work.
When BRS sales director Gregg Ellsworth and I toured the factories in October '98, we saw marvelously complex and exquisitely finished machine parts being built for Boeing airliners. The skill required is beyond my ability to comprehend, but it was easy to see this was highly exacting work that evidently pleases Boeing, the largest airplane manufacturer in the world. Right alongside these beautiful parts were accumulating bins of parts for Quicksilver kits. It rapidly warmed an ultralight enthusiast's heart.
So Quicksilver Manufacturing can do some solid work and is run by the kind of people you are inclined to trust. But what is their commitment to the ultralight business? Will they abandon the effort at the first downturn in the market?
It certainly doesn't appear von Hirsch and Perez are likely to "jump ship." Both men have worked for decades to build what they've got. You don't throw away that kind of reputation.
At a mid-January '99 dealer gathering, the new Quicksilver Manufacturing showed their commitment with tangible proof. Before any of these former Quicksilver company dealers signed new dealer agreements, Quicksilver Manufacturing had better than 30 complete kits sitting on heavy steel shelving. Pallets loaded up high by fork lifts held two kits per pallet. New components were arranged everywhere in various stages of assembly before Quicksilver's unique blister packing was applied. Too many bins to count were brimming with parts.
Needless to say, many of the old-time dealers lost their skepticism and submitted applications (it's a new company, so a new application was required). One dealer asked how soon he could get a kit. Long-time Quicksilver evangelist John Lasko replied, "Pull your truck around to the loading dock. We'll put the kit in your vehicle right now!" To the gathered dealers, that gave new meaning to the phrase Quick delivery.
Will this admirable performance keep up? No one knows, except probably von Hirsch and Perez. But it sure looks promising.
E-mail opinions flew after the mid-January gathering. Dan and Jody Miller wrote: "After meeting Carl, Manuel and the Quicksilver staff, it all made sense. These people believe in the aircraft they produce and they believe in each other [enough] to make Quicksilver the number one ultralight aircraft company in the world [again]. We believe in them, too, and we're very proud to be associated with an organization and people of this quality."
That says it all, perhaps, but it doesn't tell you what everyone thought. Replying to one dealer, another recent visitor noted: "They've got parts galore, and airplanes ready to ship. Carl von Hirsch's other companies are already very successful, so he's just adding another product line to the things they already do. It's not like he purchased the Quicksilver rights, rented a building and leased a bunch of equipment, starting from scratch. A lot of the old Quicksilver employees are there again."
Indeed, I personally saw the overflowing parts bins these observers reported, so those aren't computer-enhanced photos you're seeing.
Another e-mail writer put a sharper point on it: "I ordered new axles from Quicksilver. They were delivered on time and were of excellent quality. The credit card entry was dated after the parts were shipped." When technical support was needed, the customer reported the "response was immediate."
The old Quicksilver company sometimes achieved high levels of customer service, but it was rarely consistent. And as the company got further and further into trouble, the service got worse, deepening the spiral.
You could wonder if the same will happen again after the blush wears off. It's a reasonable and cautious thought, but it seems to be an unnecessary worry and quite unlikely due to the diversification of bosses von Hirsch and Perez. If Quicksilver business dips a little, the partners can build more Boeing parts and ride out the downturn. On the other hand, once enough people are convinced the situation has stabilized, it is likely to feed on itself and only get better.
But, Fortunately…
None of the stockholder or creditor "scurrying" ever really had much effect on the ultralight itself. The Quicksilver MX series has outlived all the corporate head rolling and the repeated changes of ownership.
Naturally, the design has its detractors. Any leader does.
Some say the Quicksilver is an old and dated design, much like other pilots say Cessna's new airplanes are nothing new. The Quicksilver lacks some of the amenities many ultralighters have come to accept as usual and normal (even if dedicated Part 103 supporters regard these same items as unnecessary). Such things as enclosed cabins and built-in instrument panels have become popular. However, those extra features often add weight that affects how our favorite ultralights fly.
One area where I add my critical voice is the Spartan Quicksilver cockpit involving the seats and belts. The former aren't adjustable and are raked back at an angle some find uncomfortable. The latter are simply insufficient, since only lap seat belts are supplied as standard. Especially in an open-cockpit ultralight like the Quicksilver, such belts are not good enough if the ultralight is violently upset.
The good news is that at only 330 pounds empty, the MXL II Sport can add many accessories and easily stay within the 496-pound Part 103 exemption weight for 2-place trainers.
The even better news is that, in my experience, flying with two average-size occupants, the MXL II Sport actually flies better dual than it does solo.
Let me repeat that for those who have long read my insistence that lighter is better and single-seaters outhandle 2-seaters. The MXL II Sport handles better when flown dual than solo. This does not mean that the II flies better than the single-seat MX Sport. But it does quite well dual, and that's a powerful statement in a plane that does so much training.
FAA allows a student (in a Quicksilver or other ultralight trainer) to fly that trainer solo after the instructor thinks the student is ready. The first-time solo pilot flying alone in a 2-seat MX Sport II will find the experience very similar to flying it with an instructor on board. I think it goes without saying that's good. In some other machines, the student may be surprised by the enhanced responsiveness. While a veteran pilot might enjoy such handling, a student can be overwhelmed by controls that are too quick.
Good Ol' Days?
Since the earliest days of ultralight flying, Quicksilver has been part of the flock. Unlike most early ultralights, the Quicksilver remains popular. In all those years, the MX series doesn't appear to have changed much – again like the new Cessna 172, for example. Yet like the Wichita, Kansas aircraft, the new Quicksilver has seen refinements of various kinds.
Today's Quicksilvers, all of them, come with steerable nosewheels. A modern buyer would likely say, "Yeah? So what? All tri-gear ultralights have nosewheel steering." Indeed they do, but in the early days of the $3,500 Quicksilver, nosewheel steering wasn't even available as an option (and the amazing thing was, you hardly needed it!). The Sports and Sprints from Quicksilver Manufacturing all come standard with nosewheels that maneuver with dual pedal controls to accomplish the turning.
And once upon a time, your feet were your brakes. In the days of very, very light ultralights, this wasn't as dumb as it sounds because the ultralights could actually be dragged to a halt in some situations. Aircraft got heavier and faster, and mechanical brakes are now welcome and will prevent the injury that follows when a lowered foot is dragged back underneath the seat against the pilot's will.
Fuel tanks used to be translucent. You could see quantity easily enough, and the tank has always been visible right above and in front of the occupants. Today's more proper-looking fuel tank is opaque, but clear panels in each half of the sidesaddle tank tell you clearly what go-juice remains.
The oldest Quicksilvers used Chrysler, then Yamaha engines, followed later by the Cuyuna, which sold widely as a more powerful engine for the MX series. Now the MXL II Sport comes standard with a 50-hp Rotax 503 dual carb engine. To many ultralight enthusiasts, there is no better powerplant, and this one is part of the package.
In the early '90s, Quicksilver made the decision to return the engine to the top side of the wing, where it had been for the first decade of Quicksilver aircraft. When the engines got heavier – about the time Cuyuna became the engine of choice – the engine went underneath the wing. This placed it near the occupants' heads, where heat and noise were more apparent. For many years, this was the standard. However, long-time Quicksilver engineers Tom Price and Dave Cronk (one of the company's original founders back in the '70s) chose to put the new engines back on top.
Dual throttles – each on the outside of the seat – and in-flight adjustable trim came with later versions of the MX series. These desirable features remain part of the standard 2-place Quicksilvers (the double-surface wing MXL II Sport and the single-surface MX II Sprint).
As former Quicksilver representative Greg Launt and I buckled in the MXL II Sport to go aloft, I realized the flight experience was going to be very much like I always remembered in many hours at the joystick of a Quick. You can read the basic characteristics in Ultralight Flying! magazine's exclusive "Report Card" (to the right), but what sets the modern MXL II Sport apart from the past has little to do with the old Quicksilvers.
With the emergence of strut-braced lookalikes from other companies, the Quicksilver look has reappeared yet again in other brands. But strut-braced wings increase empty weights to 60 to 100 pounds more than the MXL II Sport. That weight is obvious in the air.
Like Quicksilver sticking with cable-braced wings, some of the good things about the design haven't changed.
The view out the front of the MXL II Sport is as panoramic and glorious as ever. The handling and stability profile are still docile and forgiving. The lightness assures superlative performance from smaller engines. And the terrific reputation of the ultralight being tough and dependable has not been altered.
The chain of former Quicksilver companies did some things extremely well, despite some corporate shenanigans. They took a wonderfully simple and safe flying machine, adapted it beautifully to the ultralight community, made changes with care and study, and documented everything religiously.
Fortunately, because this is an ultralight, the good news to report isn't all technical stuff.
When you haul out your ultralight photos in front of family or friends like a proud father, everyone will immediately understand what kind of aircraft they see. To the rest of the nonflying world, a Quicksilver is the ultralight icon. The Piper Cub of the ultralight set is widely recognized, and you won't be explaining why your little airplane isn't a "little airplane" – they'll know right away, most of them anyway. Heck, they might even want to go aloft with you!
Anyone who deals in real estate can talk all day about the time value of money. They rattle on about present value and future value and inflation and appreciation. For ultralight pilots, what they're saying is that something which cost $1,000 20 years ago will cost significantly more today. The effects of inflation wear down the value of money, as all of you who stayed awake in Economics 101 learned.
In the very early '80s, Quicksilver once sold well over 2,000 ultralights in a single year. The count that year was higher than the combined number of aircraft sold by Cessna, Piper and Beechcraft (as it was then known). As you think about the price, this may not seem so unusual. A basic Quicksilver at that time could be had for $3,495, and that was complete with engine. After 30 or 40 hours of assembly, you could be flying for a pittance.
Today's Quicksilver, though remarkably similar in many ways to the machine of 1982, has been considerably improved. For one, the 50-hp Rotax 503 dual carb 2-cycle engine is much superior to the old Cuyuna of that time. The controls are far better, and the structure is stronger than ever. It is actually quite a bit more ultralight. Today, Quicksilver sells the single-place MX Sprint for $8,995.
As with all designs, a 2-seater costs more. The single-seat double-surface wing MX Sport is $9,995, while the 2-seat versions of each plane are $12,995 for the single-surface wing MX II Sprint and $13,495 for the double-surface wing MXL II Sport. Add a few goodies and you could be up past $15,000, but you'll have the world's most popular ultralight trainer, the look and maybe even the brand a new student expects to see.
As it always has, the Quicksilver line will deservedly earn a fair chunk of all ultralight sales. With the new company rebuilding its strong dealer network, the new millennium might be the time when many pilots buy a Quicksilver again.
Published in Light Sport and Ultralight Flying
| | |
| --- | --- |
| Seating | 2-seat, side by side |
| Empty weight | 330 pounds |
| Gross weight | 720 pounds |
| Wingspan | 32 feet 9 inches |
| Wing area | 180 square feet |
| Wing loading | 4 lbs per square foot |
| Length | 17 feet 6 inches |
| Height | 9 feet 4 inches |
| Fuel Capacity | 6 gallons |
| Kit type | Assembly |
| Build time | 60-80 hours |
| Standard engine | Rotax 503 dual carb |
| Power | 50 hp at 6,500 rpm |
| Power loading | 14.4 lbs per horsepower |
| Cruise speed | 54 mph |
| Never exceed speed | 75 mph |
| Rate of climb at gross | 595 fpm |
| Takeoff distance at gross | 102 feet |
| Landing distance at gross | 240 feet |
| Standard Features | Dual controls (shared center joystick; dual throttles, each outside side of seat), double-surface wing, steerable nosewheel, main wheel brakes, in-flight adjustable trim, Rotax B gearbox, airspeed indicator, 2-blade wood prop. |
| Options | Rotax 582 engine, oil injection, electric start, engine instruments, 4-point shoulder harness pilot restraints, ballistic emergency parachute, floats. |
| Construction | Aluminum tubing and chromoly steel airframe, AN hardware, Dacron® fabric wing covering. |
Design
Cosmetic appearance, structural integrity, achievement of design goals, effectiveness of aerodynamics, ergonomics.
Pros – The public's common perception of an ultralight is back in manufacture. Design has long defined the open-cockpit appeal. More than 12,000 Quicksilvers flying, the most successful brand in ultralight history. MXL II Sport has passed tough certification programs like Australia's. Good all-around flying characteristics and safety profile.
Cons – Fairly slow flying among today's ultralights (though this is precisely its appeal to many buyers). Wide-open cockpit shortens the flying season in cooler climates; windscreens have been developed but look ungainly. Standard lap belts aren't enough; get optional 4-point shoulder harness system. Design will appear dated to some buyers during resale.
Systems
Subsystems available to pilot such as: Flaps; Fuel sources; Electric start; In-air restart; Brakes; Engine controls; Navigations; Radio; (items covered may be optional).
Pros – Test plane was equipped with brakes, a trim system and fuel shutoff valves. Other than that, some of the MXL II Sport's beauty is its simplicity. Less to manage is less to make mistakes. Nosewheel steering linkage simplicity is typical of the design, just not much to go wrong.
Cons – "Dual" (shared) center joystick isn't as optimal as two joysticks, though it suffices. Trim system wasn't nearly as potent when flown solo. Engine repair access is harder with engine on top of the wing versus underneath.
Cockpit/Cabin
Instrumentation; Ergonomics of controls; Creature comforts; (items covered may be optional).
Pros – Assuming you agree that ultralights are fair weather flying machines, the Quicksilver is just about perfect with massive visibility. It has the environment to smell the roses and anything else in the air. Entry and exit don't get any easier than this. Dual throttles on each outside position are quite handy.
Cons – It's hard to call the Quicksilver seating area either a cockpit or a cabin – this may be the goal of some buyers, but it does limit the weather conditions that are comfortable. It does the usual "ultralight tilt to the tail" when unoccupied. Needs shoulder harnesses. Instrument mounting spots are limited. No throttle armrest.
Ground Handling
Taxi visibility; Steering; Turn radius; Shock absorption; Stance/Stability; Braking.
Pros – Nosewheel steering is quite effective with simple linkage; easy from either seat. (It's hard to recall this design once had no steerable nosewheel!) Brakes on the test aircraft were quite effective. Big tires and some tube flex gives decent absorption even though no true suspension is used. Very stable; high-speed turn offs are almost child's play.
Cons – Nosewheel steering is quite effective with simple linkage; easy from either seat. (It's hard to recall this design once had no steerable nosewheel!) Brakes on the test aircraft were quite effective. Big tires and some tube flex gives decent absorption even though no true suspension is used. Very stable; high-speed turn offs are almost child's play.
Takeoff/Landing
Qualities; Efficiency; Ease; Comparative values.
Pros – Add power and wait. Or add power and pull the stick full aft. Either will effortlessly get you off the ground. (Of course, some forward stick movement will be needed after lift-off.) Landings are also very easy if you keep your speed up enough. Good crosswind capability with authoritative ailerons. Approaches can be done very steeply using the high drag of the Quicksilver to good effect.
Cons – Get too slow in a Quicksilver and you can stall it onto the surface when your energy bleeds away and steals pitch authority (though typically the results aren't very damaging). Newer Quicksilver pilots replace lots of landing gear tubes, partly due to the lack of suspension. Fortunately, the parts aren't costly and they replace quickly.
Control
Quality and quantity for: Coordination; Authority; Pressures; Response; and Coupling.
Pros – Predictable is what Quicksilver handling is; you can count on it to always act the same, and that's good. Full-span ailerons work well but don't show a lot of adverse yaw. Well-coupled large-surface rudder is quite potent. When flying dual, at least, trim is quite effective and useful. Though controls aren't "fast," they allow good maneuverability.
Cons – With this wide-open cockpit design, side or forward slips aren't very effective (though with its ability to approach steeply, so what?). Like so many ultralights, the Quicksilver is a rudder-dominated flying machine. Stick pressures aren't light – though given its frequent role as a trainer, perhaps that's just as well.
Performance
Climb; Glide; Sink; Cruise/stall/max speeds; Endurance; Range; Maneuverability.
Pros – With the standard and well-liked 50-hp Rotax 503 dual carb engine, the Quicksilver climbs strongly, better than 600 fpm at full gross, I estimated. Its light weight aids the sensation of true ultralight flight for the student who later goes aloft solo. Cruise of 50 mph is certainly adequate for most operations.
Cons – A 50-mph cruise may seem a little pokey, but slow flight is precisely its charm to many buyers. Burns a lot of fuel, better than 3.5 gph and a 6-gallon fuel tank empties rather quickly. Glide is pretty lousy at around 5-or 6-to-1, though sink rate isn't too bad. You must accommodate these characteristics on the Quicksilver (also true on a number of other ultralights, as well).
Stability
Stall recovery and characteristics; Dampening; Spiral stability; Adverse yaw qualities.
Pros – Stability has long been one of the shining strengths of this design. Stalls are very mild in every explored regime, but amazingly, they feel even better when two are aboard. The MXL II Sport flies best with two aboard in my opinion. Won't tighten up in steep turns. Longitudinal stability was excellent in any test. Design has proven to be very strong in the air.
Cons – Except for better 2-seat operations than solo flying (an unusual situation among ultralights), I found nothing to complain about in the stability category.
Overall
Addresses the questions: "Will a buyer get what he/she expects to buy, and did the designer/builder achieve the chosen goal?"
Pros – Company has kits in stock (at time of writing) plus tremendous production capacity thanks to affiliation with large machine tool operation. Dealer network, once the world's largest, is reassembling. Excellent flying choice for many newcomers and lots of veteran ultralight pilots. Very strong and dependable design that fits most newcomers' impression of what an ultralight is. Many after-market vendors support this design.
Cons – Quicksilvers have been around since the early '80s; though they've changed, this is just too old for some buyers. Flies too slowly for longer distance cross-country enthusiasts (unless time is no worry). Feature buffs may not care for its simplicity. Glide and sink performance are low in the ultralight spectrum. Open cockpit won't be optimal for year-round flying in some climates. The Quicksilver (company) name has been sullied and may take some time to regain its luster.