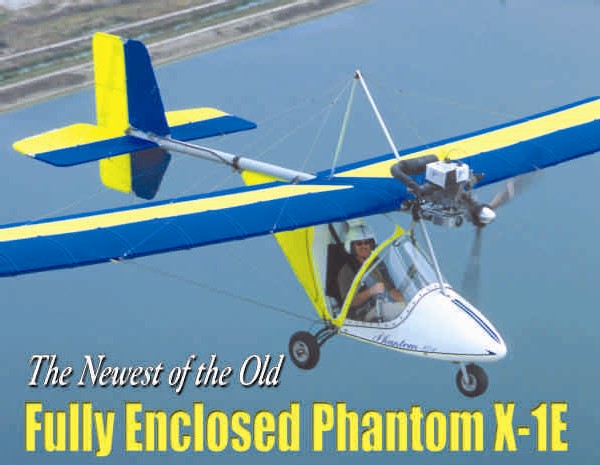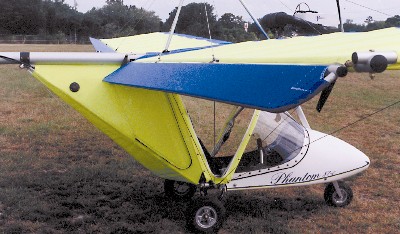 What would you do if you produced one of the best known and best loved classic ultralights in the world? If your name is Pat Schultheis and your brand is Phantom, you probably wouldn't mess with success.
Known simply as Phantom to most folks, the proper name is actually the Phantom X-1. Even this model has gone through refinements over the years. And some builders have further varied the theme; one Phantom I flew had been converted to a taildragger – it was a blast.
A 2-seat Phantom model was tried years ago and newer efforts are underway at this time. The first effort, under the direction of then-Phantom company owner Jack Taylor, flopped so badly that after a short, challenging flight in the machine, I gave it back to the factory and told them I couldn't report on it yet; it simply wasn't right and shouldn't be sold to customers.
Schultheis reports, "We're working on a 2-seater now; it's in our development stream. We have five out in the field being used by selected instructors who will give feedback. We asked them to beat it up and see what should be changed." This spring, he says they brought one back with 150 hours logged so they could check it over.
For the present, you must choose between the single-seat X-1 and new enclosed X-1E, also a single-seater. Yet the venerable Phantom continues to sell steadily. Why?
Though many so-called experts claim that all pilots buy are 2- seaters, surveys consistently show that nearly 40% of ultralights are single-seat models. Among those single-seaters, the Phantom continues to find new buyers because it's a great ultralight.
I've written about the single-seat Phantom in the March '92, April '96, and October '99 issues of Ultralight Flying! magazine. In every evaluation, I came away very pleased with the design and had to work hard to find a few things that might not be perfect for all buyers.
For late 2000, it is highly appropriate then to evaluate the newest of the old, the Phantom X-1E fully enclosed model. In a phrase: it, too, is a winner.
Still Checking Out
Helping boss Schultheis at airshows, John Hodgdon gave me a checkout of the X-1E model. The "E" stands for full enclosure, of course, or what correctly is set up to be a full enclosure. But we flew it with the doors off down in balmy Florida.
The X-1E has a couple of little fresh-air scoops that might suffice in my home state of Minnesota about now, but in the steamy South, I wanted the doors off, permitting the air to move freely through the cabin. Removing the doors is very simple and quick.
Hodgdon says the X-1E's pod is 6 inches longer than the older model. The windshield comes up much higher as it must blend into the roof of the full enclosure, whereas the older model stood up on its own much like the windscreen on a motorcycle. Though all this sounds like more area to produce drag, look at the side view of the new model. The shape has overall smooth and pleasing lines. In flight, it does not feel like it is bludgeoning the air into submission. In fact, I found a fairly low power setting below 5,000 rpm could sustain flight. The Phantom's enclosure thus appears to work well to me.
The Phantom X-1E is a little broader as well. It is fitted with what the company calls "he-man" bars. Deriving its name from the fact that bigger fellows will fit inside better, he-man bars are side support tubes traveling forward from axle to engine mount. In the past, these angled inward (toward the engine) only 6 inches above the gear axle, pinching the inside space a bit. The he-man tubes also travel upward and forward, but they don't angle inward until about 2 feet up from the axle, thereby creating more room in the hips and elbow area. Photos show this even better but one immediately notices the extra roominess inside the Phantom X-1E.
Probably of less value for drag reduction than for aesthetic appeal, the streamlined forward support tube now hides wiring inside. I'd call this a really clean yet simple solution to a mass of wires that must supply the engine, and it adds visual appeal to the new model at the same time.
Several pilots inspecting the X-1E complimented the "fine furniture" appeal of the black lacquered wood prop. Hodgdon says this prop is made by Precision Propellers from Vernal, Utah. Beautiful certainly, 3-blade props are popular as they add smoothness in flight.
Though it's an option, Phantom uses a cowling much like that on Flightstar models to draw air across the tops of the engine cylinders. Both companies report this helps the in-line Rotax engines run cooler. I also think they add something to the looks of the ultralights.
"Hopping in" is not how you'd describe Phantom entry. Since the doors taper to a V at the bottom and since the windscreen comes farther back, entry is tricky in the Phantom. Some Phantom pilots I've observed get their feet on the forward support tube of the seat and then slide their way down into position. I didn't find it too difficult but I'm lucky to remain fairly flexible. If you have trouble getting in and out of other ultralights, this one may seem even more demanding.
Once inside, the padded sling seat should feel comfortable to most pilots, except those with a need for more lumbar support. Phantom has little though the fabric seat will conform to your shape better than a fiberglass shell seat.
On the new enclosure the nosewheel structure goes through an opening that allows some sand or dirt to enter the cockpit on occasion. During taxi on Florida's exceptionally dry and sandy terrain, soil ended up on my lap. During takeoff roll, this may compromise your concentration. I'd look for a way to seal the opening better if I flew from loose soil runways. On grassy turf or pavement, the opening should present no problems and it does let in more air.
The Phantom X-1E also features the improved instrument panel with its flanges which allow extra instrumentation or very close-at-hand switches. We saw this changed pod construction in 1999 but though the design is a minor change, it adds considerably to places for gauges and switches, some of which can be placed closer to you for easy access.
The joy stick was as comfortable as ever in the Phantom, though I recalled the additional challenge of moving the stick briskly to the outside. Of course it's a side stick construction, which allows for freedom for the pilot and yet must have some space restriction on the side it's mounted.
The X-1E's fuel tank is mounted on the back of the seat much like they have been for years, except you can't see that the fuel tank is on the back side of the seat. Due to the X-1E's enclosure, Phantom installs a fuel fill port at the back of the fairing. You can check the interior space by opening the zipper inspection port on the ultralight's right side. The inspection door has Mylar on both sides and a sewn-in support tube to assure this area doesn't flutter. The door does open widely and the space could likely accommodate some light cargo so long as you could secure it and had verified that it did not negatively affect weight and balance.
Have It All
Since the X-1E is too heavy to meet the weight restrictions of Part 103, it must be registered and flown with an FAA pilot's license. The upside to this is that you can then add options at your discretion.
To my pleasure – since I'm as spoiled as easily as the next pilot – the electric start system worked very well, never hesitating on this dual carb 50-hp Rotax 503. Pull starting inside this cockpit has proved a handful in the past.
The instrument panel couldn't look much simpler: two switches, one light, one round ASI gauge and the EIS electronic information system. You really need little more on the X-1E. Like most electronic gizmos, you must learn how to properly use the EIS, but it delivers a lot of information in an easily read format. My only complaint with electronic instruments is that you can't simply shoot a quick glance; you must spend the second or so to read the number shown and interpret. In some cases you must switch to a different screen to see other readings. Contrarily, a set of analog gauges that are well designed and organized can supply details with the briefest of looks. I was given the instruction to turn the EIS system off before shutting down the engine.
Though it is most certainly "analog," the fuel indicator was very easy to read. A clear tube alongside your left hip shows fuel (after you mark it). At more than 285 pounds (without electric start, big fuel tank, or other options), the X-1E doesn't make Part 103 weight anyway. Load up the accessories and enjoy; just make sure you pocket your FAA license before you take to the skies.
A standard trim control is placed just aft of the throttle on the Phantom. In this location you can inadvertently move the trim somewhat, tending typically to lower the nose. The trim control is effective and the response is sensitive, which means you must check your trim before starting final approach.
Effectiveness of the aerodynamic trim comes from an aluminum panel 4 inches in chord and 15 inches in span mounted only on the right elevator surface, as is common. It is spring loaded one direction with a pull cable on the other side. The Phantom has no flaps or flap lever.
Other standard items are wheel brakes, which proved to be very effective on this Phantom. Brakes vary and can be better adjusted, but I've flown earlier Phantoms where the factory brakes didn't do much. The X-1E either had better hardware or the brakes were better installed.
Nosewheel steering was very responsive, requiring little movement of the pedals. The forces were easily overcome by the power of my legs, but the turn radius was not particularly tight.
The tops of the pedals in the Phantom are angled back at you a few degrees. I've always found this feels somewhat awkward at first, but later I come to like it. Other pilots may not notice the pedals' unorthodox angle.
Getting Gone
My first takeoff in the Phantom was a little interesting because while enduring a light spray of sand and dirt, I also noticed a shuddering in the tail as we lifted off. This tendency did not repeat in the air and perhaps it was just mechanical turbulence that induced this or perhaps it was some wheel spin-down shake. Nonetheless it's a disconcerting feeling on first takeoff. Never truly concerned, I know the overall Phantom design to have an extremely strong airframe construction; those cables, which actually have low drag, lend enormous strength to the design. Hodgdon said he had never noticed any shudder so perhaps it was mainly my vivid imagination.
On whole, though, it is very easy to land the Phantom, somewhat due to its very good control. Every landing I made was smooth and this is enough to please virtually all pilots… it's our last chance of the flight to look good.
Every landing I performed was done with the nose held very high suggesting a broad flare window, although I wondered if I might be getting close to touching the tail on these full stall landings. I've always felt that this is the proper way to land, bringing the ultralight to such a gradual and well-placed stall that it quits flying and drops gently to the surface. Not all aircraft allow this. The X-1E enlarged my smile every time.
The good handling that I've long loved about Phantom helped on landings but also made normal maneuvers a thing of joy. Nonetheless, doing good Dutch rolls appeared to take more aileron than rudder.
Neither would it be right to call Phantom's handling the "best." The 20-year-old design continues to use full span ailerons and while they are simple and work well, they don't deliver either the lightest of all handling nor the fastest responding. In the real ultralight speed range of the Phantom, handling doesn't get lots lighter or faster, but the classic ultralight is showing some age in this department.
Once you pour the coals to the fire, the X-1E gets going in a hurry. The dual carb 50-hp Rotax 503-equipped evaluation Phantom I flew had plenty of power and zoomed up to a couple thousand feet in barely over 2 minutes. The standard Phantom X-1E comes with a 40-hp Rotax 447 that won't deliver the same exhilaration. But the open cockpit X-1 model (with standard 40-hp Rotax 447) weighs 30 to 40 pounds less than the dressed-up X-1E, and should perform nearly the same as the 503-equipped tested version. The X-1 can also operate under FAR Part 103 and costs over $2,000 less than the standard Phantom X-1E.
Hodgdon reports that with the doors zipped into place the Phantom sees an extra few miles an hour over the more open version. Indeed, as I cruised along at full throttle the airspeed indicator showed 80 mph. However, when I sustained this power setting for a few moments the EIS began to blink, suggesting that I was over-revving it. Naturally, I backed off immediately. Throughout this exercise the engine temperatures appeared to be stable.
The Phantom X-1E was able to hold a fixed altitude quite precisely at 4,800-4,900 rpm. Among many ultralights this is a fair show of aerodynamic efficiency. I think it speaks well of Phantom Aircraft's effort to enclose the cabin. However, I flew the X-1E with the doors zipped off, so I didn't experience all of the benefits of the smooth envelope.
Though I tried several times, I gave up trying to establish an engine idle descent rate because the day was producing so much lift that the readings would have been inaccurate. Whenever you have a lot of lift you also have sink and these phenomena invalidate the effort to measure sink rate over time. Indeed, on some trials to identify the sink rate, instead of descending I was able to gain a little bit of altitude and sustain for several minutes at only 3,000 rpm, a number clearly insufficient to hold the aircraft level on a neutral day.
Though Phantom performance hasn't changed much in years, the addition of the enclosure did add some speed range without sacrificing the low end. I'd call this a performance enhancement even though it also means the Phantom has only gotten incrementally better in almost 20 years on the ultralight market.
Phantom's lack of core change is a good thing when it comes to stable flying characteristics. It still has all the benefits of the older models.
Power-on stall showed less than 30 mph indicated at break. The X-1E only dropped its nose a bit and the wing never really stopped flying. ASI error below 30 mph with the nose held very high is surely significant, so the number can be considered little more than a reference. But even subjectively, it was obvious to me Phantom has a genuinely slow stall.
Power-off stalls also broke at 30 mph; they did drop the nose but did so quite modestly. A very few ultralights might be even better beginner aircraft but Phantom is good for anyone paying attention. It makes a great move-up design and I believe that's how it got started back in the days of lower-performance Quicksilvers, Eagles and Weedhoppers.
In all stalls Phantom wallowed around at the top of the stall to give you plenty of warning that you must lower the nose.
The X-1E exhibited significant adverse yaw though not more than I have seen on other ultralight aircraft. Coordinated use of the rudder cured the problem.
For a price under $10,000 today, the more basic Phantom X-1 represents an excellent value, in my opinion. Back when the Phantom was introduced in the early 1980s, only the "better" ultralights sold for such lofty prices (a weight-shift Quicksilver was a mere $3,495 then). These days, that figure is only half the price of a new car and is well below the average ultralight in the $15,000 range.
The enclosed, elongated, aft faired X-1E model will cost you a shade over $12,000, but even this is below the average as we start the 21st century. Since the enclosure is retrofittable, why not start with the X-1 and add the "E" when winter rolls around?
No matter the deal, I'll bet many readers will note the folding wing option now available on the Phantom for $700, a price sure to convince many buyers. The design of the folding wing was done for Phantom Aircraft by Carrol Shelar, a man long associated with the Phantom aircraft. Shelar has outlasted three company owners to my knowledge.
In the summer of 2000, Phantom was in the middle of a big adjustment. After many years in North Carolina, production has been relocated to Michigan where Schultheis says, "It is working great with new tooling in place."
Another thing, most of the owners I spoke to said they liked their Phantom and they're sticking with it proudly. Fortunately now, the factory has something else to sell them with the new enclosure. With a fan club that strong, I imagine Phantom Aircraft will indeed continue on their selling ways.
Published in Light Sport and Ultralight Flying
| | |
| --- | --- |
| Empty weight | 285 pounds |
| Gross weight | 545 pounds |
| Wingspan | 28.5 feet |
| Wing area | 142 square feet |
| Wing loading | 3.8 pounds per square foot |
| Length | 17.5 feet |
| Height | 8.2 feet |
| Kit type | Assembly |
| Build time | 90-180 hours |
| Standard engine | Rotax 447 * |
| Power | 40 hp at 6,500 rpm * |
| Power loading | 13.6 pounds per hp * |
| Cruise speed | 65 mph * |
| Never exceed speed | 100 mph |
| Rate of climb at gross | 800 fpm |
| Takeoff distance at gross | 300 feet |
| Landing distance at gross | 450 feet |
| Standard Features | Rotax 447, removable zip-on doors with fiberglass bulkhead, rear fabric enclosure with zipper access, 3-blade prop, chromoly gear, aluminum wheels, 5- or 10-gallon rotomolded fuel tank, padded seat, brakes, pod, windshield, wrap-around instrument panel. (No paint is included.) |
| Options | Rotax 503 dual carb 50-hp engine, free-air scoop, instruments, ballistic parachute, skis, folding wing. |
| Construction | Aluminum 6061-T6 airframe, stainless steel cables, chromoly gear legs, fiberglass nose fairing, Dacron® wing coverings, aircraft-grade hardware. Made in the USA. |
Design
Cosmetic appearance, structural integrity, achievement of design goals, effectiveness of aerodynamics, ergonomics.
Pros – A great design made better; the Phantom's enclosure is desirable in many locations/seasons. Done well enough to actually enhance lines; nose is extended 6 inches, for example, and rear fabric fairing fit well. Doors are removable, adds versatility. Boosted by the dual-carb 50-hp Rotax 503 and a 3-blade prop, X-1E is an energetic ride. Basic design has long been highly reliable.
Cons – Equipped as flown cannot make Part 103 by 30 pounds or more; must be FAA-registered. Doors are basically fabric structures, and offer no arm support (like some factory doors). Despite all the evidence of their strength and low drag, many pilots disdain the wire-braced look. Hard to criticize this pioneering design, though its age alone may hold off some buyers.
Systems
Subsystems available to pilot such as: Flaps; Fuel sources; Electric start; In-air restart; Brakes; Engine controls; Navigations; Radio; (items covered may be optional).
Pros – An X-1E with N-numbers can have goodies like our test craft. Electric start spoils anyone. Trim was highly effective. Additional panel space allows location for more controls/switches. Easily accessible primer control. Fueling is done cleanly through a filler neck. Standard brakes worked better than those on many ultralights. Easy engine access.
Cons – Trim lever location is poor in that your throttle hand can rest on it or bump it, possibly adjusting at an inopportune moment. Trim is also quite sensitive, changing attitude noticeably with little control lever movement. Design has never had flaps (though it barely needs them).
Cockpit/Cabin
Instrumentation; Ergonomics of controls; Creature comforts; (items covered may be optional).
Pros – Zipper access to area rear of bulkhead adds usable space (check weight and balance carefully). Like most tractors, Phantom sits on all three wheels when unoccupied. Useful fuel "gauge" should prevent starvation. Four-point seat belts are standard. Very reasonable visibility considering the enclosure was increased; higher windscreen and "skylight" panels help.
Cons – Entering the enclosed Phantom is slightly harder and the X-1 model is challenging enough to get around the structural tubing. You'll want to remove doors in hot, sunny conditions; not much air circulates during taxi (but, of course, they remove quickly). Nonadjustable fabric seat won't please everyone (better than the older models, though).
Ground Handling
Taxi visibility; Steering; Turn radius; Shock absorption; Stance/Stability; Braking.
Pros – The Phantom taxis stably, firmly enough on the nosewheel to give adequate steering traction. Steel gear provides solid ride and feels like it could handle a rough field landing. Bungie helps reduce shocks to airframe. Tubular gear replaces older slab aluminum which felt softer. Nosewheel steering is quite responsive; effort is light. Brakes were more effective.
Cons – Some sand spray entered the cockpit through the nosewheel opening, bringing a distraction at the wrong time. Pedals in Phantoms are angled aft at the top, somewhat uncomfortable (to me). Upward visibility for traffic checks is poor due to the close wing; doing a departure end 360° turn takes a wider radius than some ultralights.
Takeoff/Landing
Qualities; Efficiency; Ease; Comparative values.
Pros – Excellent takeoff and landing characteristics. True also with earlier X-1 model, the enclosure appears to preserve the good qualities. All my landings were the full-stall type I attempt; tells me the flare window is broad, forgiving for less experienced pilots. Good control authority and response making crosswind operations easily tolerable (depending on your experience).
Cons – Some pilots will miss having flaps. Effective at slower speeds, brakes didn't much reduce the landing roll. Nose angle gets so high on landings that the tail skid is explained (though I prefer such landing angle touchdowns). Sink rate is surely slightly faster than a lighter Phantom.
Control
Quality and quantity for: Coordination; Authority; Pressures; Response; and Coupling.
Pros – Fine handling has always been a Phantom hallmark; while not as fast or light as some newer designs, brings together a good total handling package. Ailerons showed stronger response than rudder, but control input pressures were quite equal. Wider cockpit formed by "he-man" bars (see photos) allowed better side joystick movement. Precision turns were child's play.
Cons – Side stick requires harder motion to outside of cabin than toward inside. Full-span ailerons generally offer more control resistance than partial-span ones (though older design style still works well on Phantom). Adverse yaw was significant.
Performance
Climb; Glide; Sink; Cruise/stall/max speeds; Endurance; Range; Maneuverability.
Pros – Climb is strong with the dual carb 50-hp Rotax 503 (a 40-hp 447 is standard). Speed limited by design but 70-mph cruise is reasonable. Full throttle, level altitude was around 80 mph. Factory says fully enclosed model will show a few miles an hour more, no surprise to me given a shape that seems well optimized. Able to hold altitude below 5,000 rpm, a fairly low number in this test.
Cons – Sink rate hard to measure on an active day but on final approach it felt higher than average. Not as speedy as some "ultralights" pilots prefer today (though the Phantom flies plenty fast enough for most enthusiasts). Speed range is not as wide as some more modern designs. No other negatives.
Stability
Stall recovery and characteristics; Dampening; Spiral stability; Adverse yaw qualities.
Pros – Low noise and vibration, perhaps a combination of powerful engine run slower and 3-blade, well balanced prop. All stalls showed 30 mph or less on ASI (instrument error not known). The Phantom X-1E exhibits very good longitudinal stability, both in attitude trim disturbance checks and after power changes. Hands-off stability was excellent. Overall a good choice for attentive new pilots. The Phantom feels solid in flight, a feel imparted by tight cable bracing. Strong 4-point seat restraint.
Cons – Adverse yaw is as high as is common on full-span aileron aircraft; simpler design has some drawbacks. Slight overbanking tendency in steeper turns; little dihedral is used.
Overall
Addresses the questions: "Will a buyer get what he/she expects to buy, and did the designer/builder achieve the chosen goal?"
Pros – Overall, the Phantom X-1E is an ultralight to admire. Company enjoys secure, stable management. The X-1E at just over $12,000 complete is a very good value; company prides itself on kit deliveries giving you all you need to fly. Good choice for careful newcomers to ultralight flying or for experienced pilots looking for a move-up ultralight. I recommend the Phantom with enthusiasm.
Cons – Not a Part 103 ultralight by a good margin; FAA registration is required as is an FAA pilot's license. Enclosure is a $2,300 premium over the not-enclosed X-1, plus our test X-1E runs $2,000 extra for optional 50-hp 503 engine, air scoop, and folding wing. On resale, some buyers may regard this as a dated design despite new enclosure, which many other designs now have.