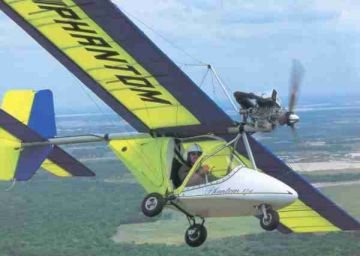 While Phantoms have always been a source of satisfaction to its owners the design has suffered through numerous owners… but not any more! These days Phantom Aircraft, based in Kalamazoo, Michigan is operated by Pat Schulthies who lends his steady hand to the long established brand.
Dating to the beginning of the ultralight movement in the early 1980s the new X1-E model also advances the design into the new millennium. In those young days of ultralight flying Phantom was considered a high performing aircraft with snappy handling. Today such a description may fit other brands but Phantom hasn't lost its edge.
For those that may be hesitant about building their own aircraft Phantom may set you at ease. Formally a teacher, Shulthies had his entire school participate in building the now famous "Child's Play" Phantom. In the end 130 kids had actually worked on building this ultralight and while they did a better job than I could, you should be able to meet the challenge.
Built the more open X-1 carefully and you'll find a plane which can qualify under part 103 (the X1-e will require N-numbers). Perhaps the best part is that Phantom Aircraft Company can sell you an aircraft for under $10,000 (X-1 model). This modest amount of money will actually buy all the bits and pieces you need to get airborne, engine and prop included. Naturally if you want extra features like the full enclosure or other choices from a long list of options you will end up paying a little more.