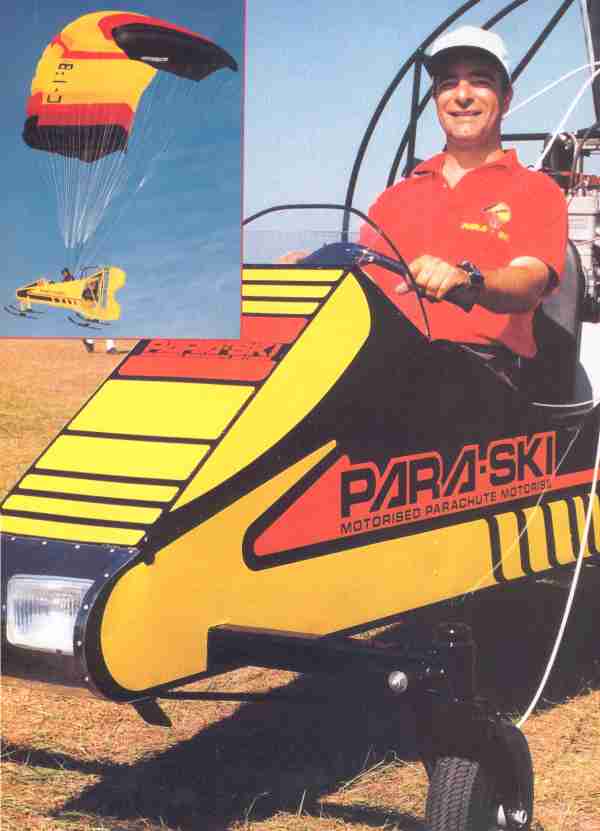 You get four vehicles in one when you choose the powered parachute called Para-Ski. The name comes from the fact that you can swap wheels for skiis. With the correct selection this will permit zooming around – without a wing – on either water or snow, giving Para-Ski year 'round thrills.
What interests pilots, of course, is the ability to install a powered parachute and go aloft. But even in this airborne environment, Para-Ski offers more versatility. You can exchange the bag wing for a rag wing and, using some changed mount hardware, the Para-Ski become a trike ultralight as well.
Para-Ski is just full of differences, for example, its use of four wheels versus the more typical tri-gear favored by most other power parachute builders. Para-Ski feels this gives the machine more stability during takeoffs and landings and sure enough, when the canopy pulls to one side, I've seen company pilots keep the machine tracking straight on only two wheels (a tough maneuver with a three-wheeled model).
In addition, Para-Ski has a hand steering bar that coordinates with foot pedals to steer you under canopy. And a rudder immediately aft of the prop assures more control during many phases of operation. To understand it all, I recommend their video which demonstrates all the seasons of Para-Ski.
Available with one or two seats (VX or XS models), the tandem seat flips up for storage of your canopy wing while you care to zip around at ground level. Sold fully assembled, you may find a lot to like with Para-Ski.