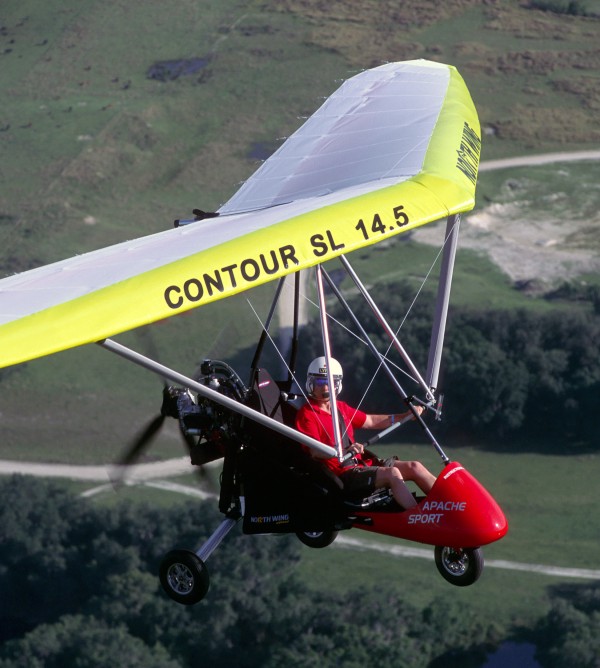 Trike and trike wing manufacturer North Wing Design has debuted a new trike called the Apache Sport. Developed for the proposed Light-Sport Aircraft category, this new 2-seater can also be operated as an ultralight trainer qualifying under the training exemption to FAR Part 103.
Barely a year after the new millennia dawned, North Wing Design introduced their first new 2-seat trike to the ultralight community – the original Apache. In the last year of the old century, the Washington-based company offered their first trike – the single-seat Maverick with its distinctive strutted wing.
Prior to these developments, North Wing Design was a trike wing supplier. For many years, small manufacturers of trike carriages have been buying wings from North Wing because they handle and perform handsomely. In a still-earlier role, the company was a savior to owners of certain brands of hang gliders whose manufacturers had left the business.
North Wing came to the aid of these stranded owners.
As proprietor Kamron Blevins developed his company into a full-fledged manufacturer of trikes and trike wings, he may never have anticipated the need to produce a fully certified flying machine. Yet that's what he is proposing with the Apache Sport, so named, as it is North Wing Design's entry into FAA's proposed Light-Sport Aircraft category.
Native Apache
Mistakenly, many pilots have come to believe that the Light-Sport Aircraft category means internationally designed machines like the CT imported by Flightstar, the CH-601 from Czech Aircraft Works, or the Sport 600 from New Kolb. Of course, these machines may lead their portion of the parade, but the proposed new rule allows much more.
Trikes (or, "weight-shift," according to the American Society for Testing and Materials – ASTM – certification standards), powered parachutes, airships, and gyros are also included in the mix. Powered parachutes will continue to find their enthusiasts, as will gyros. I don't know about airships, but I know for a fact that trikes will remain, as FAR Part 103 ultralights or Light-Sport Aircraft.
To see why I'm convinced of the staying power of trikes, look at price alone. The fiberglass or all-metal fixed-wing machines will sell for figures like $55,000 to $60,000. With financing, such sale prices shouldn't discourage sales. Yet an equally certified trike may sell for half that or even less. Financing or not, trike prices should be more within reach of the buying public.
American-made brands like North Wing Design will remain popular with Yankee pilots. And it will be easier for officials to prove North Wing is meeting ASTM standards, compared to overseas manufacturers. Since FAA budgets don't allow for visits to their plants, international manufacturers may have to hire independent audits of their actions to meet the new certification standards.
While industry leaders, FAA, organizations, and others try to sort out the ramifications of the new rule, pilots want to fly and North Wing has their machine ready. At present, you can operate an Apache Sport under the training exemption (as with any other 2-seat ultralight meeting the present definitions). Those so operating will fall under a "grandfather" provision though this won't apply to commercial operations like training or renting. That is, you can train in an Apache Sport today and later ask for approval to operate it as an Experimental 2-seat Light-Sport Aircraft (with aircraft inspection and a Sport Pilot certificate).
Loaded with New Features
There are several new features for this model. A fold-forward seat rest for the front seat, to ease rear seat entry, recoil shoulder belt system for the front and nonrecoil shoulder belt for the rear, a gas strut to help lift increasingly heavy wings, a 4-inch rubber elastomer housed in the square tube under the engine to reduce vibration, a disc brake replacing the older drum brake on the front wheel, and adjustment for pilots of different heights.
Like many modern trikes, the Apache Sport folds its mast at a point above the engine rather than down at the keel tube. Folding the mast at this point leaves the engine upright and fully supported during transport. It also means that when you attach the wing and lift it upright, you need not also lift the weight of the engine.
Yet modern trike wings are still pretty weighty constructions. So North Wing has added a lift system that works neatly with its dual mast design. Blevins says it's a two-finger job to raise the wing into position. Struts on each side are secured by Velcro® in their stored position alongside the seat frame where they are nearly invisible. This strut connects to a Heim Joint on either side of the dual mast structure behind the occupants.
The twin mast structure allows the lift struts to be installed with less interference than a single mast. And this mast serves another purpose. By splitting the mast in two, Blevins has eliminated the discomfort of the rear seat occupant when his head or helmet contacts the single mast. Touch the more common single mast with your helmet and you'll be subjected to a rude buzzing source of vibration. Pilots in the front seat find this no issue but their students or passengers in the rear seat will appreciate this consideration.
That beefy engine support strut is the same material, Blevins says, as is used on Boeing 747s and massive dump trucks used in coal mines (though I suspect the Apache's strut is sized slightly smaller than on those huge vehicles).
Behind the welded steel frame design as established on the earlier Apache models are a pair of 2-inch tubes connecting to a component that North Wing Design calls the "spine." The engine isolators are located on the aft side of the spine rather than at the engine itself. In my experience, vibration seemed significantly dampened compared to some trikes and 3-axis designs.
A Heim Joint tie rod is also fitted to each side, allowing owners or a dealer to compensate for P-factor. By merely threading or unthreading the tie rod, you can vary the engine position laterally by up to 3° off center, says Blevins. Such a mechanism gives owners choosing different engines an easy and convenient way to adjust for the power output. I know of no other trike (or fixed-wing) using such a system.
The Apache Sport also introduces North Wing Design's special radiators. The long, thin coolers are attached to the seat frame, not to the engine. This alternative method keeps engine vibrations away from the cooling system. Since my test flight the company has released a new fiberglass body fairing that sleekly accommodates these radiators. Ignoring that function, the new fairing is also a handsome construction that also partially fairs the nosewheel.
The main underside keel (base fore-to-aft structural member of the chassis) is made of a 2- by 3-inch member. Wherever a bolt passes through this member, a nylon support helps carry the loads of firm landings. In just a few years of making trike carriages, North Wing has refined their state of the art to fully contemporary.
The Apache Sport's front fork is different; it is now aluminum. And, Blevins explains, if you damage the nosewheel assembly you no longer need to remove the pod to access the components.
The pilot's height adjustment is a 2-hole setting in the front fork, built using a bearing assembly versus the former brass assembly. For the rear seat a similar adjustment is possible by pulling out the exterior footrest (with foot throttle in photos showing the red nose fairing) and reinserting the tube in another location just above.
The earlier Apache used a single drum brake on the nosewheel. While main gear are better places for brakes on trikes, North Wing shifted to a disc brake design that seemed much stronger than I recall from the 2001 model.
Features and Flying
While any buyer can appreciate the new features brought by Blevins' development, the real joy of ownership is in flying. And in trikes, the wing dictates the flying qualities. In my experience with nearly every model offered by North Wing Design, the flying attributes are topnotch. No wonder other trike carriage makers have sought out North Wing Design trike wings.
Launching the Apache Sport was as brief and simple as it is on most trikes. Here's one of the strong qualities of trikes as a concept. However, North Wing seems to have improved its launch such that the carriage swings forward less abruptly than some brands. Blevins says this is because he's lowered the thrust line. An upward angled engine (rear higher than front) may provide a level thrust line in flight but causes greater swing-through, according to some experts. Experienced trike pilots don't even notice, but newcomers (such as students) are initially dismayed by this effect, which is alien to 3-axis pilots. Those pilots will like the Apache's characteristics in this regard.
Since trikes are tri-gear designs, on landings they self-straighten almost automatically. In flight, a trike chassis positions main gear significantly lower than the nosewheel so the mains touch down first in virtually all cases. However, lift-off is the reverse. As the nosewheel lifts off, a trike chassis moves in under the wing's center of gravity and the overall ultralight assumes a normal climb attitude. With the engine pushing from below the wing, climbout is nearly a hands-off activity.
Even landing was very good in the Apache Sport. I benefited from smooth flying conditions, but I was easily able to hold the Apache Sport off the ground in the final seconds of flare. When it did make contact the suspension felt good, including the nosewheel. The disc brake worked quite well once landing speeds dissipated; it proved surprisingly strong, I must say.
Critical Wing Design
Flying qualities on all aircraft depend on the wing design, of course, but on trikes it all depends on the wing. They have no tail or control surfaces.I foundthe Contour wing on this Apache Sport has some very nice flying characteristics.
Usually double-surface trike wings become stiffer in roll handling and more resistant to changes in pitch. Such wings enhance cruise speed but at the sacrifice of handling. Top trike makers who design their own wings, like AirBorne and Air Création, have improved their handling remarkably while still keeping a wide speed envelope. Delta wing design demands experience, good engineering, and seemingly, a dose of black magic much more so than on fixed-wings because the design must supply both performance and handling solely by wing shape and flexibility.
The Contour, along with several other North Wing designs, does very well at offering light handling yet shows an impressively wide speed range. When flown solo, stalls occurred in the low 30s indicated, yet I could zip along at better than 80 mph. That's nearly a 3:1 ratio and is as good as many fixed-wings, which don't have to get both performance and handling from the wing shape.
North Wing's Contour 14.5 wing exhibited a little inertia when roll reversing. After rolling out of one direction and rolling directly into the opposite, the wing wanted to continue. After first fighting the effect, I tried more push-out (the equivalent of back pressure in a stick or yoke aircraft). Such an action decreases the effect and is a common movement in handling a delta wing.
Overlooking such minor distractions, the Contour is a well-refined wing that flew beautifully. Even the inertia effect mentioned above seemed muted from earlier experience. Blevins, an experienced hang glider pilot, knows well the fine qualities of handling and has recreated them in the Contour.
On my way back to the airport, I fiddled with the slip-on wing strut fairings in flight – you can easily reach them – but I couldn't determine precisely what was happening. Something occurred and at one point I thought it yawed the aircraft to the side being adjusted, but this was difficult to assess. Such sewn Dacron fairings are also used on the main landing gear legs.
This now seems less important because the Contour wing I saw in Washington three months after my test flight had streamlined struts made of metal. No longer could I flop the slip-on fairings in a dissimilar manner.
Topless Performance
A group in Southern California is named TWITT, an acronym for The Wing Is The Thing. For trike ultralights, TWITT is virtually the entire philosophy behind performance (and handling, as mentioned earlier).
When North Wing Design first introduced their Maverick trike in 1999, the snappy single-seat Part 103-compliant ultralight impressed observers with the first strutted trike wing most had ever seen. Hang glider designers developed the "topless" technique to cut the drag of upper rigging and a kingpost. However, they did so with a very expensive crossbar or spar built from carbon fiber.
North Wing Design achieved most of the same structural results by replacing the side wires with struts. This makes sense as the side wires bear loads much higher than the fore or aft wire sets (about double the load, studies show). Metal struts also cost less than carbon fiber and strike many airplane pilots as correct.
However, the drag equation doesn't balance as well. Without going into aerodynamic specifics, various trials have proven that struts produce more, not less, drag than cable rigging – despite what most pilots think. This has been conclusively proven by hang glider designers who have experimented with struts to eliminate upper wires. That's why those engineers went with the more costly internal carbon spar.
I guess you can't call it "performance," but topless wings are highly useful in another practical way: they fit into hangars much better, having much less height than more conventionally rigged trikes, which can be greater than 12 feet high.
On the body-skirted Apache Sport – I have yet to fly with the new fiberglass fairing – I was able to peg the Hall airspeed indicator (ASI), which translates to 85 mph. I've done some testing and find the Hall ASI to be as error-free as any installed ASI with a pitot and static system (if it is placed correctly, of course).
At 5,000 rpm, the Apache Sport and Contour 14.5-square-meter wing (about 158 square feet) produced 55 mph where it flew hands-off beautifully.
Even at nearly full power, I was able to dive with reasonable authority, yet I also had plenty of push-out (backstick to joystick pilots). I was able to hold the aircraft at about 40 mph indicated in slow speed trial flights. At this my arms were not at full extension. With a little more stretch (pushing forward; like further backstick), I was able to hold about 35 mph even low over my favorite fields. At this low speed, it felt as if I had the same roll control as at cruise speeds. Blevins is clearly a master of the sailmaker's art.
Stalls were very mild. I did a full routine of them – power-off, power-on, and accelerated ­– and none broke noticeably. The full-power version just arrived at a prop burbling. With the forward support tube, trike makers have a built-in mechanism to prevent most pilot errors in near-stall maneuvers. (Of course, you can fly a trike inappropriately; the last statement does not mean you cannot stall.)
Steep turns went very well in the Apache Sport with its Contour wing. I had to use liberal push-out but I never increased power over 5,000 rpm (well below peak power).
This 65-hp Rotax 582 had a 4-blade prop and it produced a significant amount of P-factor. On a full-power takeoff with an aggressive push-out (hard stickback to 3-axis pilots), I caused the trike to angle off to the right and therefore the wing was turning slightly to the left. The solution is to back off on the power or lower the nose or both, though the adjustable Heim Joints may offer a further level of fine-tuning.
Ready for a New Sport?
If you're a 3-axis pilot today, the Apache Sport might be a good reason to consider trike flying. Like many Americans, I started as a joystick wiggler but thanks to a hang gliding background, trikes caught my interest. If you haven't flown one, I recommend you sample the experience. It might change your whole outlook on ultralight flying.
If you're already a trike pilot, North Wing's design is worthy of a much closer look, given the proposed Light-Sport Aircraft rule from FAA. Most of the European trikes will qualify for the new rule, and Blevins says North Wing will also be ready.
Blevins' efforts with the Apache, the Maverick, his ATF superlight soaring trike (aimed at hang glider pilots) and his strutted wings show he's seeking change for improvement. Many trikes seem built from the same drawings, differing mainly in hardware. Perhaps they must conform to find a place in the aviation spectrum, but, clearly, North Wing is willing to innovate and is succeeding nicely at it. As a trike owner, I suspect the market will reward their progressiveness. Perhaps you, too, are ready for a new Sport?
Published in Light Sport and Ultralight Flying
| | |
| --- | --- |
| Empty weight | 400 pounds |
| Gross weight | 950 pounds |
| Wingspan | 31.5 feet |
| Wing area | 158 square feet |
| Wing loading | 6.0 pounds per square foot |
| Length | 9 feet |
| Height | 8.5 feet (with strut-braced wing) |
| Kit type | Fully assembled |
| Build time | none |
| Standard engine | Rotax 582 |
| Power | 65 hp at 6,500 rpm |
| Power loading | 14.6 pounds per hp |
| Cruise speed | 40-55 mph |
| Never exceed speed | 60 mph |
| Rate of climb at gross | 900 fpm |
| Takeoff distance at gross | 125 feet |
| Landing distance at gross | 125 feet |
| Standard Features | Strut-braced Contour 14.5 double-surface wing, full cockpit pod, steerable nosewheel (push right, go left) with nosewheel disc brake and trailing link suspension, hand and foot throttles, shoulder seat belt system with recoil for front seat, basic instruments, heavy-duty fiberglass main gear legs, 12-gallon fuel tank, 3-blade composite prop. |
| Options | Choice of other wings including Mustang, 65-hp Hirth 2706 engine, electric start, dual steering and throttle, 4-blade prop, ballistic parachute system. |
| Construction | 6061-T6 and 7075-T6 aluminum airframe, steel and aluminum fittings, AN hardware, fiberglass, Dacron sailcloth. |
Design
Cosmetic appearance, structural integrity, achievement of design goals, effectiveness of aerodynamics, ergonomics.
Pros – Revised and improved 2-seater. Numerous new features, besides the dual-mast design that increases comfort: a brand-new fairing; more user-friendly seats; shoulder belts; a gas strut to help lift the wing; better engine vibration isolation; disc brake on the front wheel.
Cons – New features bring slightly higher prices. New fairing is quite wide, losing some of the lean look of the earlier model. The strutted Contour wing, which handles well and looks modern, makes some question its structure (though testing seems to have proven the concept).
Systems
Subsystems available to pilot such as: Flaps; Fuel sources; Electric start; In-air restart; Brakes; Engine controls; Navigations; Radio; (items covered may be optional).
Pros – New wing-lift system greatly eases setup. Fairing hides fuel tank from view. Easy access to engine for service work. Dual nosewheel steering controls (optional). Electric starting and remote choke both fitted to test trike. Convenient switch panel between legs on keel.
Cons – In-flight trim not fitted to the test ultralight. New features, like the piston arrangement that helps lift the wing, have to be learned (though you'll quickly adapt). Some features, like the Heim Joint used to adjust engine position, are used only once or infrequently.
Cockpit/Cabin
Instrumentation; Ergonomics of controls; Creature comforts; (items covered may be optional).
Pros – Fold-forward seat rest for the front seat; better back support and easier rear-seat entry. Adjustments for pilots of different heights. Dual-mast design is very user-friendly (and instructor-friendly when they fly in the rear). Beautifully padded seats. Shoulder belt harnesses front and rear with recoil in front.
Cons – Interior finish not as deluxe as some European trikes (though North Wing Design continually innovates). Dual steering is an optional extra. Front seat, though redesigned, could use more lumbar support. Wide fairing is roomy but certainly adds some extra drag.
Ground Handling
Taxi visibility; Steering; Turn radius; Shock absorption; Stance/Stability; Braking.
Pros – Nosewheel steering dampening makes for smoother operation; works with trailing link configuration to keep nosewheel running straight. Suspended nosewheel has fairly effective brake; useful on paved runways. Good ground clearance. Maneuverability is also excellent, a benefit to being able to move the wings at will.
Cons – Nosewheel brake, though improved by the disc configuration, is still weaker than 3-wheel brakes like some new trikes. Ground-handling trikes in stronger winds demands more muscle. Optional rear steering system needed for instructor ground taxiing.
Takeoff/Landing
Qualities; Efficiency; Ease; Comparative values.
Pros – Short run and fast climb with 65-hp Rotax 582 engine. Adjustable Heim Joint assures optimal lateral thrust angle. The Apache's parallel-to-ground thrust line reduces swing-through phenomenon of trikes at lift-off. Excellent control of Contour wing makes the Apache Sport effective in variable winds.
Cons – Double-surface wing prefers a rather speedy approach of 50 mph. No trikes yet offer flaps or slips to control approaches. Trikes have less control authority in crosswind conditions than 3-axis ultralights (though experience can greatly widen your capabilities).
Control
Quality and quantity for: Coordination; Authority; Pressures; Response; and Coupling.
Pros – Formerly a wing maker for hang gliders, designer Kamron Blevins has refined his art to earn superior handling from his wings. For a double-surface wing, Contour controls are pleasantly light. Trike control harmony can be better than 3-axis designs and was quite good with the Contour.
Cons – Since the Apache is heavier to haul two persons, it is not as agile as North Wing Design's single-place Maverick. Trike precision turns to heading require more finesse than 3-axis controls. Control pressures, while reasonably light in a large, double-surface wing, aren't as light as most single-place wings.
Performance
Climb; Glide; Sink; Cruise/stall/max speeds; Endurance; Range; Maneuverability.
Pros – The Contour wing revealed a surprisingly wide speed range while maintaining good handling. Due to the Apache's rear "spine" construction, engine vibration was dampened. Strong climb of 900 fpm with Rotax 582. Double-surface wing retained energy quite well on landings.
Cons – Rotax 582 adds expense, weight, and complexity. No trike dives well at high power settings. Won't cruise cross-country as fast as some 3-axis aircraft. North Wing Design has better wing designs (single-surface) for low-over-open-field flying.
Stability
Stall recovery and characteristics; Dampening; Spiral stability; Adverse yaw qualities.
Pros – The Apache was equipped with a ballistic parachute, a focus of owner Kamron Blevins and appreciated by your reviewer. Recoil shoulder seat belt system for front seat pilot; shoulder belt without recoil for rear. Predictable wing; no surprises. Steep turns maintained bank angle comfortably.
Cons – Despite general popularity of wing strut construction replacing wires and kingpost, some question ability to withstand negative loads as no jury struts are fitted (and would be awkward if tried). No other stability negatives.
Overall
Addresses the questions: "Will a buyer get what he/she expects to buy, and did the designer/builder achieve the chosen goal?"
Pros – Modern trike aimed at proposed Light-Sport Aircraft market. Dual mast more comfortable for rear occupant. Excellent wing design, core strength of North Wing; handling and speed range are both very good. Gas piston wing-lift system. Fold-down system leaves engine upright and fully braced.
Cons – At almost $19,000 fully assembled, the Apache Sport is relatively pricey ("relative" as many trikes cost more). Market for Light-Sport Aircraft is unproved and rules for certification not completed, so it's unknown how North Wing will meet them (though track record suggests they'll succeed).