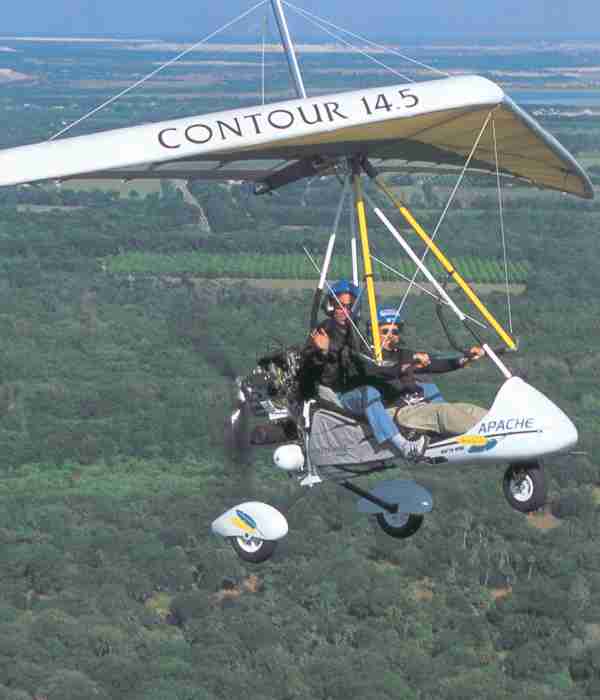 Everybody knows that trikes are composed of a chassis and a wing. Many companies specialize in one or the other for good reason; the two manufacturing skills are quite different. For years North Wing Design owner, Kamron Blevins, has built the wings that lift many trikes. Now his Washington state based company does it all.
A couple years ago the company introduced their Maverick trike, notable for its clean, simple, white chassis and unusually strut-braced delta wing. Later Blevins introduced his ATF model, a simplified and even lighter chassis which can connect to a conventional hang glider wing. Remaining busy, by spring of 2000 he offered the two-seat Apache model. In every case, of course, the trikes uses the company-produced wing.
Beginning in the days when he supplied trike chassis makers with wings until he began to offer the whole trike aircraft, Cameron has clearly been listening to customers. From my inspection he has incorporated many features that trike buyers have sought over the years. For example, a common complaint of trike passengers is that the mast which rises directly behind them transmits vibration whenever their helmet touches it. Using a split mast construction Apache avoids this problem. In addition Apache has comfortably padded seats with sidewalls, nose wheel suspension, stash bags, rear wheel steering, and instructor bars (control bar extensions the allow a rear seated instructor to help his or her student).
If Apache is more trike than you need you may find true happiness with either single seat model and prices start below $8,000.