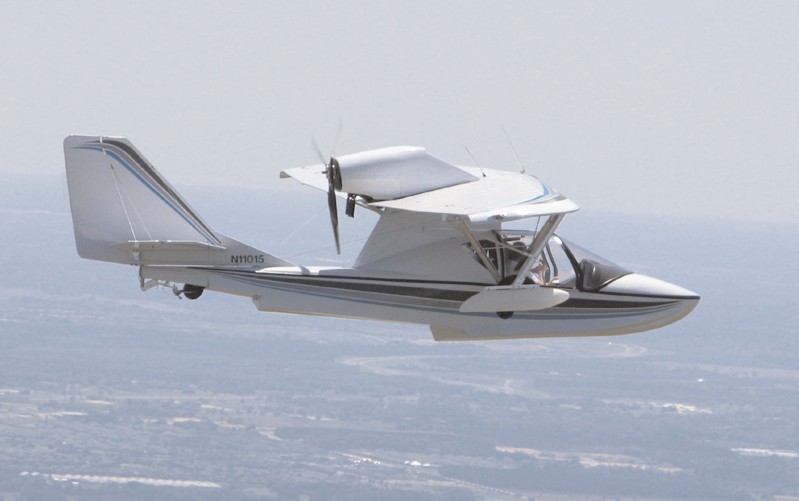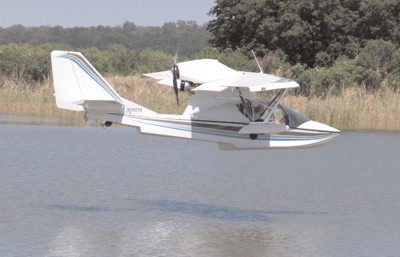 Let's be honest. We're into flying because we enjoy the experience,
right? Flying light, sporting aircraft is not about flying to work
or transporting goods or people. And if enjoyment is the main
flying goal, then seaplanes are a big part of that pleasure.
Of the LSA-qualified seaplanes covered this year (FPNA Cape Town A-
22 and Airmax SeaMax), the SeaRey is more familiar to readers of Light
Sport and Ultralight Flying magazine and more affordable. The SeaRey
is familiar because of its past in this community. It's built and it flies as
you'd expect, more so than some $135,000 carbon fiber speedster. It also
costs a great deal less and it's available as a kit to save even more
dough.
Make no mistake. The SeaRey
LSX (the Experimental-LSA kit
version) and the SeaRey Sport
(the fully-built version in latter
stages of certification) are
advanced light planes, by which I
mean SeaRey has developed significantly
from its simpler 2-
stroke-powered early models. The
new LSX model gained 78 new
improvements as it went through
the process of earning SLSA airworthiness.
Getting back to the fun part,
many pilots who have flown in
water-borne aircraft believe this
is the finest and most enjoyable
flying one can do. If that sentiment
holds water (pardon my
pun), then the handsome SeaRey
amphibian from Florida-based
Progressive Aerodyne deserves
closer inspection.
Evolving SeaRey
Kerry Richter, the main designer at
Progressive Aerodyne, said that new
engineering strengthened the
SeaRey's airframe, which increased
gross weight to 1,430 pounds, up from
1,370 pounds. This was not some
back-of-the-envelope analysis. Progressive Aerodyne went through an exhaustive
study to prove the higher gross limit. The 78 changes the company made cover all
parts of the design.
Assisting Kerry and the Progressive Aerodyne team was German engineer,
Damir Blazevic, who worked for Airbus for many years and most recently on the
A-380 Airbus. Kerry indicated that Blazevic gave a lot of help to Progressive
Aerodyne as they worked through the ASTM standards. Boosting the gross
weight was part of the overall rework effort.
Some well-equipped LSA seaplanes are struggling to stay within LSA weight
limits (though not SeaMax, which fits easily). Yet the SeaRey provides 550
pounds of useful load or 442 pounds of payload with full fuel in standard 18-gal-
Light Sport and Ultralight Flying Pilot's Report
lon tanks. Of SeaRey's load utility, Progressive Aerodyne says, "In other words
[you can carry] two average people, a full tank of gas and about 30 pounds of baggage."
If you want extra fuel – 26 gallons are available – you might choose an
optional carbon fiber hull to reduce the empty weight by a further 30 pounds.
More than 15 years of Progressive Aerodyne history cannot tell the whole story
behind the SeaRey. A father-and-son ownership team from the beginning, Wayne
and Kerry Richter have long experience in this business and over the years have
produced hundreds of amphibious aircraft.
Back in the late '80s and early '90s, the Richters were principals in a company
called Advanced Aviation that was best known for its amphib seaplane called the
Buccaneer. After another Florida designer, Bruce Pemberton, made the first single-
place Buccaneer, and Kerry Richter cemented his reputation with a 2-place
model, the Buccaneer II. He also updated the original single-place called the XA
into the more sophisticated SX version. In addition, Kerry designed other models
based on a similar theme.
In the early '90s, after a dispute with a man who ended up owning a large piece
of Advanced Aviation, the Richters parted company and set about building a new
company. By the end of the '90s, their new Progressive Aerodyne company had
delivered more than 100 of their then-new SeaRey plus a few of their Sting Ray
single-seaters.
The single-seat model quietly left the scene and the SeaRey has not only done
well – selling more than 500 aircraft – but the Richters have
built one of the most intensely loyal followings I've seen in
aviation. For more than a decade and a half, Progressive
Aerodyne has been shipping airplanes and satisfying customers.
And through all these years, Kerry Richter's designs have
been continually refined. All the knowledge he acquired with
the earlier designs has been bundled into the SeaRey.
SeaRey's Comfy Cabin
A modern SeaRey has the look of a well-developed model
that has seen many refinements over time. Some of these
were inspired by their legion of kitbuilders, and some ideas
came from factory personnel.
Early on, the SeaRey moved to the 80-hp Rotax 912 4-
stroke that is today the accepted engine of most light-sport
aircraft. The first SeaReys used the Rotax 582 2-stroke, but
half of the single-place Sting Rays built and virtually all of
the 2-place SeaRey models use the popular 80-hp engine.
Since pilots seem to value more power than less, many now
elect the 100-hp Rotax 912S and you can also choose the
much more expensive and somewhat more powerful 115-hp Rotax 914 turbo.
With both halves of the sliding canopies slid far aft, entry to the SeaRey is quite
negotiable. Some landplanes are even easier as they can have low door openings
and a seaplane cannot afford that feature. Kerry and I are both roughly average
in size and once seated, we had room to spare.
The thickly padded seats and fully finished interior were pleasant and comfortable.
We left the canopies open in Florida's May heat and we could have elected to
leave them open during any part of the flight. Except for some windblast and
increased noise – especially at higher power settings and faster speeds – I think
I'd regularly fly around with the canopy open.
You can have each canopy half open to any degree and they don't have to be
open symmetrically. Kerry said you could take off and fly with the canopies open
anywhere in their movement range or the speed range of SeaRey. The split, sliding
canopy is also a safety feature in the event of water upset. Getting out of a flipforward
or flip-aft canopy after upset could introduce escape challenges.
Progressive Aerodyne says, "Instead, our sliding canopy system would safely slice
the water and also would not require clearance from ground to open."
As we taxied out at Spruce Creek Fly-In near Daytona Beach, Florida, I found
ground handling was very good thanks to a responsive tailwheel. But, as with any
amphib, I found myself reviewing the right techniques to assure I had the repositionable
gear where it ought to be. Too often, seaplanes or amphib floatplanes have been landed
on water with the gear down —
a very bad idea – or landed on land with the gear
up. The latter presents much less of a problem,
and may even be advisable on some emergency
landings.
To help you make the right decision about gear
position, Progressive Aerodyne has worked with
Dynon Avionics to better advise pilots. The resulting
setup boasts two buttons above the screen
with placards reading "Water" and "Runway."
After you select the one you will use, the system
provides an audio warning before landing. It can
prevent landing with the gear in the wrong position,
a more common error than you might think.
The gear-position audio warning is triggered by
either speed or flap position. When you have the
gear down, you hear a voice cautioning you for a
runway landing. When you have the gear up, the
caution is to prepare for a water landing. The
trigger points for the warnings are any measure
of flaps, or speeds below 70 mph, Kerry says.
Some may regard the warning system as the
airplane equivalent of automobile "idiot lights,"
but I found it helpful. On the other hand, it
seemed Kerry was always reaching to shut the
warning off as we
practiced a few landings.
This particular
SeaRey (N11015) was
also equipped with
the new Garmin 696,
which made a handsome
combination
with the Dynon
Flight Dek D-180.
Flanked by an analog
airspeed indicator
and circular card
compass, it was all
the instrumentation
a seaplane pilot
needs.
Flaps are mechanical
on the SeaRey
with a control lever
over the shoulder
between the two occupants (either pilot can work
the flaps). Positions available are 12, 24, 35
degrees, however, Kerry indicated they were considering
dropping the higher setting as it is only
used in more extreme situations. Hydraulic
brakes are also part of SeaRey's standard equipment
list.
The control panel has adequate room for additional
instruments, if desired. The SeaRey's wider
panel has different shapes; the panel in our test
plane impressed me because it made the Garmin
696 so readable.
Off and Flying
We left from the hard runway at Spruce Creek
and flew to a nearby body of water. It looked
small to me, but Kerry shrugged and said it had
plenty of room. I had to trust the expert and it
turned out he was exactly right.
From the cement runway, rotation came
in the mid-40s and we left the ground at
about 50 mph (43 knots). A similar number
is used on water and the run on water or
land is the same, a fact
that surprised me as
amphibs often exhibit
longer runs on water.
While I did landings on
terra firma, Kerry handled
the water landings
on the small body of
water we used. It was
obvious he is intimately
at home with this airplane.
Entry to the water was
astonishingly smooth,
showing the effectiveness
of not only a V-shaped
hull but the sweep of that
V-hull. The swept V-hull
comes to a point in the
center and appears to
account for the smooth
entry. I felt none of the
"chatter" experienced on many seaplanes when
landing on a rippled surface. Kerry said older
SeaRey models didn't act the same as this newer
hull. Once in the water and motionless, the
SeaRey hull drafts about 10 inches.
Moving around on the water, especially in
Kerry's very capable hands, the SeaRey LSX handled
much like a speedboat, exhibiting a great
combination of response and stability. Despite its
good water manners, most land-based pilots find
one control technique counterintuitive. You use
opposite aileron in turns to keep from planting a
sponson while zipping about on the water.
Kerry demonstrated a simulated porpoising
(nosing up and down in the water) exaggerated
enough that I wondered if an upset might result,
but the SeaRey resisted this abuse very well,
speaking volumes of learning how to take off and
land the airplane on water. The SeaRey's hull
design strongly resists nose plowing; it simply
won't do so without a protest. While some combination
of power and pitch motion might cause
problems, pilots need not be overly concerned
about this.
On normal water landings the advice is to
touch down slightly nose-high as you want to
meet the water on the hull step. Should you put
the tail down early, a light push forward will
return you to the step before you slow to a stop.
On whole, the SeaRey was a most impressive
boat on the water, acting very much like that's
where she belonged.
For example, a beaching demonstration proved
enlightening. Kerry took the controls and aimed
us at the far side of a lake that had no beach,
instead having a marshy look with tall grasses. In
spite of this slippery surface, I was pleased at the
ease with which the SeaRey negotiated the
grassy lake edge.
Kerry demonstrated a roll up from the water
with the extended wheels cooperating nicely. We
swung around in a 180 on the lake's edge and
headed back out for another takeoff as though it
were no challenge to SeaRey.
Gear extension made the beaching easy, but one
must remember that submerging larger tires can
overwork the system somewhat so you'll want to
be at idle thrust.
On our several water landings, the SeaRey
showed excellent slipping ability and a pilot of
Kerry's skills can hold this attitude until very
near the water. No wonder the SeaRey doesn't
really need the 35° of flaps.
Kerry demonstrated a water takeoff where he
put in full up trim, added power and shortly afterward
released his grip on the stick.We lifted off at
about 60 mph instead of the 45- to
50-mph where you would normally
rotate, but the SeaRey flew
itself off and maintained a reasonable
climb.
At a mid-range power setting of
4,500 rpm, at a few hundred feet
after leaving water we were still
climbing about 300 to 400 fpm
without pushing the engine or
airplane too hard.
At cruising altitudes, you throttle
back to cruise power when
you'll observe about 90 mph (78
knots). Top speed is 113 mph (98
knots). Seaplanes generally aren't
the fastest of airplanes but it's
hard to beat their recreational
appeal and their enormous versatility
in landing areas.
In my airborne trials, stall
occurred at 45 mph (39 knots)
with no flaps extended
at idle thrust.
Accelerated stalls
reached full stick back
at about 50 mph, but
would not break over
nor show any tendency
to roll in or out, though
the nose hunted a bit.
Without the vortex
generators, the SeaRey would show
some nose break, Kerry recalled, but the
vortex generators are standard and the
SeaRey exhibits very low speed capability
with them.With two notches of flaps,
Kerry demonstrated a stall indicating
35 mph. In addition to vortex generators, this significant
drop comes from new gap covers that
Blazevic helped engineer.
Back to hard-surface touch and goes, I found
neither of my two SeaRey landings was particularly
good.We approached at about 70 mph, which
allows a significant reserve of speed. The objective
is to fly low over the runway and hold off to touchdown.
Perhaps it was the hull shape, but I kept
starting my flare too high. Once down, you use the
common taildragger technique of holding the tail
down to settle fully.
Kerry recommended I use two notches of flaps
for both takeoff and landing. The added lift also
helps pull the plane up on step and out of the
water quicker. Even at gross weight, water or land
runs are a mere 300 feet or so. This is admittedly
hard to measure in the water so many seaplane
pilots use time instead. The SeaRey gets on step
in 4 seconds and becomes airborne in 6 to 8 additional
seconds, says the factory. Of course, technique
enters in significantly.
Gear Up and Flying Gracefully
For summer fun – when so much seaplane flying
is done – buyers will appreciate canopies that
slide back independently. You can move them to
any position during flight, although Kerry indicated
you should take care not to fly at maximum
speeds with the canopy(ies) full aft. Wide-open
canopies do begin to affect prop efficiency, a sensation
you can both hear and feel.
The SeaRey's noise level was a bit higher than I
expected in such a deluxe aircraft, however, the
noise reduction is significant upon closing
the canopy. Headsets or helmets are
recommended.
At a safe altitude, the SeaRey can
cruise at 100 mph, with full-power level
flight producing close to 115 mph.
Normal cruising is done about 90 mph.
The plane will allow a plowing flight, but
once you have a feel for it, nosing over
slightly will put the SeaRey on an aerodynamic
step that I was able to notice
within a single hour of flight.
The SeaRey's roll rate is quite good,
typical of Kerry's designs (I've had the
pleasure to fly several of his designs over
the years). Response proved to be about 3
seconds in the 45-to-45 roll reversal test,
and stick forces were low. Pitch was nicely
dampened leaving its pilot with an
I'm-in-charge feeling.
In mid-2009, a basic SeaRey
Experimental Amateur-Built kit costs
$29,900. Equipped as the one seen in
these photos with the Rotax 912 engine but with
analog instruments and a finished interior, the cost
will be about $65,000 to $70,000 in the air. As flown, this
SeaRey in kit form would run about $85,000 and you'll invest
600 to 700 hours to build it. A first-time builder would probably
take somewhat more, but Kerry explained the range is as
low as 285 hours for experienced builders and as high as
1,000 hours. The entire interior is available in components for
kit assembly.
A ready-to-fly SeaRey will be about $95,000 once SLSA airworthiness
is secured. Options will raise that total, but this
still qualifies as one of the least expensive amphibious seaplanes
you can buy.
To spend any excess cash you have lying around, you can
choose from a menu of options.
Many pilots seem enamored by more power so if you want
100 horses instead of 80, add about $2,000. If you live in
high-density altitude and carry a lot of weight, you might
need the 115-hp Rotax 914. But it'll cost you a breathtaking
$14,500 over the 80-hp Rotax.
Of course, you can always select more avionics including
the beautiful Garmin 696. Radios and
EFIS are further choices. But to get a comprehensive
price quote, you'll want to go
directly to Progressive Aerodyne for the
latest figures. The good news is that little
of the SeaRey comes from outside the USA
so their prices won't be subject to exchange
rate fluctuations.
Kerry and I discussed how high you
might run up the final price and we didn't
get much past $115,000 or so. Folks, among
amphibious seaplanes in certified, readyto-
fly form, the SeaRey constitutes quite a
bargain. If you think these prices sound
high, you haven't priced a seaplane or
floatplane recently. Still, if your budget
isn't that large, you always have
the ELSA or EAB kit options
that'll save quite a bit of money.
To see a SeaRey up close,
Progressive Aerodyne regularly
displays at aviation events and
regional shows around the country.
For upcoming events, go to
their Website: www.searay.com .
With a SeaRey, you can expect
some real fun on the water or on
land. What pilot can't love that?
Published in Light Sport and Ultralight Flying
Seating
2,side-by-side
Empty weight
880 pounds 1
Gross weight
1,430 pounds 2
Wingspan
30 feet 10 inches
Wing area
157 square feet
Wing loading
8.7 pounds per square foot
Useful Load
550 pounds
Length
22 feet 5 inches
Payload (with full fuel)
442 pounds
Cabin Interior
44 inches
Height
6 feet 5 inches
Fuel Capacity
18 gallons/108 pounds 3
Baggage area
60 pounds
Notes:
1Empty weight varies with equipment choices; shown is an
estimated typical empty weight
2In SLSA redesign, gross weight re-engineered to 1,430
pounds from 1,370 pounds
3Optional fuel tanks raise total on board to 26 gallons
Standard engine
Rotax 912 1
Prop Diameter
3-blade composite
Power
100 hp 1
Power loading
13.7 pounds per hp
Max Speed
98 knots/113 mph
Cruise speed
81 knots/92 mph
Stall Speed (Flaps)
35 knots/40 mph
Stall Speed
39 knots/45 mph
Never exceed speed
104 knots/120 mph
Rate of climb at gross
800 fpm
Takeoff distance at gross
375 feet
Landing distance at gross
300 feet
Range (powered)
3.5 hrs., 330 mi.
Fuel Consumption
5.6 gph at 75% power
Notes:
1Engine choices include 80- and 100-hp Rotax 912ULS and
115-hp Rotax 914 Turbo
Standard Features
Rotax 912 at 80 hp; analog
flight and engine instruments; retractable gear; hydraulic
disc brakes; retractable shoulder harness; 18-gallon fuel capacity;
3-blade composite prop; manually operated flaps; electric
trim; mechanical gear retraction system; 6-inch aluminum
wheels with 4-inch steerable tail wheel; fully built LSA.
Options
100-hp Rotax 912 or 115-hp Rotax 914; full electronic
avionics including Dynon D-180 and Garmin 696; optional
26-gallon (total) fuel capacity; high-capacity wheels and
brakes; ballistic parachute; interior upgrade options.
Construction
Aluminum airframe; fiberglass hull (carbon
fiber optional); steel landing gear and other components; dope and-
fabric wing coverings. US-owned company.
Design
Cosmetic appearance, structural integrity, achievement of design goals, effectiveness of aerodynamics, ergonomics.
Pros – Familiar, popular design from a well-established
company and designer; some 500 flying (built
from kits). More useful load/payload than other
boathull amphibs. Substantially updated to meet
ASTM standards brought a higher gross weight.
Cons – Not a particularly fast design, if that's
what a buyer is seeking. Construction is familiar to
ultralight pilots, but is less common among Light-
Sport Aircraft. At press time, company had not completed
their SLSA airworthiness certification.
Systems
Subsystems available to pilot such as: Flaps; Fuel sources; Electric start; In-air restart; Brakes; Engine controls; Navigations; Radio; (items covered may be optional).
Pros – Loaded with systems, including retractable
landing gear and uncommon things like a bilge pump.
Electric trim. Mechanical flaps. Hydraulic brakes.
Audio warning system for gear position.
Cons – Pilots must manage gear in the right position
for land vs. water landings (though the optional
warning system helps, if selected). Engine access is
somewhat awkward and made harder with the nicelooking
fairing.
Cockpit/Cabin
Instrumentation; Ergonomics of controls; Creature comforts; (items covered may be optional).
Pros – Generous 44-inch-wide cabin (though other
LSA seaplanes are wider still). Sliding canopies are a
delight as well as a very serious safety feature because
exiting an upset seaplane may be easier with dual
sliding canopies. Very comfortable interior.
Cons – Entry and particularly getting up out of
the seat may prove challenging to less flexible pilots
(though structure around you is sturdy for handholds).
Seats not adjustable. Shoulder belts only in test aircraft.
Ground Handling
Taxi visibility; Steering; Turn radius; Shock absorption; Stance/Stability; Braking.
Pros – Taxiing on land is good with responsive
tailwheel steering, or on water, thanks to a water rudder
located well aft, giving a good lever arm.Water
handling is excellent, like a speedboat in an experienced
pilot's hands. Great ventilation, thanks to sliding
canopies.
Cons – Even with a 10-inch draft you may be limited
to calmer water like lakes. Gear stance places hull
low to ground (though in an emergency, landing on the
hull may be a good idea anyway). No differential braking
to aid ground ramp maneuverability.
Takeoff/Landing
Qualities; Efficiency; Ease; Comparative values.
Pros – Water landings work well and appear to
require relatively modest skills, making the SeaRey a
good starter amphib. Short 300-foot water runs and 10
to 12 seconds. Sliding canopy allows easy pier access.
Beaching appeared almost too easy. Slips worked very
well.
Cons – Water landings were easier; on land, aircraft
sits very low before touchdown; it takes some
acclimatization (though gear is up to the task of
instruction). Ground clearance is low to bottom of hull.
Control
Quality and quantity for: Coordination; Authority; Pressures; Response; and Coupling.
Pros – The SeaRey has an excellent combination
of predictable controls that are quite responsive. Roll
rate was reasonably fast (about 3 seconds, 45-to-45).
You never have to land crosswind on the water in a
seaplane. On land, the SeaRey exhibited good control
authority.
Cons – Handling in water requires additional
training (insurance will also demand more training).
Downwind water handling can be particularly challenging
in stronger winds. No other negatives.
Performance
Climb; Glide; Sink; Cruise/stall/max speeds; Endurance; Range; Maneuverability.
Pros – Water runs are short (300 feet) and are
essentially the same on land or water. Climb is reasonable
at 800 fpm with the 100-hp Rotax 912 engine (650
fpm with 80 hp). Seaplane landings are generally
short. Excellent slow-speed flight characteristics; especially
useful for sightseeing by seaplane.
Cons – Amphibians are generally slower designs
than fast land planes; cruise in a SeaRey is a modest
80 knots (though speed is not an objective of most seaplane
pilots. Climb seemed a little weak, possibly
owing to a higher empty weight on test aircraft.
Stability
Stall recovery and characteristics; Dampening; Spiral stability; Adverse yaw qualities.
Pros – Stalls were almost nonevents; I found no
clean break to any stall practiced. Slow stall at 35
knots with flaps; 39 knots without. Longitudinal and
lateral stability checks and power changes from trim,
level flight revealed a benign SeaRey design.
Cons – Water operations require more training
and you must mentally shift from airplane to boat. No
other stability negatives discovered.
Overall
Addresses the questions: "Will a buyer get what he/she expects to buy, and did the designer/builder achieve the chosen goal?"
Pros – With 500 flying, the SeaRey is the most
popular amphibian in light aviation; owners are loyal
and support one another. Company is well established
and has been managed by the same family since its
inception in the early 1990s. The SeaRey is priced
modestly compared to other LSA flying boats.
Cons – The SeaRey is still awaiting approval as a
Special Light-Sport Aircraft; until then only an
Experimental Amateur-Built kit is available. At about
$100,000 ready-to-fly, the SeaRey won't be in everyone's
budget (but EAB or ELSA kits can dramatically
lower costs in exchange for your labor).