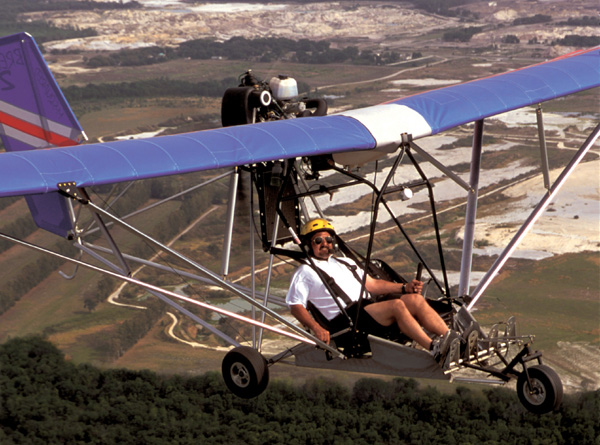 Customers spoke and M-Squared acted. This proves the marketplace works, where customers "vote" with every dollar spent to acquire certain products. More importantly to pilots, this fact explains why a review of M-Squared's new 2-seater – the Breese 2 – is good for customers.
Customers liked what M-Squared was doing. The 1996 company startup took a popular Quicksilver airframe design, added struts and beefed up the airframe to accept engines as large as the 100-hp Rotax 912S. But pilots also liked the way the original Quicksilvers (which are lighter) flew and handled. Being in business to serve customers, M-Squared acted appropriately.
Paul Mather and M-Squared responded to requests for a lighter version of their 2-seat Sport 1000 in a series of steps. First came the single-surface wing Sprint 1000, which dropped a few pounds by not using the big pod of the first Sport 1000. Then came the Breese SS (single-surface) and Breese DS (double-surface) single-seaters, which were obviously lighter and more agile.
Lighten Up!
Now, the Breese 2 takes the older Sport 1000 another step. By lightening overall structure and purchasing lighter weight strut material from RANS, and even using smaller fuel tanks, M-Squared steadily dropped the weight to 425 pounds. If you must have more power than the 50-hp Rotax 503 DC that comes standard on the Breese 2, add 40 pounds for the 66-hp Rotax 582 (which was installed on the Breese 2 flown for this pilot report) and its liquid cooling system, according to the factory. The 503 model's weight, however, compares well to the new strutted Quicksilver IIS at 430 pounds (though that company may also trim pounds after the model has been in serial production for a while).
A single-surface wing version, the Breese 2 SS, is lighter still at 395 pounds, giving it perhaps a shade lighter handling though I've not yet flown the Breese 2 SS model. Gross weight on both Breese 2 models has been reduced to a still-ample 850 pounds from the Sport and Sprint 1000 models, which can support 1,000 pounds.
As if to bring us nearly full circle, M-Squared has also announced its Sport 1000 Cable-Braced model. Doing away with the struts and returning to wires reportedly drops 40 pounds from that version and surely brings enhanced flight qualities as a benefit. At this writing, I have not flown the Cable-Braced model.
To see that M-Squared isn't simply building Quicksilver copies, we need only compare weights. The cable-braced model is heavier than a wire-braced Quicksilver II, its closest comparison from the original producer. Its extra pounds, which manifest themselves as heavier tubing in some locations, allow more gross weight (at 850 pounds to Quicksilver's 720 pounds). A more robust airframe also permits engines up to the 80-hp Rotax 912, says M-Squared.
The downside of these changes is that flying characteristics usually suffer when very light aircraft are made substantially heavier. That lower-weight Quicksilvers are lighter to the touch and faster in response will surprise few pilots. This perception has driven the weight loss program for the M-Squared models, and Paul Mather is to be commended for listening to the market.
Mather regained some handling response by reducing the amount of dihedral in the wings. Quicksilver employs more of this design technique to bring increased stability and can afford to do so because overall handling is reasonably light. In my experiences with several M-Squared designs, which all use reduced dihedral, stability has never been a problem.
Working against lighter weight is durability and here M-Squared shines. Using larger diameter tubing with thicker walls adds significantly to the overall strength of the airframe. When that isn't enough, sleeving can be added inside or outside a tube, sometimes both. For example, you can easily note the trailing edge tube at the wingtip of the Breese 2 is triple sleeved.
In the working life of a trainer or floatplane, a substantial airframe may last longer than a lighter one, if all other things are equal. Consequently, an M-Squared Breese 2 may outlast more lightly built ultralights in a busy flight school setting.
If you're an instructor working with customers who prefer 4-stroke engines, M-Squared is presently your only choice in this style of aircraft. M-Squared remains the only builder who can deliver a Rotax 912 or 912S installation for this type of ultralight.
Uncanny Likeness
Let's face it. M-Squared is up against Quicksilver as it makes ultralights that closely (but not exactly) resemble the MX series from Quicksilver.
All this is no revelation to ultralight regulars aware that M-Squared boss Paul Mather was a very long-time employee of Quicksilver and only left a few years ago because Quicksilver collapse looked more likely than success. Those were tough times for Quicksilver and Mather was one of several senior staffers who departed for greener pastures.
Paul's pasture turned out to be the farmland areas of Lucedale, Mississippi, where Ronnie and Diedre Smith run South Mississippi Light Aircraft (SMLA). Ronnie's family business is farming but his passion seems to be ultralights and their powerplants.
A long-time Rotax distributor and regional sales powerhouse for Quicksilver, SMLA and Mather got together quite naturally. The businesses remained separate but they shared space at shows and operated somewhat as a common entity.
The duo showed M-Squared's first aircraft entry in mid-1996 when they displayed their strut-braced Quicksilver conversion kit. Dubbed the "Stiff Quick" by airshow visitors, it put the young company on the map.
Their first whole aircraft appeared the next year when M-Squared debuted the Sport 1000 (with 912 engine and full pod with windscreen) and the Sprint 1000. It was a harmonious joining of Mather's ability to produce airframes and SMLA's connection to the Rotax powerplant.
During '98 and '99, the company added two single-place models: the Breese DS (with double-surface wing) and Breese SS (with single-surface). For 2000 the company introduced the Breese 2 DS, Breese 2 SS and the Sport 1000 Cable-Braced. This makes a fleet of five 2-seaters and two single-seaters.
As 2001 dawns, new changes are afoot for M-Squared. After 5 years with SMLA, the company plans to relocate its current operations at a Mobile, Alabama airport. In the recent past, all M-Squared has been doing at the SMLA base is building airframes and housing parts.
By springtime 2001, M-Squared expects to relocate all operations in Mobile and will cease its shared activities with Ronnie Smith's enterprise. Smith reportedly has a new aircraft under development and this will consume some space currently used by M-Squared.
The departure is amicable, though. Mather says, "Ronnie and I are still friends and M-Squared will be buying all Rotax engines from SMLA, but we both felt it was time to move on."
Up and Down
To my eyes, the newest Breese 2 is the best-yet development from M-Squared.
The lightened Breese 2 has generally a more ultralight feel than the earlier M-Squared Sport and Sprint 1000 models. Those ultralights flew rather ponderously, in my opinion. Perhaps general aviation pilots used to pushing around more tin preferred the "dignified" way the Sport and Sprint 1000 flew, but pilots used to true ultralights yearned for something else.
According to Mather, "The 503 model actually flies better, as far as takeoff and landing and approach speeds." And in my own mind, I imagine the 30-pound-lighter Breese 2 SS with a 503 would be the best combination yet. It's true, the speeds drop a bit but we're not talking fast ultralights here anyway. Let's look further.
The DS model I flew for this pilot report of the Breese 2 cruises at 56 mph when 75% power from the Rotax 503 is used. On the SS model, the same power setting produces a cruise speed of 52, according to evaluations performed by the factory. At max power the DS reaches 74 mph while the Breese 2 SS gets only to 69 mph. While these speed differences show the two models are not the same, you won't arrive at a destination much sooner in the Breese DS model versus the SS model.
On the slow end of operations, M-Squared reports a stall of only 28 mph for the single-surface wing and 34 mph for the double-surface wing. This is consistent with my own observations (for the DS model) where I saw stalls in the mid-30s.
Landing approaches comprise one of the most important phases of flight in training or regular use. The DS model lists an approach speed of 39 mph where the single-surface model can arrive at 33 mph. Many airplanes in the ultralight industry embrace the mantra that "Fifty is Nifty," guiding new pilots of these ultralights to make their landing approach at 50 mph. Certainly this is slower than most general aviation aircraft, but the Breese 2's 33- to 39-mph approach speeds reflect a true ultralight heritage. Cutting approach speeds by this much makes for a more relaxed experience for new pilots and gets old veterans into smaller fields with less tension. In my own experience I didn't get down below 40 mph or so, but it could easily be done with a little practice.
If you operate from short fields or prefer the slowest approach speeds for your students, the SS model may be the better choice. It comes with one other benefit. By not covering up all the inner workings of the wing, it can be inspected with greater thoroughness and, as an instructor, I'd use this capability to try to better educate my students.
However, few students will even notice the lack of double-surface wings. Non-pilots just getting started have no basis of comparison and seasoned general aviation pilots looking to get involved with ultralights may not pay attention to the wing as they've never seen a single-surface wing before.
However, if a little more scoot and a somewhat more conventional appearance are important to you or to your customers, then the DS model may be a better choice. To ease your decision-making, M-Squared has priced both models the same at $12,995. Even with a parachute system and some gauges, you should stay under $15,000. For a complete trainer in kit form, this qualifies as a good price.
Mather reports that he expects to be flying a Wankle-powered Breese 2 by this spring. "Other than [Golden Circle Air's] Bob Ellefson mounting the engine on one of his T-Bird IIs, I'm not aware of any other use of this engine on an ultralight," Mather says.
"The engine is two rows of three cylinders for a total of six pistons," explains Paul. This should provide smoothness not found in most ultralight engines and less aircraft vibration is always a worthy goal. M-Squared invested significantly in this development. They worked hard to create a stainless steel muffler system especially for this installation.
Light Yet Deluxe
Although the Breese 2 is lighter than the company's other 2-seat models, some features have been held over from the Sport and Sprint 1000 models.
M-Squared continues to use large diameter wheels and tires. Up front a 13-inch nosewheel will roll over many smaller bumps with ease. In back the main gear mounted to 15-inch wheels will provide an impressive measure of "suspension." Combined with airframe flex, that's all there is, but it proved more absorbent than I expected. M-Squared also offers a 4-point pilot restraint, which is included in the base price.
A single 6-gallon fuel tank mounted overhead is standard, though the company has offered an 8-gallon option. Since you can't have more than 10 gallons onboard a trainer used under the exemption to Part 103, you won't be staying up long. However, this still permits well over an hour of continuous touch and goes at which time most students need to stop and absorb what they've learned. At cruise settings, you get about 1.5 hour's endurance, prompting buyers with an FAA pilot's certificate and willing to register their ultralight as an aircraft to order the optional larger fuel tanks. M-Squared can mount these tanks in the wings; see-through panels sewn in the wing help keep track of remaining fuel if this option is selected (see photos for detail).
Some of the extra weight in M-Squared designs is allocated to substantial pilot protection like a welded steel cage surrounding the occupants on two vertical planes. Quicksilver uses a similar arrangement and this has been effective in occasional mishaps.
Controls are dual in that each occupant has fully operating rudder pedals. A shared center-mounted joystick has foam grips over enough of its length that both student and instructor merely hang onto the stick together. A brake handle is located on the front side of the joystick. The throw is sufficient to provide adequate slowing power but the grip is so broad that I had to adjust my hand to grasp it firmly.
In-flight trim is provided through a stick adjuster mechanism that employs bungie cords to reposition the stick. You set the desired input by a lever located between the seats toward the rear of the seat. For most flight trimming, this proved to be more than sufficient, but in slow flight, I found it ran out of back trim. Once out of trim range, you must move the joystick itself.
Fresh Breese Feels Good
For my money, the Breese 2 is a better buy than the Sport or Sprint 1000 models. I'm biased toward lighter models among ultralight aircraft, so I heartily approve of Mather's diet for his Breese models. They are also less costly to build, saving you substantial money. Either basic Breese 2 (DS or SS) with a 50-hp Rotax 503 DC is only $12,995 and these days, that constitutes a good value for an established 2-seater. Conversely, the 1000 series ultralights are $16,995. If value is important and especially if you like the look of struts, the Breese 2 is an excellent choice that may suit your needs particularly well.
Published in Light Sport and Ultralight Flying
Seating
2, side-by-side
Empty weight
425 pounds
Gross weight
850 pounds
Wingspan
32.75 feet 1
Wing area
173 square feet
Wing loading
4.9 pounds per square foot
Length
19.0 feet
Height
7.8 feet
Fuel Capacity
6 gallons
Kit type
Assembly kit1
Build time
75-100 hours
Notes:
1 Quick-build option cuts time to 40-60 hours, says the factory.
Note: All specifications for the DS model; some SS model specs differ.
Standard engine
Rotax 503 DC
Power
50 hp @ 6,500 rpm
Power loading
15.7 pounds per hp
Cruise speed
40-60 mph
Never exceed speed
92 mph
Rate of climb at gross
800 fpm
Takeoff distance at gross
165 feet
Landing distance at gross
100 feet
Standard Features
Tricycle gear, strut-braced, double- (or single-) surface wing, steerable 13-inch nosewheel and 15-inch mains with 6-inch drum brakes, 4-point pilot restraint system, 6-gallon fuel tank, 3-blade prop, no welding, fiberglass work, or painting required. Standard engine is 50-hp Rotax 503 DC.
Options
66-hp Rotax 582 engine (503 in base price), 80-hp Rotax 912 4-stroke, electric starter, pilot enclosure, instruments, saddle bags, ballistic parachute, Quick-build kit, fully-assembled option.
Construction
Aluminum airframe, fiberglass fairing (optional), steel pilot cage and nose struts, Dacron® sailcloth wing coverings. U.S.-owned company.
Design
Cosmetic appearance, structural integrity, achievement of design goals, effectiveness of aerodynamics, ergonomics.
Pros – The Breese 2 is a second-generation M-Squared 2-seater, lighter in weight and more agile. Struts definitely sell for many pilots who find cable bracing old-fashioned (though a cable-braced model is now also available). Brute airframe should last well in a training or float environment. High payload successfully lifts two large occupants. Sufficient standard power for operations anywhere in the U.S.
Cons – Buyers seeking the "little (enclosed) airplane" look won't find it here; resale success must accept this fact. No easy breakdown for transport; you'll want to leave this one set up most of the time.
Systems
Subsystems available to pilot such as: Flaps; Fuel sources; Electric start; In-air restart; Brakes; Engine controls; Navigations; Radio; (items covered may be optional).
Pros – M-Squared offers several fuel tank choices, though capacities larger than 10 gallons will require N-numbers on the plane. Mechanical brakes did a reasonable job of holding position in a taxi line-up. Test Breese 2 was fitted with electric start that's easy to appreciate. Company offers many options that can all be added if aircraft is FAA-registered; some limits must be observed if flying under the trainer exemption to Part 103.
Cons – Trim via stick repositioning works but lacks the adjustment range and authority of an aerodynamic trim surface. Getting a firm grip on the brake may mean changing your hand's grasp if you're of smaller stature; it's a stretch. Working on the engine requires a step or ladder (mounted spark plugs up as many prefer). Optional extras raise the price.
Cockpit/Cabin
Instrumentation; Ergonomics of controls; Creature comforts; (items covered may be optional).
Pros – What cabin? Yet this is possibly the single most successful cockpit in ultralight aviation (of course, you have to like open-air seating). Entry/exit can't get much easier than this. Dual foot pedals and a shared center joystick prove workable though instructors must learn to fly with their left hand when in the right seat. Easy reference to remaining fuel just over your head.
Cons – Simpler, no-pod design has little space for luggage (though some stash bag skirts can be ordered). Aft radiator if Rotax 582 is installed blocks some rearward vision. Overhead fuel tank will turn off some buyers; possibly if leaks onto occupants. Minimal instrumentation on test ultralight though company offers more. Too open for some pilots with little ultralight experience.
Ground Handling
Taxi visibility; Steering; Turn radius; Shock absorption; Stance/Stability; Braking.
Pros – Very accurate and responsive taxi steering from either seat. Low occupants aid ground stability. Excellent forward visibility. Brakes worked effectively in taxi line-ups and to shorten rollout. Standard big 13- and 15-inch tires will help off-field and are great at home; adds to "suspension."
Cons – Suspension is minimal – air in the tires and tube flex; hard landings can more easily cause parts to yield. Turn radius is rather wide. Ground clearance is modest for off-field operation. Struts decrease lateral visibility somewhat. Non-directional brakes; handle grip requires a larger hand. Minimal protection against debris from nosewheel.
Takeoff/Landing
Qualities; Efficiency; Ease; Comparative values.
Pros – Very straightforward landing qualities, excellent for training, for new pilots, and for anyone. Massive visibility for these operations. Slow speeds help with shorter runways; approaching at about 45 mph seemed quite conservative. Pitch control is well dampened. Stick trim helps maintain speeds with reasonable effectiveness. Well suited to the training environment.
Cons – Liftoff comes swiftly with the Rotax 582 pushing; be ready. Ground roll for takeoff and landing is somewhat longer than expected (due to a heavier airframe). Like many ultralights, the Breese 2 loses energy quickly after power is removed; smooth touchdowns at idle thrust aren't automatic. Slips are not particularly useful (fortunately, the need for them is rare).
Control
Quality and quantity for: Coordination; Authority; Pressures; Response; and Coupling.
Pros – Compared to the beefy Sport 1000 model with the Rotax 912 engine and surrounding pod, the Breese 2 is more agile. A lowered wing dihedral angle accounts for part of the solution, resulting in acceptable roll rates. Big, two-thirds-span ailerons fastened to a robust trailing edge provide good roll authority. Rudder is a powerful control always available to the pilot.
Cons – Stick back range is limited with no power assisting. Lots of pedal use is needed for coordinated controlling. Plenty of adverse yaw. My first Dutch rolls didn't turn out very well.
Performance
Climb; Glide; Sink; Cruise/stall/max speeds; Endurance; Range; Maneuverability.
Pros – Model excels at slow speed flying, which defines ultralight flying. Low-over-fields flying doesn't get much better. Design also reportedly does well on floats. When flown below gross weight, the Rotax 582 offers great 2-place climb (close to 1,000 fpm); at gross, about 800 fpm. DS model with double-surface wing has slightly better penetration and top speeds. Factory reports Breese 2 fitted with Rotax 503 flies excellently (not flown for this pilot report).
Cons – Short duration with 6- or 8-gallon fuel tank (10-gallon limit under trainer exemption to FAR Part 103), little more than 1 hour if doing touch and goes; other fuel tank options available if N-numbered. Glide performance remains weak, common on exposed tubing airframes. Energy bleeds away quickly in ground effect. Cross-country flying is not a strong suit of this type of ultralight design.
Stability
Stall recovery and characteristics; Dampening; Spiral stability; Adverse yaw qualities.
Pros – Stalls are nonevents in the M-Squared designs and the Breese 2 is no different; all stalls attempted resulted in fast, wings-level recovery virtually without effort. Getting in trouble with this design will take some effort (though all aircraft can be flown poorly). Good longitudinal stability although fast power-ups will push nose over briefly. Ballistic parachute installation was factory-approved and appreciated by me.
Cons – Significant amount of adverse yaw on roll-in. Less wing dihedral aids handling but brings slightly less lateral stability. With Rotax 582 pushing, full-power departure stalls get very steep when the nose wallows significantly (no break occurred).
Overall
Addresses the questions: "Will a buyer get what he/she expects to buy, and did the designer/builder achieve the chosen goal?"
Pros – No question, struts look good and draw buyers. Resale of the Breese 2 (or Sport 1000 Cable-Braced) may benefit from the designs' resemblance to the original by Quicksilver. Basic 503 Breese 2 (DS or SS) start at a modest $12,995. Fast to build and a Quick-build option further speeds the effort.
Cons – Cold weather climate users will get a shorter year from this open design; adding the company's pod and windscreen may push you over the Part 103 trainer exemption limits.