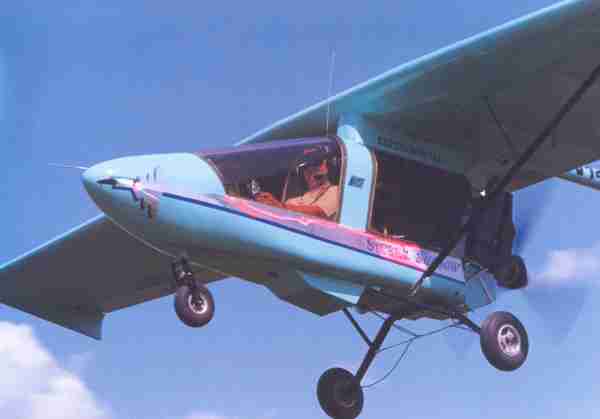 A unique looking machine, the Streak Shadow design hails from England. This gives another unique quality among ultralights available in the USA: it comes with British CAA approval. Their Section S procedure is most demanding and the Streak owns a certificate.
Heavily part-sourced in this country by U.S. distributor, Laron Aviation Technologies, it becomes almost Made In America. With its high tail boom, twin rudders, and composite cockpit, no one mistakes a Streak Shadow at an airshow.
Flying in a certified aircraft, I felt more comfortable pushing the envelope. I almost never check for Vne; I'm no test pilot. I didn't go to the listed 140 mph (!), but found this to be the fastest ultralight I've flown. Less rigorous flying showed speeds approaching 90 mph.
At whatever speed, the handling was very good as was ground handling. Equally easy was entry to the forward seat where you find yourself luxuriously surrounded by a nicely-finished composite structure.
Visibility from the front is nothing short of stunning; you sit in front of the wing's leading edge. It handles as well on the ground as it does in the air.
The Streak Shadow sells for a bit more than $15,000 but it comes very well equipped at that price. Standard features include the 582 engine, a 3-blade prop, a whole panel full of instruments, brakes, electric trim, and flaps.
Full Review in Dec. '92 UF!