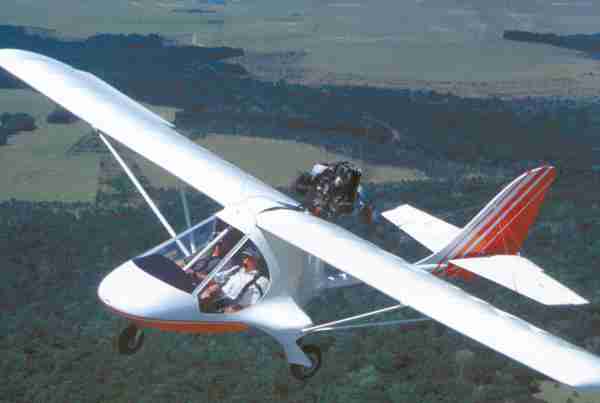 Easily one of the most fascinating airplanes to appear and show well as the airshows of 1999 was the east European-built Skyboy, sold in this country by Interplane. In truth it's not only sold here by this outfit, Interplane is the name of the company building these aircraft in the Czech Republic. It may not be of American heritage but from what I could tell it quickened the heart of Yankee pilots.
Under the direction of Jaroslav Dostal, a veteran of the LET Aircraft Company which builds 19- and 40-passenger commuters, a group of talented designers created several sport aircraft of which Skyboy is one. It's abundantly clear these men knew their job as one examines the workmanship on the fully factory-built Skyboy being marketed to American ultralight trainers. Yet the shapely exterior is not the whole story.
As you open the door of the Interplane Skyboy you see a nicely finished interior that invites your entrance. Fortunately, gaining entry is easy with doors which open widely, extend up high above your head, and remain out of the way thanks to a gas piston. As you seat yourself, the sensation is that of laying in a reclining chair. It's spacious which also helps in the training environment that Interplane is trying to create.
With its standard Rotax 582 pushing it aloft students will discover very cooperative handling. Skyboy handles lightly but the control response has been dampened to facilitate novice pilot capabilities. Instruction in the Skyboy should be a pleasant experience.