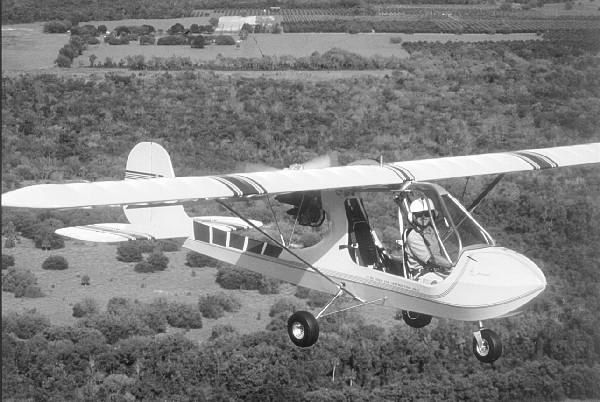 Let's cut right to the chase. Flying the Hornet for the second time in a couple of years (the second flight was in April '96), I experienced a most disconcerting quality: flutter. While I have many good things to say about the Hornet, this one experience elbows its way to the front of the line. Easing into the "Pilot's Report" on the Hornet simply isn't possible when such an experience dominates my thinking.
Published in Light Sport and Ultralight Flying
| | |
| --- | --- |
| Seating | 2, tandem |
| Empty weight | 475 pounds |
| Gross weight | 1,000 pounds |
| Wingspan | 27 feet 6 inches |
| Wing area | 138 square feet |
| Wing loading | 7.2 pounds/sq ft |
| Length | 20 feet |
| Height | 6 feet |
| Fuel Capacity | 9 gallons |
| Kit type | Construction |
| Build time | 250-400 hours |
| Standard engine | Hirth 2703 |
| Power | 55 horsepower |
| Power loading | 18.2 pounds/hp |
| Cruise speed | 100 mph |
| Never exceed speed | 140 mph |
| Rate of climb at gross | 500 fpm |
| Takeoff distance at gross | 400 feet |
| Landing distance at gross | 250 feet |
| Standard Features | Electric start, steerable nosewheel, pneumatic suspension on all wheels, hydraulic brakes, aluminum wheels, large tires, electric flaps, electric horizontal stabilizer trim, dual aileron control circuits, dual elevator control circuits, adjustable seats, disassembles for trailering; wings, fuselage and empennage factory-assembled. |
| Options | 65-hp Hirth 2706 engine, dual 9-gallon fuel tanks, ballistic emergency parachute, in-flight retractable tailstand, door kit, instrument gauges and switch set; custom seat covers, prop cover and engine cover; partial kits. |
| Construction | Aluminum tubing riveted airframe, fabric covered. |
Design
Cosmetic appearance, structural integrity, achievement of design goals, effectiveness of aerodynamics, ergonomics.
Pros – Highly innovative design with a brute construction. Wing construction based on dual spars. Uses a different fuselage enclosure than the similar-looking Challenger. U.S. Light Aircraft uses Hirth powerplants, though builders can fit other brands. Company responded well to the need to remedy the elevator problem (see main article and sidebar).
Cons – While the innovations are interesting, some are not executed in the customary way of aviation designers – for example, the brake actuation by pulling full aft stick. Nonstandard methods means the pilot may need to learn new techniques. Tailstand adds weight (though it did make entry easier). Elevator problem was troubling, as the factory didn't initially catch it themselves.
Systems
Subsystems available to pilot such as: Flaps; Fuel sources; Electric start; In-air restart; Brakes; Engine controls; Navigations; Radio; (items covered may be optional).
Pros – Electric trim and flaps are standard and bring smooth, effortless control (selected drive motors well-chosen for their task). Electric trim was quite effective. Electric start is a standard feature. Tailstand is easily cabin-retractable. Hydraulic brakes. Wide-open engine access.
Cons – Electric flaps don't operate as quickly as most mechanical systems. Cannot determine trim position unless you visually inspect, which isn't easy from the cockpit. Panel lacks room after customary instruments. All the extra features add weight.
Cockpit/Cabin
Instrumentation; Ergonomics of controls; Creature comforts; (items covered may be optional).
Pros – Entry and exit are quite reasonable, especially with the tailstand holding the Hornet level. Four-point seat belts were appreciated. Without side enclosures cabin seems huge – broad pilots will like the roominess. Seats comfortable; backrest was tall and offered good support. Most controls within an easy reach.
Cons – Rudder pedals were angled awkwardly for my use (though builders can change these things). No baggage/cargo area (except the rear seat when flying solo). Open cockpit seemed noisier than similar designs.
Ground Handling
Taxi visibility; Steering; Turn radius; Shock absorption; Stance/Stability; Braking.
Pros – Visibility is very good from the front seat whether on the ground or in flight. Even the rear has decent visibility (and is better than many tandems). Suspension by Goodyear was excellent – firm yet well-dampened. Turn radius was tight. Very good clearance for rough-field use.
Cons – Brake on the aft of the stick range is clever but nonstandard even among ultralight aircraft. Because the Hornet sat so lightly on the nose, nosewheel effectiveness was diminished. Nondifferential braking lessened taxi maneuverability.
Takeoff/Landing
Qualities; Efficiency; Ease; Comparative values.
Pros – Ground roll on takeoff was short. Takeoff and landing visibility are as good as the best ultralights. Approach speeds can be held low, about 40 mph with practice. Landing out should be reasonable thanks to good clearance and excellent suspension system. Flaps were very useful, pitching the nose down to improve visibility on final. Hornet retains energy well for flare.
Cons – Crosswind landings done at the slowest speeds may run out of stick range. Slips weren't very effective, as the Hornet lacks side area.
Control
Quality and quantity for: Coordination; Authority; Pressures; Response; and Coupling.
Pros – Although you can't call them fast, controls were light and pleasant – many pilots prefer such a compromise. Coordination was good – precision turns to headings were accurate from the start. Adverse yaw was on the good side of average.
Cons – Roll rate may not be fast enough for some pilots. Stick range was limited in some crosswind landings when wide deflection was needed. Rudder deflection was limited by an unusually raked pedal angle.
Performance
Climb; Glide; Sink; Cruise/stall/max speeds; Endurance; Range; Maneuverability.
Pros – Fairly speedy design. Hornet can also fly well at low power settings, suggesting wing is efficient. Engine and prop are well-selected. Sink rate was good at under 500 fpm (solo). Slow flight possible at only 35 mph using 5,000 rpm, a remarkably low number for an aircraft that seems pretty large among ultralights.
Cons – Since this flight evaluation, the factory has remedied the elevator problem, but they had not fully explored the speed range in a proper test regimen. Regrettably, this brings other performance statements into question – for example, I cannot accept as fact the high speeds of the airplane.
Stability
Stall recovery and characteristics; Dampening; Spiral stability; Adverse yaw qualities.
Pros – Power-off stalls broke mildly at speeds in the low 30s. Power-on stall never broke, instead just bucking around in an obvious protest that can guide your response. Longitudinal stability tests were good in spite of a nose-light trim condition.
Cons – Elevator flutter experienced, a problem which U.S. Light Aircraft reports has been fixed.
Overall
Addresses the questions: "Will a buyer get what he/she expects to buy, and did the designer/builder achieve the chosen goal?"
Pros – Feature-filled design illustrating lots of innovation and many hours of effort. Very efficient flyer that performed well at very low power settings. Robust construction that will set most pilots at ease. Could operate under the 2-place training exemption to Part 103 based on empty weight (though extra weight of some options could restrict this use).
Cons – When equipped with engine, prop and the full kit, price is on the upper end of the ultralight spectrum. Most damning experience related to the elevator flutter problem. Factory has fixed this in the accepted way, but I have not rechecked the aircraft. You are advised to speak directly with the factory on this issue.