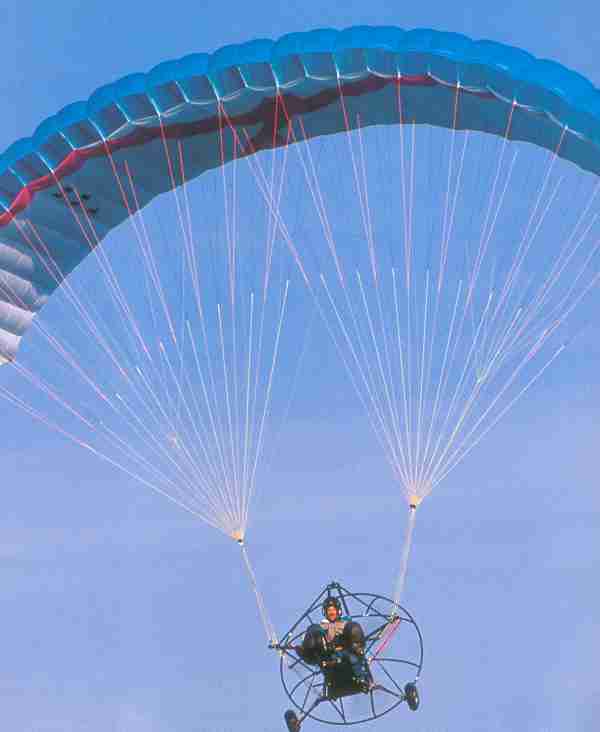 Former flight school operators Mike and Susie Harmening obviously know what powered parachute pilots want. The company is thriving and customers relate positive impressions about their contact with the couple. That they build a quality aircraft should therefore come as little surprise.
In a world of single place powered parachutes exceeding the $10,000 mark, the Harmening's Buckshot offers a great value at $7,995 for an aircraft that can laugh at Part 103 definitions. Tipping the scales at a mere 230 pounds you can afford some accessories; for example, the company says you can install the Rotax 503 (over the standard 447) if you wish.
For well under $10,000, the Harmening family organization can supply their original High Flyer that can be either a one or two seater, and stay under Part 103's single seat restriction, a nice compliment to the effort to keep weight low. Some other designs seem to get their strength from the sheer quantity of tubing used.
Like all powered parachutes, speed are delightfully slow, a couple notches past 25 mph. While this means you don't fly in high winds, it also lets the scenery pass at a "human speed." We can easily take in the sights at speeds you might ride a bicycle.
For those who want it all, the Harmenings offer their High Flyer Executive for $11,999. This loaded aircraft comes with a Hirth 65-horse engine, 3-blade Ivo prop, extended roll cage, custom wheel pants, dual EGTs, dual CHTs, altimeter, and a tach/hour meter.