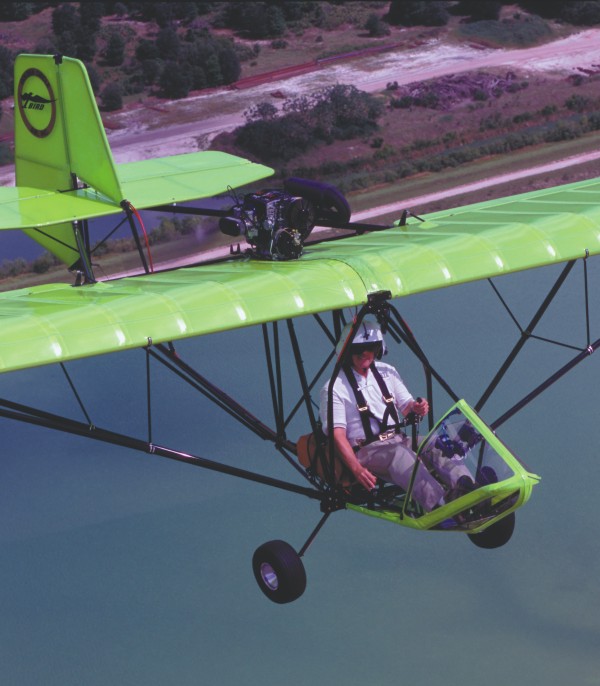 Ten years ago, in the spring of '93, I flew and reported on the nosewheel T-Bird I. Part 103 was barely 10 years old then and Sport Pilot/Light-Sport Aircraft concepts were a decade in the distant future.
This month we're going to take a look at the taildragger T-Bird model. The good news through this passage of time is that the T-Bird I remains a delightful aircraft to fly. Anyone entering ultralight aviation should consider this plane among the fleet of possibilities.
Maybe you're a bit overwhelmed by the steady stream of talk about FAA's proposed Light-Sport Aircraft rule. The concept may be a bright light on the aviation horizon, but with another 6 months or more to wait, the patience of many pilots is wearing thin.
Even though I'm excited about this proposed new class of aircraft, I remain a true believer in the lighter, simpler, less expensive theory of ultralight aircraft. I may admire a $60,000 fiberglass LSA from Europe, but I'm a lot more likely to buy a kit-built or Part 103-compliant ultralight. The thickness of my wallet dictates my abilities to buy what I like, but I also happen to fully enjoy flight in what I call "true" ultralights.
This month, we return to one of those machines. I've always loved the T-Bird single-seater and that hasn't changed. The design has evolved slowly via refinements over the years and that's a good thing! Let me tell you what's changed about the T-Bird I and why this is still a good choice for your ultralight purchase dollars.
Cakewalk Departure
As I got ready to fly the T-Bird I, I thought, This is one of my all-time favorite ultralights. I can think of very few airplanes that land easier than a T-Bird I. The best of all is the T-Bird I tri-gear version; if you can't land it well nearly every time, you need more practice or more lessons. Golden Circle Air's tailwheel model landings present a bit more challenge.
Good landings aren't the only reasons people buy certain airplanes, of course, and the T-Bird I is not limited to that one good quality. In fact, what the T-Bird I does so well is, simply, be an ultralight. It isn't meant for long transport, carrying a load of occupants, zooming around at high speed, or aerobatic flying.
The single-seater from Golden Circle Air isn't speedy enough for much cross-country flying and it's too open for wintertime flying in the northlands (unless you buy the optional enclosure). It doesn't fold up too quickly and doesn't have a lot of room for instruments. Having said these things, I'm about out of criticism of the T-Bird I.
From America's heartland in Iowa comes this well-proven model that sums up most of the joy in flying ultralights as soon as she lifts off the runway.
As I taxied out I remembered the T-Bird's easy ground handling. A brake is overhead, a location where you have great leverage and this allows reasonable maneuvering around other aircraft on the ramp. On the test aircraft, hydraulic brakes were fitted ($510) and they proved quite strong.
Once you roll on the runway – having preflighted, done your evaluation of control movements, and checked your cockpit – you're ready to add power. You have no lengthy checklist of activities before you commit aviation.
The 2003 T-Bird I cockpit is 4 inches wider than the 1993 version I flew, no doubt a concession to the large stature of many Americans.
I love the new control panel. Not the gauges, it was the panel itself I liked. Made of a sheet of clear plastic, the instruments were mounted and the panel suspended neatly on four corners. This simple but clever idea enhanced forward visibility while still providing an excellent location for the instruments. The construction made the panel appear to be hanging in space.
Support of the instrument panel says good-bye to Golden Circle Air's old way of using bungee cords. Now it's bolted to the airframe with some rubber isolators that offer a shock mounting.
A 4-point seat belt system, the kind with a hook arm that snaps firmly in place, secures you to the T-Bird I. A dual-cable (twin carbs) throttle sits at your right. Not only is the brake handle quite accessible, it makes a dandy place to stow the engine pull handle so that it doesn't bop you in the head when you're flying.
The throttle lever, by comparison, is just a slab of aluminum with a little foam sleeve over it. The location is good alongside your right hip, but it did not prove as comfortable to hold as the brake lever and I fly with one hand on the throttle nearly all the time (especially while flying in tight formation shooting air-to-air photos). Add a T-handle to your T-Bird I and I think you'd solve that minor problem.
Rudder pedals have some adjustment to accommodate different pilots' heights. Golden Circle's Bob Ellefson wondered if the pedal position would be all right for me – he's several inches taller than I am – but his concern proved unfounded. You can rest your heels on a new aluminum skid plate under the pedals.
While taxiing to the active runway, I did not find the seat back very supportive. I found myself wanting to sit forward. The low seat back offers no bracing for your upper back or your head; however, I found I could lean back against the twin shoulder belts. Fortunately all this clears up at flight attitude.
Deliberately swerving back and forth on the taxiway, I rediscovered the T-Bird's positive ground steering. As a taildragger, the T-Bird I is easy to taxi and you never have any visibility problems. In fact, your field of view is huge in every direction, and thanks to that instrument panel, even forward past your feet is good.
Sheer Joy of Takeoff
I could content myself with an hour of takeoffs and landings in the T-Bird I. She's truly that kind of friendly airplane for this phase of flight. While the tricycle gear model outsells the taildragger (at about two-thirds of all deliveries), both offer genuinely good qualities.
Generally, I found it works better to hold off the T-Bird I on landing in order to find a 3-point landing. When I would get a little too aggressive or impatient with the ultralight, I ended up touching the tailwheel first which would then bounce me forward to the mains and I would have to bury the stick aft to settle down. Of course, the maneuver just described also suggests I was not at the proper speed when I touched the tailwheel. As with all taildraggers, it takes a bit of practice to truly finesse your landings. You can do mainwheel landings with relative ease, but that isn't the technique of accomplished taildragger pilots.
However, I had one touchdown that was simply superb and three that were fine but not as perfectly smooth. Comparing this to the last flight a decade ago, it was perfectly clear that it was the nosewheel T-Bird I that was so simple to land.
While the taildragger version has some potential for ungraceful touchdowns, I found no ground-looping tendencies whatsoever. I partially attribute this good quality to a low deck angle (the nose isn't lots higher than the tail on a longitudinal line).
Golden Circle Air uses a dual Teleflex®system for the aileron controls. Cables are used for rudder actuation, and the elevator is operated through a dual Teleflex cable setup that made me feel secure. I've never really liked elevators controlled by a single Teleflex, even though it shouldn't have an engineering downside if properly designed.
The T-Bird I is a simple flying aircraft. She doesn't offer snappy handling in the sense of fast response to control input, but her controls are smooth, not sloppy, authoritative but not the least twitchy. Nearly every pilot would find the handling acceptable and those with fewer hours in ultralight aircraft should quickly find harmony with the controls.
This single-seat ultralight uses a rather large wing (154 square feet) and uses wide-span (though not full-span) ailerons. Despite these large controls – which contribute to good crosswind capabilities – adverse yaw was quite modest.
Like similar design shapes in ultralight aviation, the T-Bird I is rudder-dominated so aileron controls occasionally run out of range. I hit the stops more than once in my investigation. Yet combined correctly with the powerful rudder, I always had enough control authority even on a day with lots of convective activity and correspondingly changeable winds.
Steep turns went well but required some high siding, which is to say the T-Bird I had a mild overbanking tendency such that I had to use the yoke to lower the high wing a bit. Again, punchy thermals challenged my ability to perform evenly cut turns.
Sleek Wings
For years, Golden Circle has used Utah-based Dick Cheney's sailmaking expertise for wing and tail covers. The company has always sought innovative materials (while other companies have stuck with common-variety Dacron sailcloth). My test ultralight used a new fabric which is still a Mylarized fabric giving it a very slick finish. The material also has a ripstop-style weave that no doubt strengthens and stabilizes the cloth. Cheney, a veteran of such sewing, told Ellefson that he believes this material will last far longer than older material before problems like Mylar delamination occur.
My test T-Bird I used a 50-hp dual-carb Rotax 503 engine, creating a lively aircraft. About 5,000 rpm produced a 55-mph cruise speed, right in the range of what FAA intends for ultralight vehicles. However, it was a day of many thermals so my readings may be suspect and mounted airspeed indicators are notoriously incorrect.
When I flew low over the fields – one of my main genuine-ultralight flight checks – I wasn't really comfortable getting much under 50 mph, which is fast for the genre. But the day was sufficiently turbulent that this may have affected my sensation.
The T-Bird I's rate of climb was very strong but I could not measure it, as the aircraft had no altimeter. The amazing deck angle without approaching stall confirmed my opinion that a Rotax 503-powered T-Bird I goes up quickly. It was equally hard to judge sink rate without an altimeter and on a day with so much convective activity, but the descent seemed a little fast for a large wing.
As this review went to the editor, Golden Circle Air was finishing up the installation of a 60-hp HKS 700E engine on a T-Bird I. I think this will make an excellent choice worthy of your consideration. The Japanese HKS engine would provide plenty of power with its distinctive 4-stroke style.
At cruise speeds, it was rather breezy in the cockpit without more enclosure. I was glad to have the eye shield on my helmet. You could avoid this problem with the T-Bird I's optional enclosure ($430) but then you lose some of the genuine ultralight appeal, so I prefer to be somewhat wind buffeted.
For a while, Golden Circle experimented with a nose that was several inches longer to accommodate tall folks. It also made the cockpit more airy. But the alteration raised the stall speeds, Ellefson reports, "from somewhere in the high 20s to the mid-30-mph range." The reason for the change was to allow tall guys like Ellefson to
have a place to rest their heels while working the rudder pedals. In a simpler solution, the company added an aluminum plate in front of the black painted floor and this satisfied the need. Therefore they changed the nose back to its original length and the stall speed dropped.
Indeed, stalls were very modest in the T-Bird I, true for power-on and power-off variations. The climb angle – or more correctly the deck angle – was simply breathtaking. It seemed to be better than 45° up when I found myself looking through the clear panels on the floor of the nose. No untoward tendencies were discovered in the series of stalls, and the nose broke gently, even when aggravated significantly. Once again, as with the lovely takeoff and landing characteristics, the T-Bird reveals herself to be a good choice for newer pilots.
Colorful T-Birds
My test ultralight this month had all black tubing. Gone are the days when Golden Circle brought a collection of brightly colored tubing airframes to airshows. Though the color is black all over, the painted tubes still look very nicely done and the aircraft displays well, even at airshows with many other aircraft for comparison.
In the Popsicle-colored tubing days, the lengths were hand-painted. Now Golden Circle uses a powder-coating method and Ellefson indicates this is a very durable finish.
Base price on the T-Bird I is $8,940 in the summer of 2003. Buy a Rotax-503 engine from Golden Circle Air with your plane and they'll add $3,480 for a total of $12,420.
You can choose from a long list options. One of the most popular is the nosewheel conversion. It adds $920, and is chosen by "60 to 70%" of T-Bird customers, says Bob Ellefson. Other popular options are a larger engine – as on our test aircraft – electric starting ($675), a ballistic
parachute ($2,293 with shipping), amphibious floats, enclosures, tundra tires and more. You'll need to call the factory to get the details and pricing.
Few T-Bird I's will qualify for Part 103 operations if their owners load them up with accessories. And the future for these aircraft under Light-Sport Aircraft is uncertain. Ellefson expressed some hesitancy about the American Society for Testing and Materials (ASTM) process and whether that effort would produce an overly restrictive rule. Regardless, Golden Circle Air can continue to sell 51% rule kits without new effort.
Whatever Golden Circle Air and its related business, Aircraft Supermarket are doing, it seems to be working.
While much of the light aircraft industry – actually the whole industry from Boeing to hang gliding – has seen a slowdown, Golden Circle Air has been remarkably steady, they say. "Oh, it's hot and cold," says Ellefson, "but we've maintained a livable minimum in slow months and in the good months we earn a profit." And, he observes, the combined businesses of Golden Circle Air and the Aircraft Supermarket work to help one another." (See the sidebar, "Aircraft Supermarket.")
The good news is the combined business venture, long years of experience in the industry, a real love of flying, and a solid, proven, delightful flying aircraft make for a T-Bird I that you might want to buy.
Published in Light Sport and Ultralight Flying
| | |
| --- | --- |
| Seating | 1 |
| Empty weight | 243 pounds 1 |
| Gross weight | 577 pounds 1 |
| Wingspan | 31 feet 1 |
| Wing area | 154 square feet |
| Wing loading | 3.7 pounds per square foot |
| Length | 18 feet |
| Kit type | Assembly Kit |
| Build time | 40-60 hours |
| Standard engine | Rotax 447 1 |
| Power | 40 hp at 6,500 rpm 1 |
| Power loading | 14.4 pounds per hp 1 |
| Cruise speed | 60 mph |
| Never exceed speed | 90 mph |
| Rate of climb at gross | 600 fpm 1 |
| Takeoff distance at gross | 100 feet 1 |
| Landing distance at gross | 120 feet 1 |
| Notes: | 1 Information from factory for Rotax 447 model; tested with Rotax 503. |
| Standard Features | Taildragger configuration, Rotax engine mount, ASI, tachometer, CHT, shoulder harness, aluminum wheels, 2-blade Warp Drive propeller, front windscreen, 5-gallon fuel tank, presewn Dacron sail in choice of colors (no painting required), all hardware prepared for assembly (no cutting or welding). |
| Options | Tricycle gear, choice of engines and engine mounts, 10-gallon wing tank or 10-gallon seat-back tank, cabin enclosure, electric starting, hydraulic brakes, tundra tires, amphibious floats, additional instruments, strobe light, streamlined struts, cabin heater, oil injection, ballistic parachute, 3-blade prop, quick-build kit, full assembly. |
| Construction | Aluminum airframe, steel components, Dacron wing coverings. Made in the USA. |
Design
Cosmetic appearance, structural integrity, achievement of design goals, effectiveness of aerodynamics, ergonomics.
Pros – The T-Bird I is stoutly built with a good safety record. Part 103-compliant if you build carefully and use a Rotax 447 or other light engine. Available in tri-gear for those uncomfortable with taildraggers. Nicely finished with slick sailcloth finish (not used by other Dacron sail designs). Flies, looks, and acts like a genuine ultralight.
Cons – If you want tricycle gear, it will cost you extra, and weight increase may threaten usage under Part 103. Some viewers think the T-Birds appear heavily built (and 2-place models are rather heavy). Breakdown for transport is an hour job for two people. With the Rotax 503 as flown, will not qualify for Part 103 operations.
Systems
Subsystems available to pilot such as: Flaps; Fuel sources; Electric start; In-air restart; Brakes; Engine controls; Navigations; Radio; (items covered may be optional).
Pros – Simple Part 103-compliant ultralights usually don't have many systems. Trim on previously flown T-Bird I not installed on test aircraft. Brake handle was convenient and effective. Some optional systems are available: electric starting and cabin heating. Easy refueling. Good engine repair access.
Cons – Trim not available on T-Bird I (though I never needed it). Brakes are unidirectional. Flaps are not available (though they're hardly ever needed either). Pull starting is rather challenging if you're belted in. No remote choke lever was installed.
Cockpit/Cabin
Instrumentation; Ergonomics of controls; Creature comforts; (items covered may be optional).
Pros – Excellent panel for instruments as you can see through it except where gauges are mounted. If you like a yoke control, you'll love the T-bird I. Redesigned with 4 inches more cockpit width, the T-Bird is an ultralight for a big guy. Very easy entry. Joystick option available. Good foot support when working rudder pedals.
Cons – Full enclosure, if option selected, may limit cockpit for large pilots. Seat is comfortable but felt overly angled back and lacked upper back support. Fairly windy despite nose fairing; I used my helmet eye shield. No other negatives observed.
Ground Handling
Taxi visibility; Steering; Turn radius; Shock absorption; Stance/Stability; Braking.
Pros – Tailwheel steering was precise. Overhead brake handle provided an excellent leverage point; hydraulic system installed. Solid on its gear. Standard equipment large tires (15×6) make rougher terrain easily negotiated; soften ride on bumpy ground. Good visibility.
Cons – Brakes were nondirectional; though steering is good, turn radius is not particularly tight. Lean-back angle of seat while taxiing didn't suit me well. Pretakeoff checks may require S-turns to see overhead traffic.
Takeoff/Landing
Qualities; Efficiency; Ease; Comparative values.
Pros – Standard equipment includes big (15×6) tires and aluminum wheels; makes for softer landings. With available tricycle gear ($920 extra), takeoffs and landings get no easier. Short takeoff roll with Rotax 503, as tested. Good control authority for crosswind operations.
Cons – If you really prefer a nosewheel, as most do, you pay another $920 for the hardware. A taildragger with large tires can balloon on landing. Holding off for touchdown gets the nose up fairly high (but produces a proper 3-point landing).
Control
Quality and quantity for: Coordination; Authority; Pressures; Response; and Coupling.
Pros – Basic ultralight-style handling, just what many pilots want. Ailerons are plenty authoritative for all reasonable conditions and situations. Very predictable handling. Precision turns to heading work out well. Choose from joystick or yoke, as you prefer, one of few designs to offer this.
Cons – No one would call a T-Bird I "fast" or "crisp" (which is precisely what some pilots want). Yoke seemed to hit the stops quickly (though I never ran out of aileron on the day I flew). Pitch also seemed limited in range (though not in aerodynamic ability).
Performance
Climb; Glide; Sink; Cruise/stall/max speeds; Endurance; Range; Maneuverability.
Pros – As equipped, with a Rotax 503, the T-Bird I was very lively; good combination (standard Rotax 447 should also be plenty). Good flyer at slow speeds; handling remains authoritative. Also cruised fairly well on Rotax 503, maintaining 60 mph easily. Noise and vibration at cruise power settings are quite tolerable. HKS 4-stroke engine application in development (good choice, I think).
Cons – The T-Bird I will probably never win an international contest (unless having fun becomes a meet task) – uses more fuel than would win contests and causes more refills. Sink rate was probably a little faster than average (though big wing carries its load well at the right speeds).
Stability
Stall recovery and characteristics; Dampening; Spiral stability; Adverse yaw qualities.
Pros – Very pleasant stall qualities – good for beginners. No bad stall breaks discovered, no wing fall if accelerated, easily anticipated. Positive throttle response to power changes (despite high thrust line). Adverse yaw reasonably low. Pitch response was predictable.
Cons – Lack of trim was missed, forces are light, but I couldn't properly evaluate longitudinal stability. Some overbanking tendency noted; I needed to "high-side" or use reverse aileron in some steep turns. No other negatives noted.
Overall
Addresses the questions: "Will a buyer get what he/she expects to buy, and did the designer/builder achieve the chosen goal?"
Pros – Great choice for a new ultralight pilot; years of fun with easy characteristics (especially nosewheel model, with which takeoffs and landing are a joy). Huge list of optional extras you may want. Low build time ("40 to 60 hours," per factory). Having yoke or joystick, taildragger or nose gear makes a versatile aircraft that can help when you resell as well.
Cons – Not the least costly basic ultralight; basic flyable aircraft will cost better than $12,500. Not a high performance model in any way (which is exactly what many pilots need). Can't make Part 103 without a serious effort to choose very few, hopefully very lightweight options.