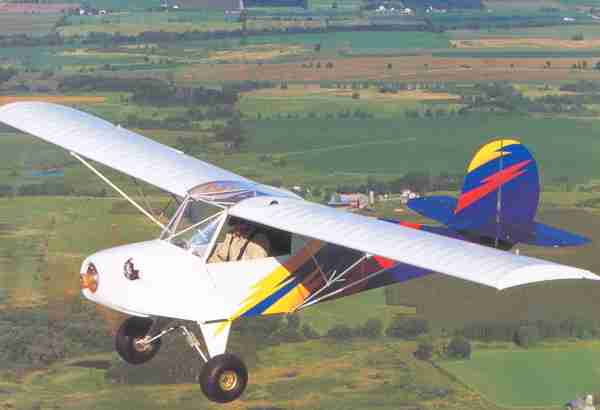 "What took 'em so long," is the usual comment when one sees the Sky Raider for the first time. Understandably, many viewers incorrectly think they see a single place Kitfox. In fact, the Schraeder brothers used their experience at working for both the Kitfox and Avid Flyer builders when they introduced their single place Sky Raider.
The tiny little machine, from the same airfield as the two larger airplane companies, has made its mark successfully reaching 100 sales in a couple years. Sky Raider clearly answers the request of many who were enthusiastic about the Kitfox or Avid but who wanted a lightweight single seater. You need wait no longer.
Even with a 447 Rotax to give it loads of power, you can build the Sky Raider into a 103-compliant ultralight assuming you consider the weight of components you want to add. Keep it simple and you'll be delighted with a highly responsive lightweight performer. You can also build with the Rotax 277 if one is available and it'll still fly beautifully.
The little Sky Raider, which is quite roomy inside, has the very popular folding wings that Kitfox and Avid first made commonplace. But it uses different wing controls that ultralight enthusiasts will understand and appreciate. Slotted flaps and ailerons assure plenty of control but with steady flying qualities than any fun flyer will love. Brakes, a fiberglass cowling, steerable tailwheel, and a legal five-gallon gas tank round out this dandy little bird. Best of all, perhaps, is the price tag of $8,500 before engine.