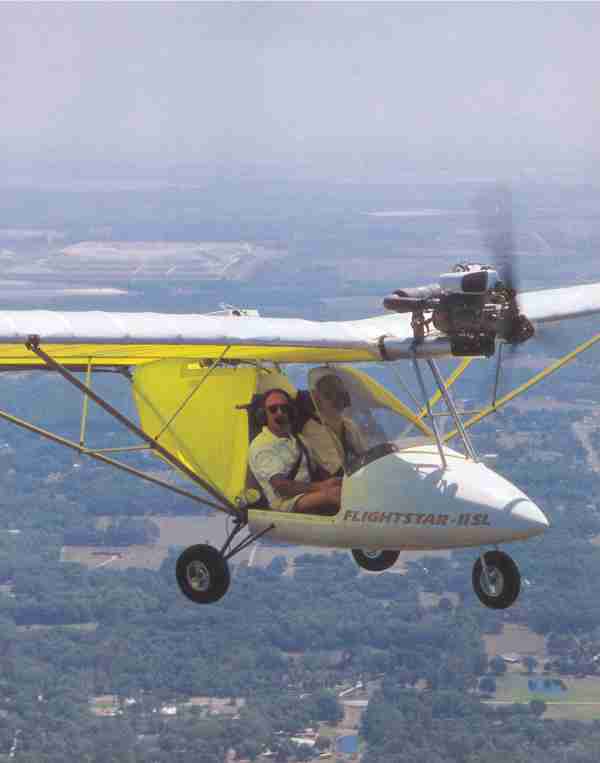 "New & Improved" boasts the advertising for the Flightstar IISL as it was introduced at the start of the 1999 season. Indeed, the statement proved to be more than a catchy advertising slogan. The already-popular ultralight from the Connecticut company managed to go one better than earlier models.
A series of changes subtly advanced the state of the art for one of America's best ultralights. A new cabin fairing was cunningly reshaped to combine smoothly with a new, curvier windscreen. The aft-cabin fabric fairing was made leaner and smaller yet more efficient. And a new engine cowling improved cooling for the Rotax 503 engine installation.
The combination of front and rear fairing harmonized to bring smoother touchdowns eliminating the one nagging challenge I'd found in the older IISL. Making consistently smooth landing roundouts is now child's play. Builders will also appreciate the easier fit of the new fiberglass parts and shipping is more compact (therefore cheaper) than ever due to the change.
The new windscreen improves visibility while allowing a full enclosure for those in cooler climates (becoming the IISC, for "Sport Cabin"). While you stay warmer, though, the engine runs comfortably cool thanks to the cleverly designed SuperCowl that provides a smooth inlet and exit ramp for air coaxed past both cylinder heads.
The physical changes of the improved IISL are backed up with quick delivery and a customer service record that any buyer would love. Plus it's hard to argue with 1,000 flying models and an excellent safety record.