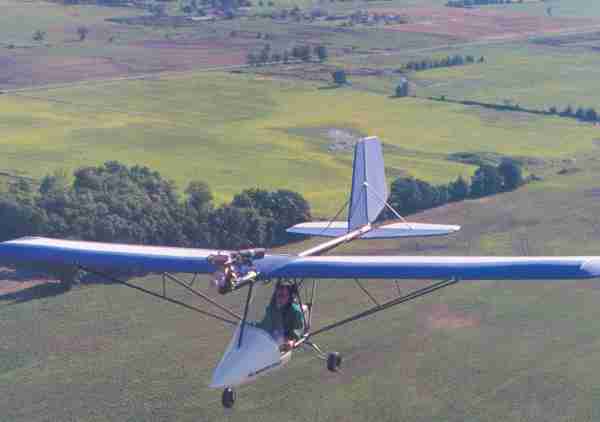 A great old name has returned! The Flightstar is back. Actually, the design has survived various ownership changes quite well. The original Pioneer Flightstar became the Argentine Aviastar. Now original designer, Tom Peghiny, has bought the plane and the name.
It's all-American again, too, made in the USA. Above you see the F.A.R. Part 103-legal version, the Flightstar Classic. The Classic has a big brother single seater and of course, a two-seat trainer. The Classic is the company's primary fun machine, though.
All the Flightstars were designed under accepted engineering methods. They've also been given the touch by Peghiny, an ultralight pioneer who aviation business experience dates back to his teens. It's easy to see this successful combination if you examine individual component design and finish.
The Flightstar has an avid following of five hundred owners who love the way their planes fly. The Classic has simple features and low price while maintaining wonderful handling qualities. The side-mounted joystick delivers a smooth linkage feel with response both predictable and authoritative.
Performance is solid. The light single will sustain altitude at a low power setting, even on a 28 horsepower engine. Flightstars are strong throughout their speed envelope. The Classic makes for a good choice in a legal ultralight at a fair price. Being a quick bolt-together kit doesn't hurt.
Full Review in Nov. '93 UF!