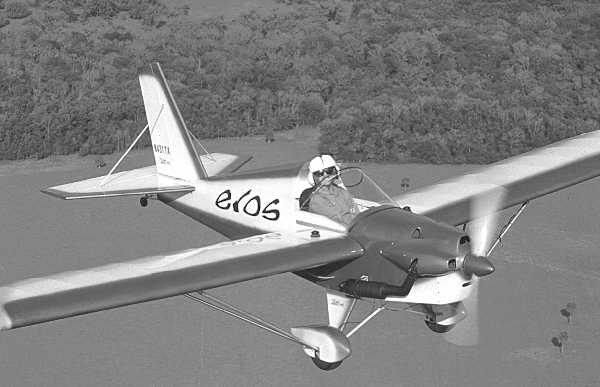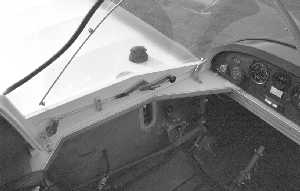 You know TEAM Aircraft. The Manchester, Tennessee company achieved success and notoriety by making inexpensive wood aircraft. They've been at it for more than a decade, selling in excess of 1,000 kits, an overwhelming majority of which are completed and flying. The company is also
one of the most-respected companies in light aviation.
One of their models has been the half-VW-powered miniMAX. However, for the 1996 season, the Eros brought further recognition of the continuing work of innovative designer Wayne Ison and his staff.
Published in Light Sport and Ultralight Flying
| | |
| --- | --- |
| Seating | Single seat |
| Empty weight | 345 pounds |
| Gross weight | 625 pounds |
| Wingspan | 26 feet 5 inches |
| Wing area | 118 square feet |
| Wing loading | 5.3 pounds/sq ft |
| Length | 16 feet |
| Height | 5 feet |
| Load Limit | +5.5 Gs, -3 Gs |
| Fuel Capacity | 5 or 10 gallons |
| Kit type | Construction |
| Build time | 350-450 hours |
| Set-up time | 20 minutes |
| Standard engine | Rotax 503 dual carb |
| Power | 52 horsepower |
| Power loading | 12 pounds/hp |
| Max Speed | 90 mph |
| Cruise speed | 85 mph |
| Stall Speed (Flaps) | 36 mph |
| Never exceed speed | 110 mph |
| Rate of climb at gross | 1,200 fpm |
| Takeoff distance at gross | 150 feet |
| Landing distance at gross | 250 feet |
| Standard Features | Enclosed cockpit, detachable wings, steerable tailwheel, 4-point pilot restraint harness, wood landing gear, big wheels, 5-gallon fuel tank, prop spinner, round wing tips, fiberglass cowling and boarding step insert. |
| Options | Plans ($175), convertible swing-over open canopy, mechanical brakes, split axle tubular steel landing gear, wheel pants, extra 5-gallon wing tank, ballistic emergency parachute, prebuilt assemblies, fabric covering video. |
| Construction | Wood, aluminum, steel, fabric covering. |
Design
Cosmetic appearance, structural integrity, achievement of design goals, effectiveness of aerodynamics, ergonomics.
Pros – Classic and popular miniMAX design redone with Rotax 503 dual carb engine and snazzy paint job transforms the basic plane into a hot rod. Well-proven design with excellent safety record. Wood construction felt by many builders to be an easy medium to work. Cockpit makes pilot feel at one with the plane without being too tight.
Cons – No 2-seater of this model is offered. Wood requires extra maintenance to stay airworthy as it ages. Making the miniMAX into the Eros model will add expense (though it is still modestly priced like all TEAM ultralights).
Systems
Subsystems available to pilot such as: Flaps; Fuel sources; Electric start; In-air restart; Brakes; Engine controls; Navigations; Radio; (items covered may be optional).
Pros – Simple aircraft with few systems installed (though because it must be FAA-registered, you could add some). Brakes were effective enough and easily operated with the common joystick lever. Fuel supply was easily monitored – one the best I've ever seen. Refueling also very easy. All controls and instruments were extremely accessible. Choke mounted right next to throttle.
Cons – No trim installed, and it would have been appreciated; I recommend adding one, especially if you let others fly your Eros. Engine access requires removal of the fiberglass cowling. Stick was rather short.
Cockpit/Cabin
Instrumentation; Ergonomics of controls; Creature comforts; (items covered may be optional).
Pros – Single-seater, but will accommodate a fairly large pilot. Seat cushion was comfortable and dampened out the engine vibration. Hat rack area behind pilot's head will accommodate some lightweight gear. Canopy flips open nicely to allow somewhat easier entrance. Windscreen was highly effective; you sit close behind it.
Cons – Entry may require some practice if you're not too limber. Little room for radio, though a hand-held could be pigeonholed in a few spots. Seat and pedals don't adjust except during building. Knees are uncomfortably close to a bracing rail under the instrument panel.
Ground Handling
Taxi visibility; Steering; Turn radius; Shock absorption; Stance/Stability; Braking.
Pros – Tailwheel response was dynamic, enough so to make differential braking unnecessary. Turn radius is very tight allowing good maneuverability. Very stable stance on ground. Visibility is huge, among the best in ultralights; checking incoming traffic before takeoff is child's play.
Cons – Rudder pedals were so effective you need to control movements during takeoff and landing to avoid ground looping. Suspension is "air in the tires," making for a firm ride on turf runways. Braking effectiveness was only moderate. Wheel pants and lower clearance make rough-field landings less desirable.
Takeoff/Landing
Qualities; Efficiency; Ease; Comparative values.
Pros – Takeoff is a "jump off the ground" proposition. Visibility throughout takeoff and landings is massive – much appreciated in crowded conditions. Approaches can be done at 45 mph, though 55 to 60 is recommended at first. Aircraft retains energy well – much appreciated should your engine stop. Slips were quite effective. Excellent controls for crosswind operations.
Cons – The Eros is slippery enough that you need to plan approaches better than draggy aircraft. No (standard) flaps forces you to use slips; practice them (or get the optional flaps). Watch your rudder control inputs to assure you don't invite ground loops. Soft- or rough-field operations are less desirable due to wheel pants and lower clearance.
Control
Quality and quantity for: Coordination; Authority; Pressures; Response; and Coupling.
Pros – Wonderful controls; can't emphasize enough how much I enjoy the miniMAX handling. Crosswind operations will be easy for a suitably experienced pilot. Aileron response is snappy; you may want to turn constantly. Roll is brisk. Pitch is light and requires almost no muscular exertion. All control maneuvers exhibited excellent precision.
Cons – Lack of trim made the nose a little light and the Eros is a little pitch sensitive. Adverse yaw is pretty significant on this full-span aileron design. Harmony was close enough, but not perfect; the rudder was lighter than ailerons and you must adapt a little.
Performance
Climb; Glide; Sink; Cruise/stall/max speeds; Endurance; Range; Maneuverability.
Pros – INVALID character: 133
Cons – Endurance is somewhat lower (125-mile range) due to the thirstier engine. Sink rate is higher than some comparable designs. A fair amount of vibration was visible throughout the airframe.
Stability
Stall recovery and characteristics; Dampening; Spiral stability; Adverse yaw qualities.
Pros – Stalls were moderate in the mid-30s. Stall response was predictable and mild. Power-on stalls went to exciting deck angles but the Eros resisted breaking over. Controls retain authority down to absurdly slow speeds.
Cons – Lack of trim caused me to fly the stick at all times. This can be remedied with in-flight trim or careful building.
Overall
Addresses the questions: "Will a buyer get what he/she expects to buy, and did the designer/builder achieve the chosen goal?"
Pros – If you want snappy performance and handling in a package that'll run less than $10,000, this is one of your few choices. Doing business with TEAM Aircraft warms up customers; they obviously care a lot about their buyers. Manuals are good and proven by lots of owners. Safety record should satisfy even newer pilots. Delivery times are currently short.
Cons – Eros cannot qualify for Part 103 ultralight operations, which forces FAA registration and demands a medical and license. Build time isn't bad but will take lots longer than assembly kits. This plane is hot enough it may not be the best TEAM choice for a starter ultralight.